Wikibuy Review 2020 | Will Wikibuy Actually Save You Money?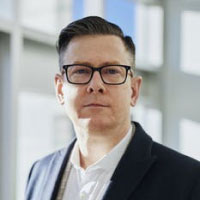 L. S. Wynn
In a perfect world, online shopping would be quick and easy. But when you're looking for the best deals, online shopping can be a frustrating and time-consuming undertaking.
Between Googling for coupon codes, switching between tabs to compare prices, and calculating shipping costs, making a purchase can be exhausting and time consuming.
That's where Wikibuy comes in. Wikibuy is a free browser add-on that helps save you money by automatically comparing prices, applying coupon codes, and alerting you to better available deals while you shop.
You can read our in-depth Wikibuy review to learn more, or if you're ready to start saving, head over to Wikibuy to get the free extension.
This article includes links which we may receive compensation for if you click, at no cost to you.
What is Wikibuy?
Wikibuy is a free browser extension that automatically applies coupon codes, compares prices, and alerts you whenever there's a better deal available from another retailer. You can use it on tens of thousands of websites, including Amazon, eBay, Target, Walmart, Best Buy, Nike, and many more sites.
Wikibuy's benefits speak for themselves – millions of people have added the Wikibuy extension to their web browsers, and they collectively saved over $70 million last year!
If you're ready to add the free Wikibuy extension to your browser and start saving time and money at your favorite online stores, you can do that now.
Wikibuy
4.8 star WiseGeek Rating
Add the Wikibuy extension to your browser, and start racking up the savings with this free online shopping assistant!
FREE: no hidden costs
Install in under 30 seconds
Wikibuy
If you want more information, continue reading for our in-depth review below.
How Much Does Wikibuy Cost?
Wikibuy is 100% free – no hidden fees, monthly charges, or penalties.
Is Wikibuy Legit?
Yes, Wikibuy is "legit." Not only does it have millions of active users and a 5-star rating on the Google Chrome Store from more than 9,000 reviews, but it also:
Won't slow down your computer.
Won't show you any ads.
Provides unbiased, crowdsourced information and advice.
Takes one click to remove it from your browser if you don't want to use it anymore.
How Does Wikibuy Work?
Getting started with Wikibuy is quick and easy. All you need to do is to get the extension for your browser -- it's available for Google Chrome, Mozilla Firefox, Microsoft Edge, and Safari.
It takes under a minute to get started. All you need to do is get the extension, enter your name, email address, ZIP code, and start shopping. Wikibuy then automatically helps you find incredible savings while you shop online.
3 Ways to Save Money with Wikibuy
To get the benefits from Wikibuy, all you need to do is shop online as you normally would, and Wikibuy will take care of everything else. There are three features we love that save you money.
1. Automated Coupon Codes:
You love coupon codes that save you money, but it can be frustrating when you spend half an hour trying old codes that work anymore. Wikibuy solves this problem.
While you shop, Wikibuy scours the Internet for coupon codes. When you're ready to check out, Wikibuy automatically applies any available codes to your shopping cart. You'll never waste time again searching for coupon codes that are fake or expired.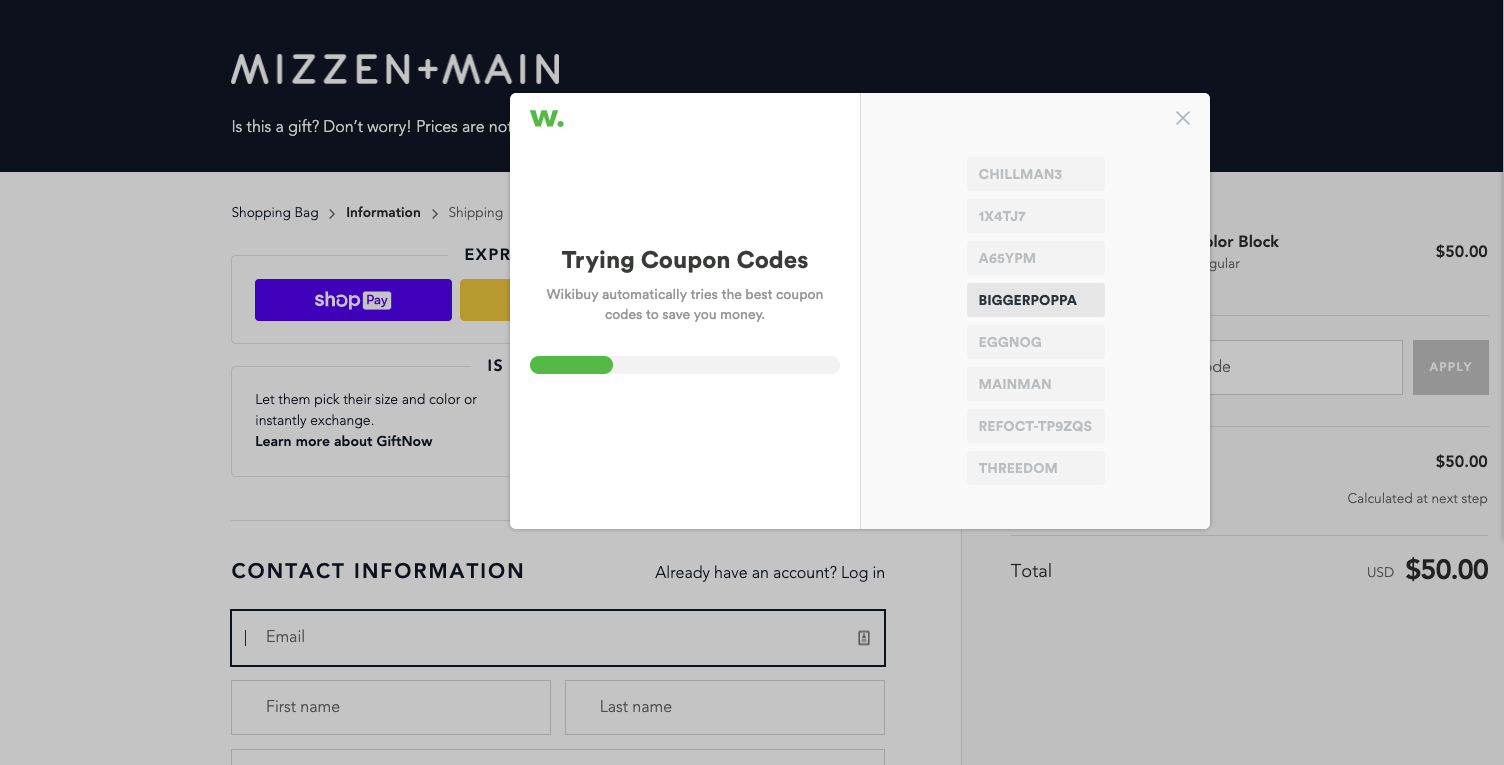 What's even better is that if there are multiple working coupon codes for your purchase, you'll get the discounts from all of them! Some of these codes are publicly available, and others are crowdsourced from other Wikibuy users who have successfully used them.
2. Price Comparison Tool:
Wikibuy isn't just on the lookout for useful coupon codes. As you're shopping, Wikibuy is quietly searching behind the scenes, making sure that you're getting the best available price.
No more clicking between browser tabs to figure out whether Amazon has the cheapest price for that new couch you've had your eye on...or is it Walmart? What about Target?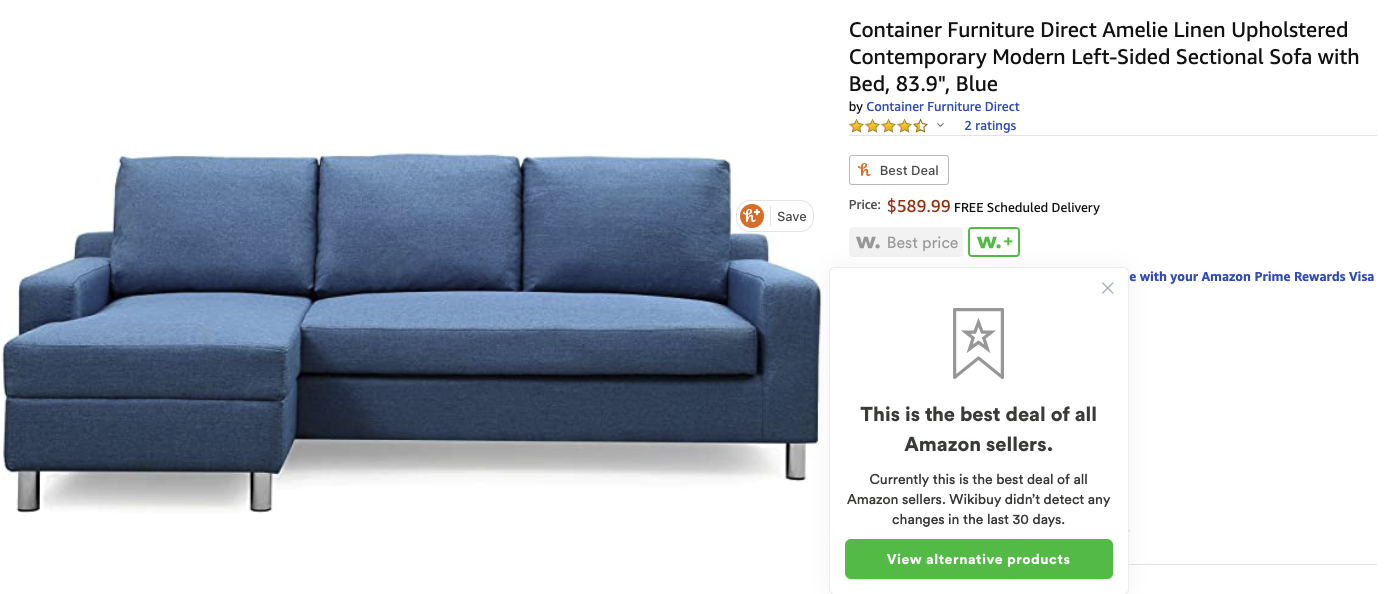 With Wikibuy, if another retailer is selling the item you're looking at for a better price, you'll see a helpful little pop up, informing you about the other deal and providing you with the link. It even alerts you to the best deals among individual sellers on Amazon and eBay.
3. Loyalty Credits:
What's even better than coupons and price comparisons? Gift cards!
As you shop online with Wikibuy, you'll automatically build up loyalty credits. For example, you'll earn 2% back on Walmart purchases, and 7% back on Microsoft purchases. There are even local offers so that you can earn 4% back when you make purchases from restaurants near your house or office.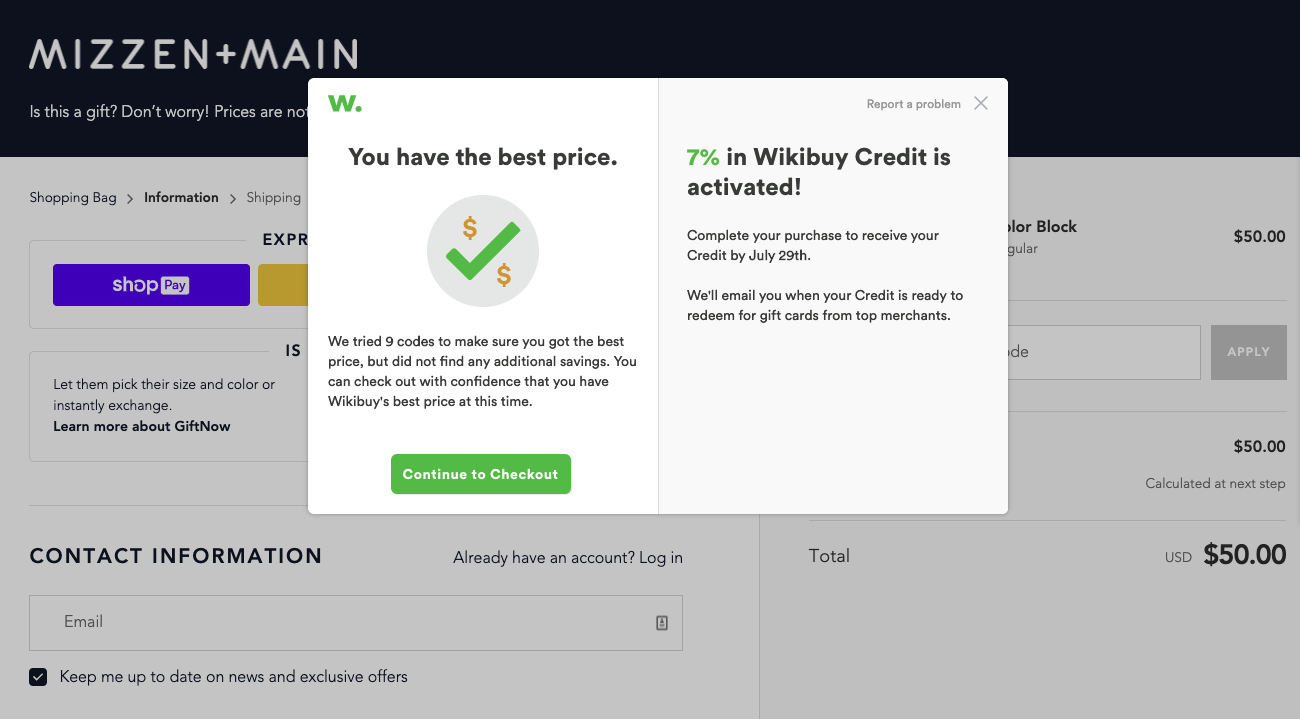 When you've accumulated enough credits, they can be redeemed as online gift cards for retailers like Macy's, Lowe's, Barnes & Noble, and Petco.
You'll also see "Featured Offers" and "Trending Deals" on the Wikibuy website that offer special credit-earning opportunities from certain retailers, as well as limited-time discounts on particular products and services.
More Money Saving Features
Regardless of whether you make just one online purchase a month, or whether you're a certified shopaholic, having the Wikibuy browser extension will undoubtedly save you time and money with little effort. Here are a few other features that we love.
Watchlist (Price Drop Monitoring)
When you're looking for the best price for a particular item, but aren't ready to buy it just yet, adding it to your Watchlist is a useful way to have Wikibuy keep an eye on things.
Wikibuy will monitor the item for 60 days and will let you know if the price drops, so that you won't miss out if any great deals come up.
Wikibuy Product Search
Rather than going to a particular retailer's website to look for a product, you can use the Product Search tool on the Wikibuy website to view and compare products from many different retailers. Taxes, shipping, and coupon codes are already taken into account in the displayed price. You'll also see which retailers offer the most Wikibuy loyalty credits for your purchase.
Wikibuy vs. Honey and Other Money-Saving Tools
If you're interested in saving money with online shopping, there are a number of other great websites, apps, and browser extensions that will do just that. Here are some of our favorites:
Rakuten
CamelCamelCamel
Swagbucks
Gumdrop by Goodshop
Honey is similar to Wikibuy in many ways, and you're likely to find plenty of great deals if you install the Honey browser extension. It's also free, so there's nothing stopping you from adding it to your browser, too!
How to Get Started with Wikibuy
To add Wikibuy's free browser extension to your browser and start saving time and money at your favorite online stores, click on the button below and follow the steps on Wikibuy's page.
Wikibuy
4.8 star WiseGeek Rating
Add the Wikibuy extension to your browser, and start racking up the savings with this free online shopping assistant!
FREE: no hidden costs
Install in under 30 seconds
Wikibuy