Wikibuy Vs. Honey | Which Plugin Saves You More Money?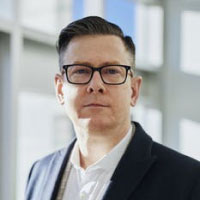 L. S. Wynn
Wikibuy and Honey are free browser extensions that help find you better prices and automatic discounts whenever you shop online.
But how are they different? Which one will save you more time and money? And which one ultimately gets our vote? We'll cover all of that, and more, in this comparison article.
Start Saving with Wikibuy: Our #1 Choice
This article includes links which we may receive compensation for if you click, at no cost to you.
How Do Wikibuy and Honey Work?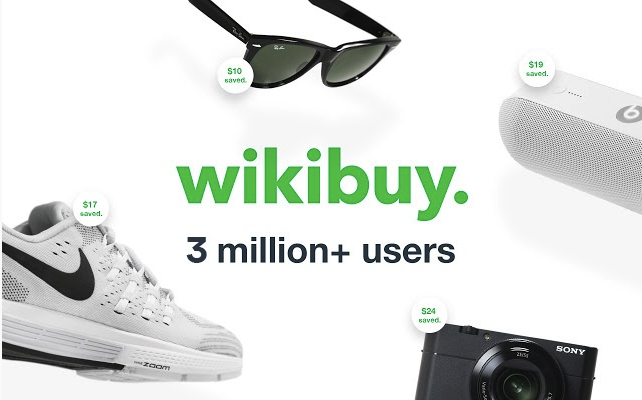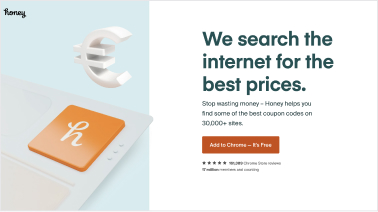 Wikibuy and Honey are similar in many ways, and in their overall purpose. Essentially, they are both online shopping assistants that work in your browser to find better deals and automatically apply coupon codes before you make a purchase.
With both Wikibuy and Honey, you'll earn credits when you shop that can be turned into gift cards for a wide range of retailers, such as eBay and Macy's. You'll also be able to create lists of products that you're interested in, and you'll get an alert when there's been a price drop.
Free browser extension
Searches for better deals

(only on Amazon)

Coupons automatically applied
Earn credits for purchases
Price drop alerts
Works with Amazon and eBay
Mobile app available
Wide range of gift card options
Finds local in-store offers
Works with non-U.S. websites
Earn credits for referrals
Start Using Wikibuy
Start Using Honey
Start Using Wikibuy Start Using Honey
How Can Wikibuy and Honey Help You Save?
Wikibuy and Honey are very popular with their millions of users, and both have overwhelmingly positive ratings on the Google Chrome Store.
Wikibuy found its users over $70 million in savings last year alone, while Honey users have collectively saved over $1 billion since Honey launched in 2012.
Wikibuy and Honey provide unbiased advice and price alerts that are based on the online shopping experiences of millions of other users. Crowdsourcing is also how Wikibuy and Honey are able to find so many promo codes to apply to your shopping cart.
Price Comparisons in Your Browser
After adding Wikibuy to your browser, you'll notice a little alert whenever you're viewing a product online and a better price has been found at another retailer. For example, if you're looking at a video game on the Target website, and there's a better price for the same product at eBay, you'll see a helpful popup alerting you to the lower price, with links to the alternative shopping options. Wikibuy automatically calculates tax and shipping costs, and takes that into account when making recommendations about better offers.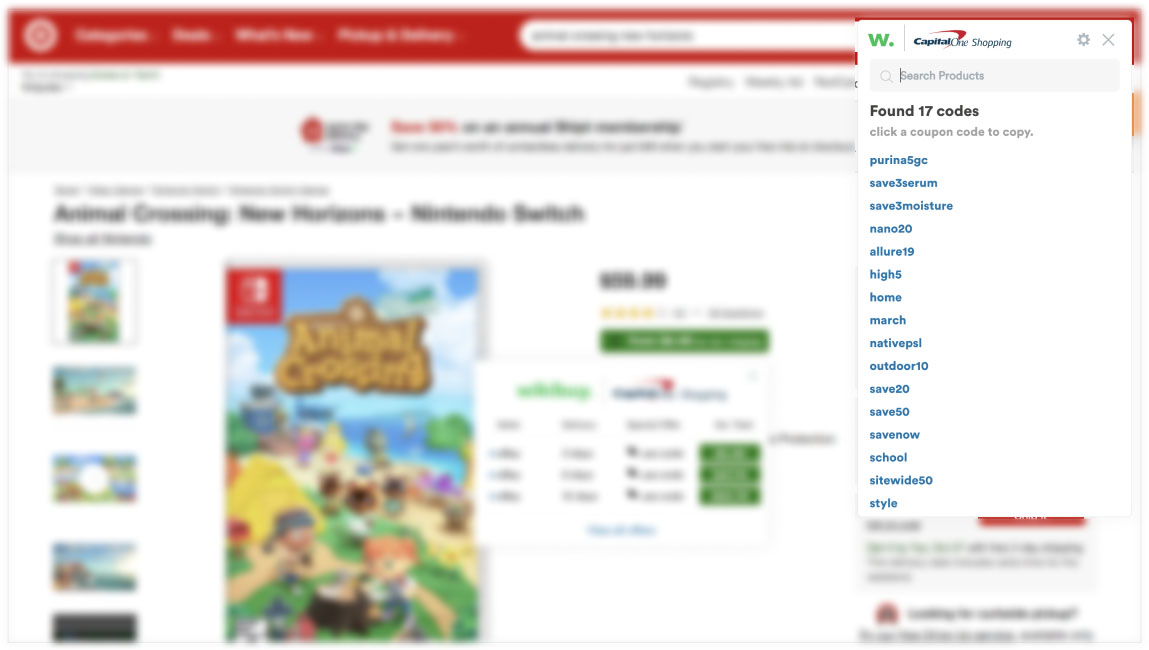 Honey has a similar feature, but it only works when you're shopping on Amazon. With Wikibuy, you'll see recommendations for better deals when you're shopping on the websites of many other major retailers, such as Target and Best Buy.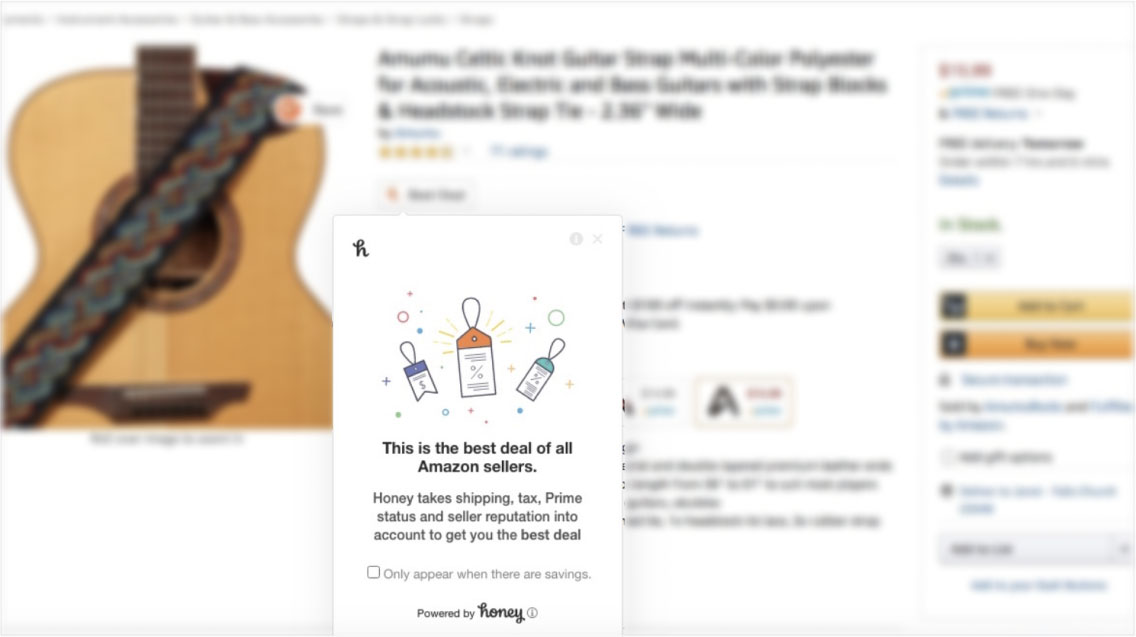 Occasionally, you may be directed to a deal that has expired or is out of stock. In these cases, you'll be able to alert Wikibuy or Honey in just a few clicks, so that other users aren't directed to the same link. And it works both ways -- the input of other users helps to ensure that the vast majority of offers you see are available and up-to-date.
Price Comparisons in Your Browser
Who does it better? Wikibuy!

Wikibuy provides recommendations for better deals when you shop with numerous retailers. Honey can only do this when you shop on Amazon.
Coupon Codes Automatically Applied
One of the most popular features of both Wikibuy and Honey is their ability to find available coupon codes and apply them to your shopping cart. This eliminates the frustrating, time-consuming process of manually searching for promo codes before making a purchase, only to find out that they are invalid or expired.
Wikibuy and Honey will automatically test the entire list of potential coupon codes, and the best available discount will be applied to your purchase.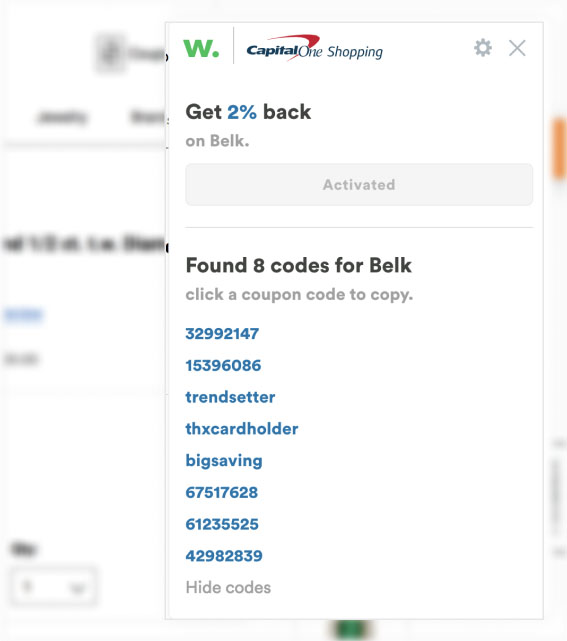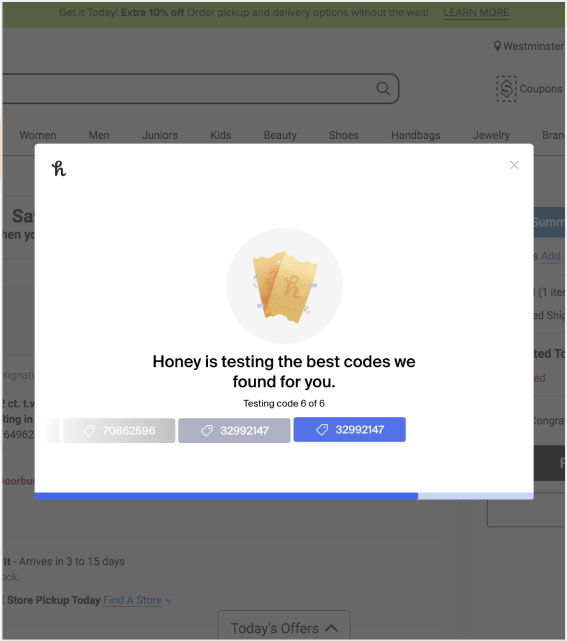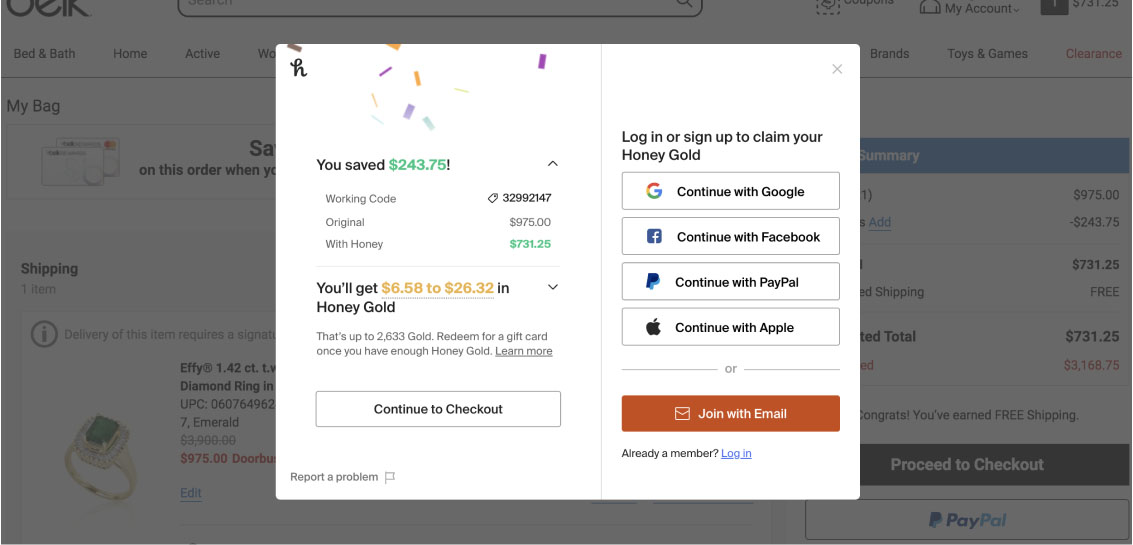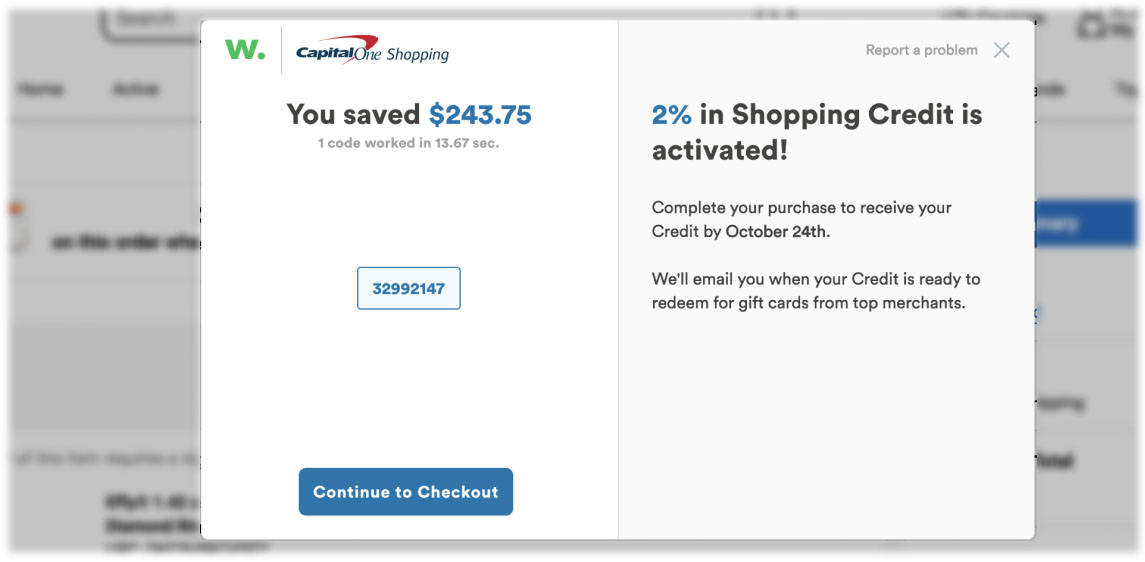 Coupon Codes Automatically Applied
Who does it better? It's a tie!

When you shop with thousands of online retailers, both Honey and Wikibuy will automatically test any available coupon codes before checkout, in order to find you the best possible discounts.
Earn Credits for Your Purchases
Wikibuy and Honey are well known for their ability to find coupon codes that actually work. But that's not the only way they can help users save money. There are thousands of retailers that offer loyalty credits when you use Wikibuy or Honey to make a purchase.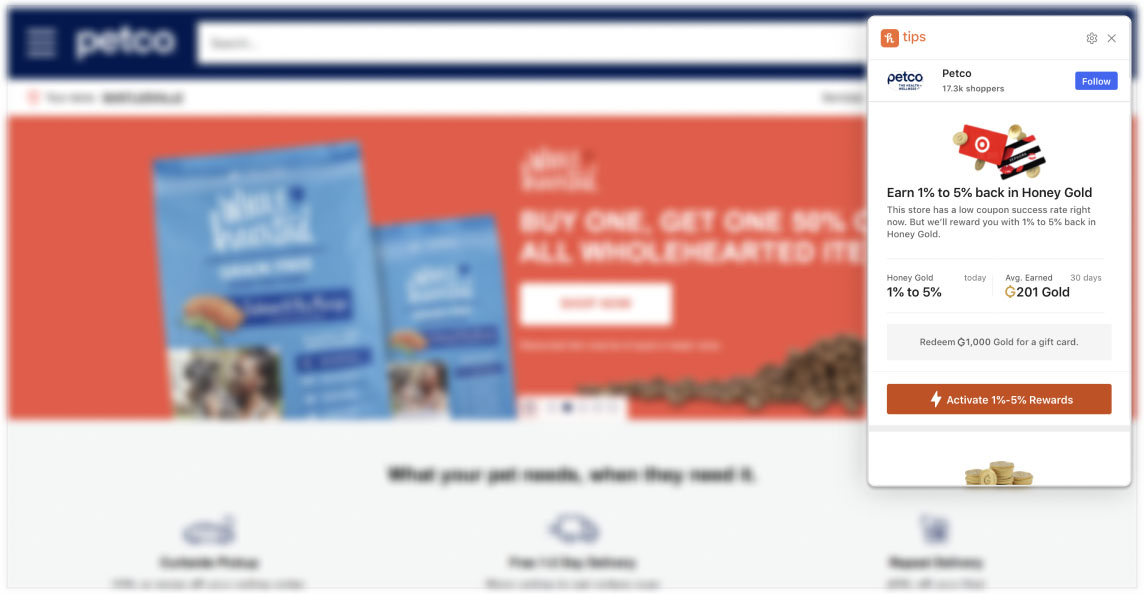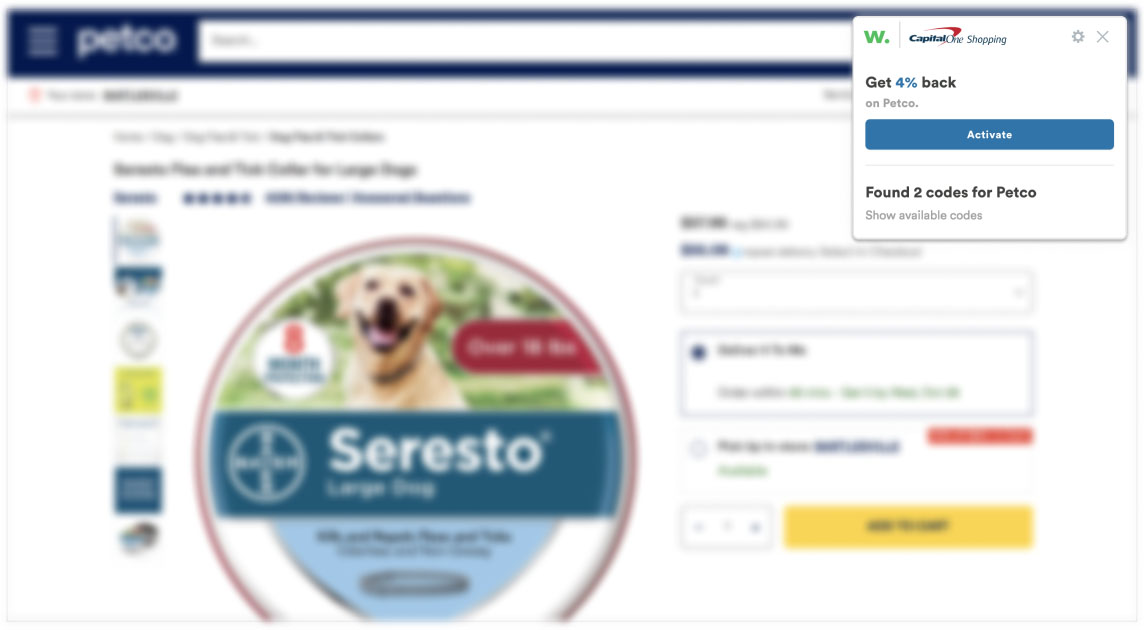 These credits (known as Wikibuy Credits and Honey Gold) can range from 1% to 20% of the purchase amount, depending on the retailer. Over time, these credits can add up to a considerable amount of money, which users can turn into online gift cards for a range of stores.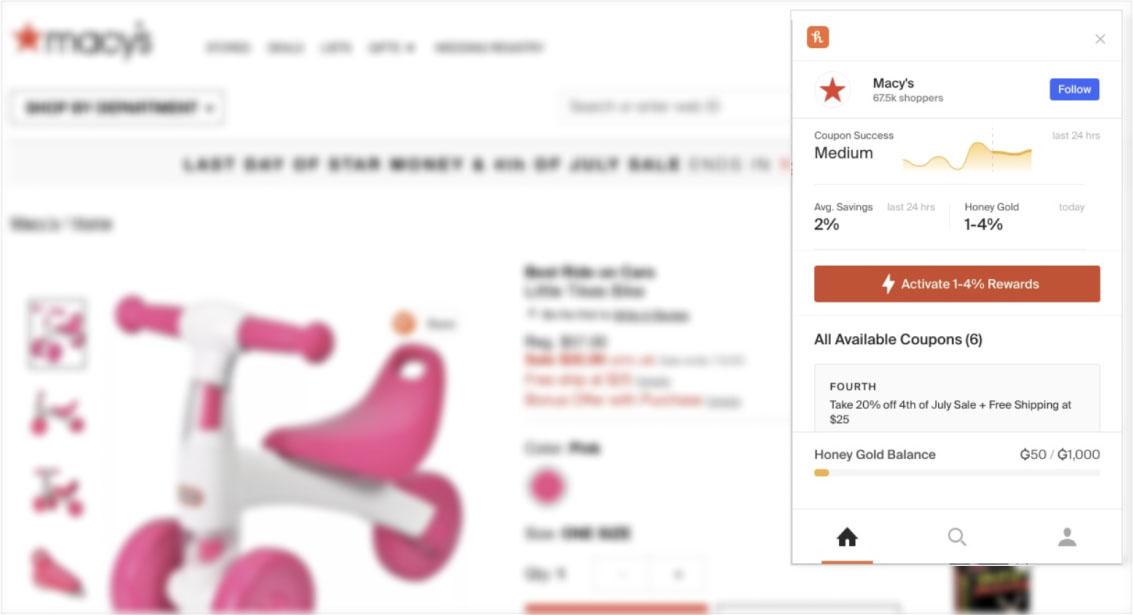 Currently, Wikibuy offers a much wider range of gift card opportunities than Honey, although these retail partners are constantly changing and being updated. However, Honey Gold can also be donated through CharityChoice, or redeemed with merchants in the United Kingdom, Australia, Canada, and the European Union, whereas Wikibuy is limited to the United States.
Earn gift cards to these U.S. retailers with Wikibuy Credits:
eBay, Lowe's, Macy's, Kohl's, Nordstrom Rack, Bed Bath & Beyond, GameStop, Groupon, Bass Pro Shops, Petco, Barnes & Noble, American Eagle, JCPenney, Fandango, Hulu, Cabela's, Safeway, Staples, Express, L.L. Bean, Office Depot, Columbia, Belk, StubHub, Land's End, Lane Bryant, Chico's, Ray-Ban, Global Hotel Card, 1-800-Flowers, Redbox, Advance Auto Parts, Catherines, Boscov's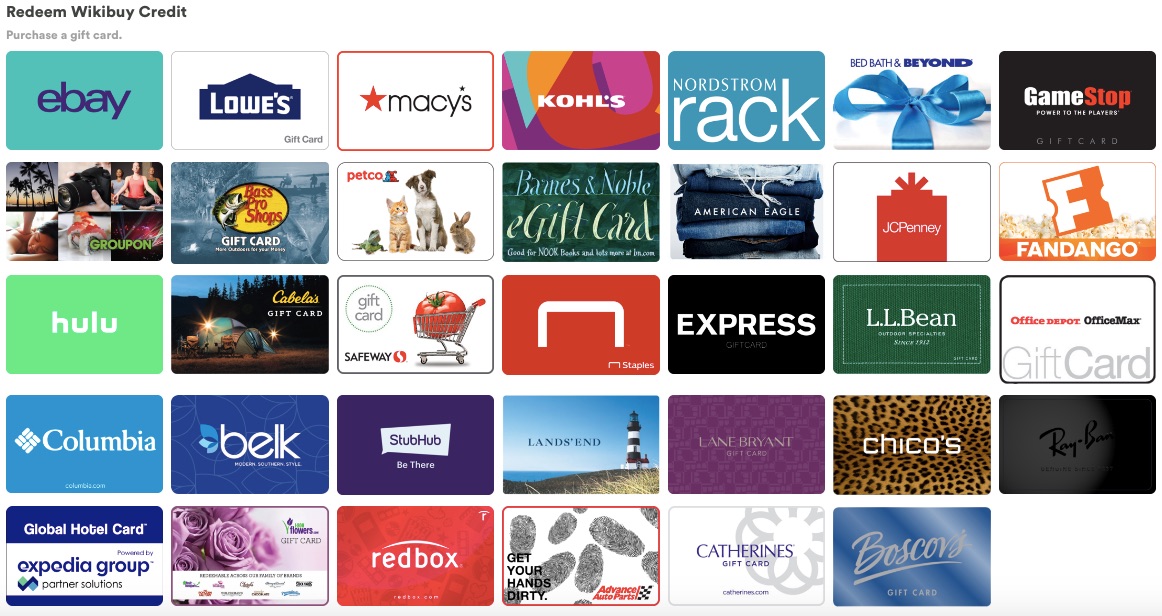 Earn gift cards to these U.S. retailers with Honey Gold:
Amazon, Walmart, eBay, Target, Groupon, Nordstrom, Sephora, Macy's, Nike, Lowe's Google Play, App Store & iTunes, 1-800 Flowers, Lowe's, Uber, Athleta, Banana Republic, Old Navy, Gap, Charity Choice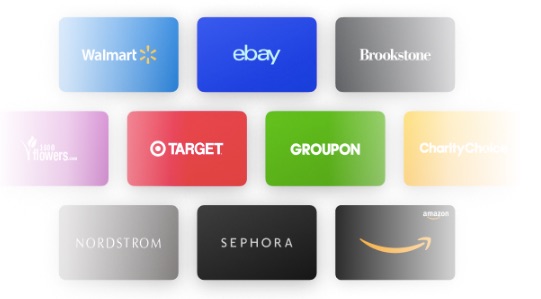 Earn Credits for Your Purchases
Who does it better? It's a tie!

You'll earn plenty of credits when you shop online with either Honey or Wikibuy, typically between 1% and 20% of the total purchase. Honey and Wikibuy tend to offer similar credit amounts. Wikibuy has the advantage in terms of the number of retailers with which you can redeem your credits for gift cards. Honey is better for non-U.S. shoppers who want gift cards for UK, Australian, Canadian, or European Union retailers, or who want to donate their credits to charity.
Price Drop Alerts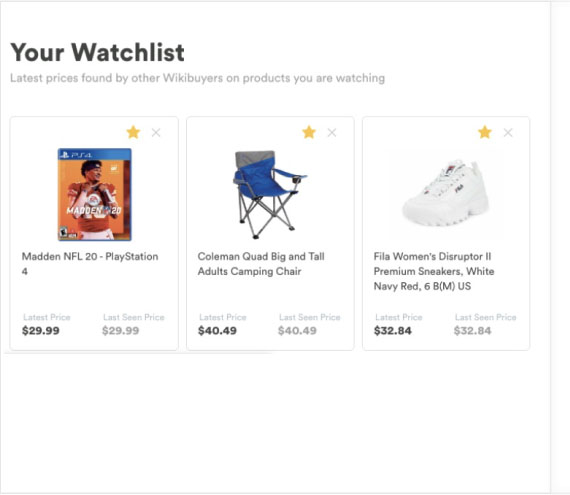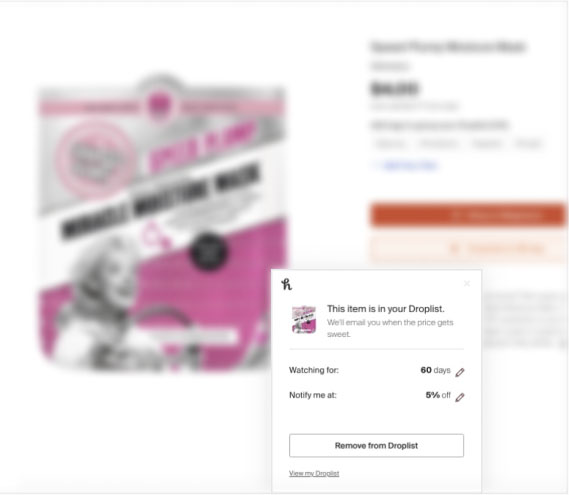 Wikibuy and Honey each have a useful way to monitor the products you're interested in for potential price drops. These tools are particularly convenient when you're considering making a substantial purchase but aren't under time pressure to immediately place your order.
By adding an item to your Watchlist (Wikibuy) or Droplist (Honey), the shopping assistants will let you know if the price of the item has dropped since you began tracking it.
Price Drop Alerts
Who does it better? It's a tie!

The Watchlist and Droplist tools offered by Wikibuy and Honey work in very similar ways. You'll be able to add items to your list while shopping, get alerts when prices drop, and view price history charts.
Local Offers
You can also earn 4% back in Wikibuy Credits when you link your debit or credit card to Wikibuy and use it to make purchases at restaurants or stores in your local area.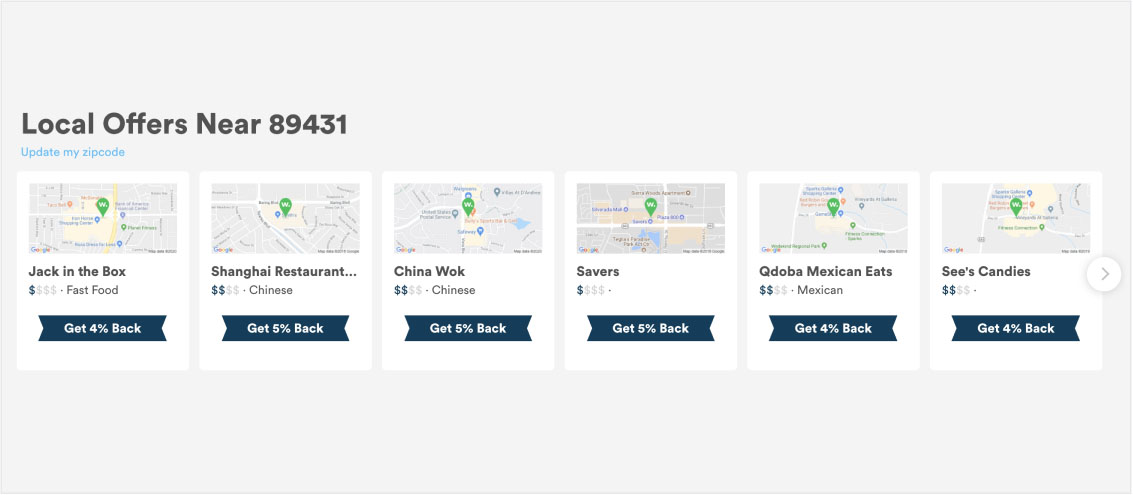 Currently, Honey does not offer any kind of reward for making purchases with local merchants.
Local Offers
Who does it better? Wikibuy!

Wikibuy gives users 4% back for purchases at local stores and restaurants. Honey does not have a comparable feature.
Referrals
Honey offers its users the opportunity to earn Honey Gold by referring friends. Both the original Honey user and the referred user will earn an additional 500 Honey Gold when the referred user makes his or her first purchase with Honey. Honey users can refer up to 200 friends to join Honey, for a potential maximum of 100,000 Honey Gold (to $1,000). Wikibuy does not currently have a referral program.
Referrals
Who does it better? Honey!
Honey users who refer a friend to the browser add-on will earn Honey Gold when that friend makes his or her first purchase. Wikibuy does not have a referral program.
Mobile App
Wikibuy and Honey both offer mobile apps with some of the same functions as their respective browser extensions.
The Wikibuy mobile app can be used to search for products and compare prices, but it has limited functionality as it does not allow you to make purchases within the app. However, it could be a helpful tool if you want to browse products and add items to your Watchlist when you don't have access to your computer.
Like the Wikibuy app, the Honey Smart Shopping Assistant allows you to search for products within the app, so that you can compare prices from a variety of retailers. You can also add items to your Droplist and get alerts. However, the Honey app does allow you to apply coupon codes, make purchases, and earn Honey Gold, all within the app. Arguably its best feature is that you can combine items from multiple retailers into a single shopping cart. The biggest drawback of the Honey mobile app is that it doesn't work with Amazon.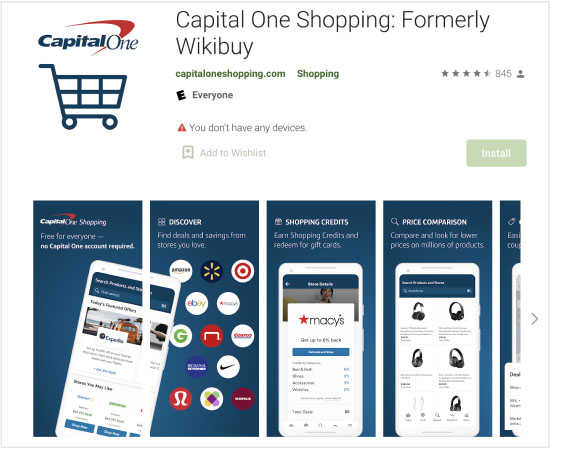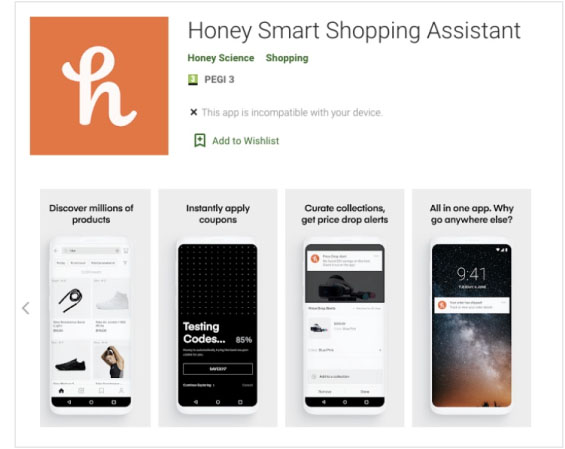 Unfortunately, neither of the mobile apps can replicate the seamless functionality of the browser extensions. Although the Honey mobile app could be useful for making occasional purchases while you're on the go, to get the full benefits of Wikibuy and Honey, it's best to use them in your browser.
Mobile App
Who does it better? Honey!
The Honey mobile app has significantly more functionality than the Wikibuy mobile app, and allows users to make purchases. The Wikibuy app mainly serves a price comparison tool.
Are They Really Free?
You'll never have to pay to use either Wikibuy or Honey. There are no hidden fees or charges.
Wikibuy and Honey earn money from retailers whenever they help users make a purchase, so it's entirely in their interest to point you in the direction of the best deals on products you're already planning to buy.
Are They Easy to Use?
Wikibuy and Honey are both incredibly user friendly, even for people who aren't very tech-savvy.
You can start using Wikibuy or Honey in seconds. All you have to do is click the link to add either Wikibuy or Honey to your browser. Wikibuy works with Google Chrome, Mozilla Firefox, Microsoft Edge, and Safari, while Honey works with Google Chrome. Mozilla Firefox, Microsoft Edge, Safari, and Opera.
Once you've added a few details, you can start shopping immediately.
Wikibuy and Honey won't interfere with your usual online activity, and they won't bombard you with popup ads or spam emails for products you're not interested in. You'll only see the little price comparison alerts when you're looking at a product on a retailer's website, and you'll only receive an email if an item on your Watchlist or Droplist has dropped in price.
Removing the Wikibuy and Honey extensions from your browser is also incredibly quick and there are no cancellation fees.


How Do They Protect Your Privacy?
Online security and privacy are important to Wikibuy and Honey, and they have earned the trust of their users by never sharing or selling personal data to affiliates for marketing purposes. This means you'll never get unwanted emails from third-parties as a result of using Wikibuy or Honey.
However, it's important to be aware that both Wikibuy and Honey track users' activity on retail websites, in order to provide personalized recommendations and to identify relevant discounts and coupon codes.
The aggregated browsing data from their millions of users allows Wikibuy and Honey to locate the best deals and coupons across thousands of retailers. It also helps them to understand how the browser extensions are being used, and in what ways their services could be improved.
Both Wikibuy and Honey have high ratings on Trustpilot, which they have earned through their commitment to protecting credit card information and by ensuring that they never direct users to scams or untrustworthy websites.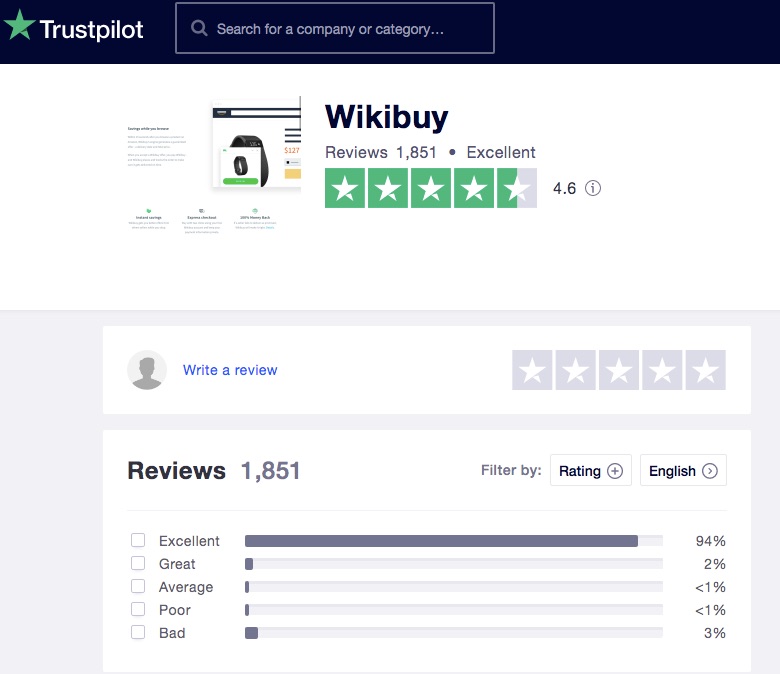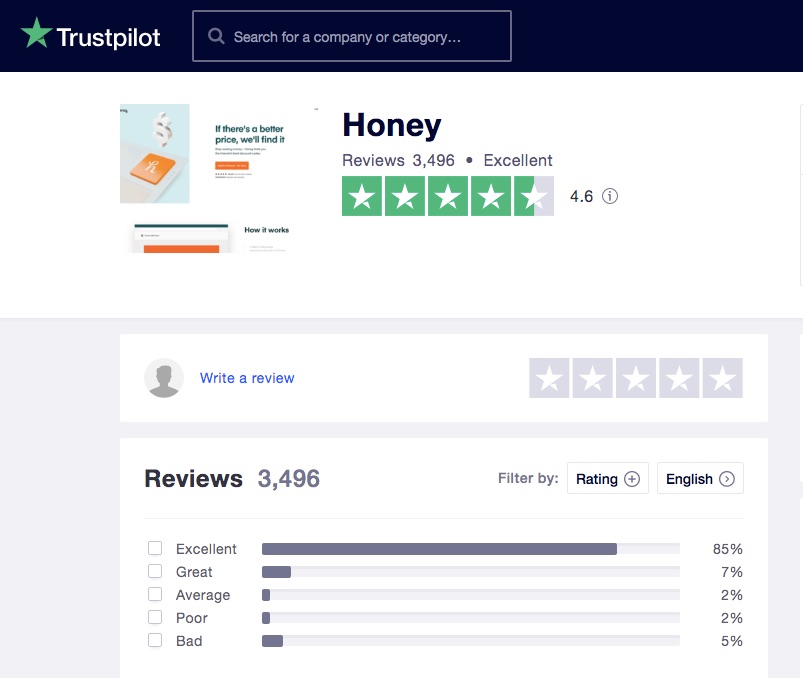 You can read Wikibuy's Privacy Policy here and Honey's Privacy Policy here. We also wrote in detail about Wikibuy's privacy here.
What Are the Main Differences?
Since Wikibuy and Honey are both entirely free to use, and they can be removed from your browser almost instantly, there's no reason why you can't use both of them at the same time. You may find that you prefer the user experience of one or the other, or you may decide that you want to keep them both!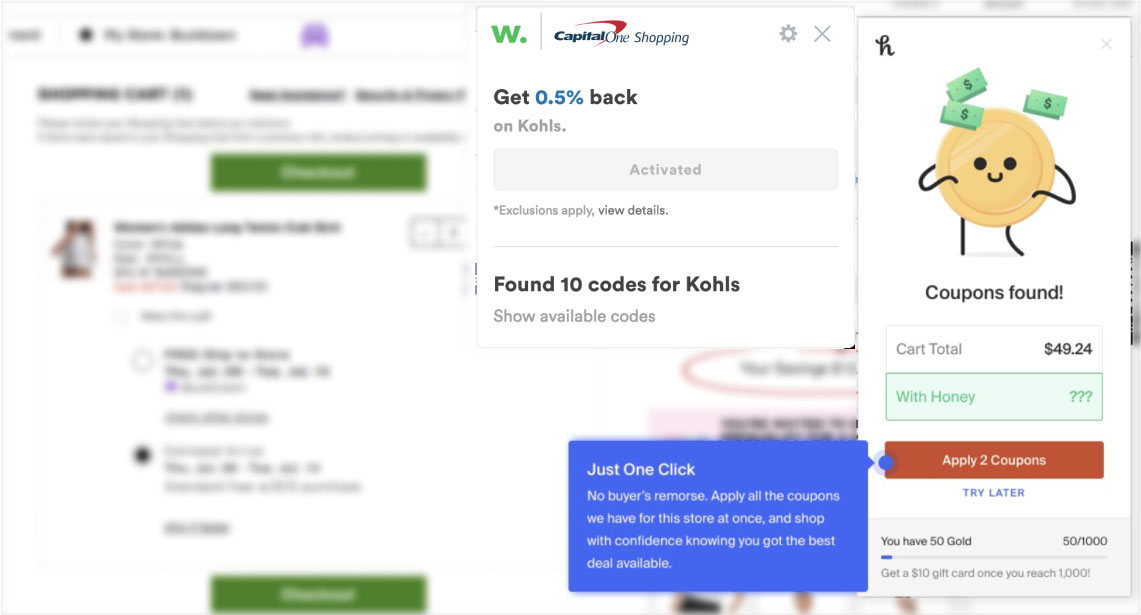 Adding the Wikibuy and Honey extensions won't slow down your browser, and there's a good chance you'll discover even better deals by having access to advice and alerts from two shopping assistants at the same time, which each rely on crowdsourced information from millions of users.
That being said, if you don't want to add both Wikibuy and Honey, there are a few key differences that may help you decide between them.
Wikibuy boasts a much longer list of retailers that offer gift cards in exchange for Wikibuy Credits. There is a fairly limited selection of retailers that offer gift cards in exchange for Honey Gold.
Currently, Wikibuy Credits cannot be redeemed for Amazon, Target, or Walmart gift cards. Honey Gold can be redeemed for Amazon, Target, and Walmart gift cards.
Wikibuy's Local Deals provide 4% back in credits when you shop with selected businesses in your local area. Honey does not have this feature.
Wikibuy's automatic price comparison tool works on many different retailer websites, whereas Honey's price comparison tool only works when you're shopping on Amazon.
Wikibuy only works in the United States, whereas Honey can be used internationally. You can earn and redeem Honey Gold with various online merchants if you're based in Canada, Australia, the United Kingdom, or the European Union.
You can donate your Honey Gold through CharityChoice by making a tax-deductible contribution to one of 50 charities. Wikibuy does not have a comparable option.
Honey has a referral program that awards Honey Gold when a friend you've referred to the site makes his or her first qualifying purchase. Wikibuy does not have a referral program.
Established in 2012, Honey has been around slightly longer than Wikibuy, which was founded in 2014. Honey also appears to have more users (17 million vs. 3 million).
To use Honey, you don't need to create an account or enter your email address to sign up, although it's encouraged. You will need to enter this information to start using Wikibuy.
Other Money-Saving Shopping Apps
Wikibuy and Honey have earned their users millions of dollars in savings and loyalty credits, but they're not the only useful apps and browser add-ons that can make a difference to your bank balance.
For savvy shoppers, the following money-saving tools are also worth a look:
Drop
Earny
Cashback Monitor
Ibotta
Rakuten
RetailMeNot
Getting Started with Wikibuy or Honey
Now that you know how Wikibuy and Honey can save you time and money with your favorite online retailers, you're probably ready to give at least one of them a try.
If you'd like to start benefiting from these powerful online shopping tools, click the buttons below to add the free Wikibuy and Honey browser extensions and you can start saving right away.
Get
Start Using Wikibuy
Get
Start Using Honey