Miscellaneous
Fact Checked
Retouching is a process by which a photograph is altered or manipulated to appear differently than how it originally looked. This may be done in a number of ways and for a variety of reasons, though it is often used to make a photograph appear sharper or to alter the appearance of someone in a picture. While this type of work was originally done physically, most is now done through digital manipulation of images using computer software. Retouching is often used in advertising, though its use in news and political images has been the source of a great deal of controversy.
A lot of retouching is utilized for photography in advertising and fashion magazines, often used to make objects and people appear more perfect than they really are. This is similar to older techniques that often used airbrushes and other methods to touch up, or retouch, photographs. Most of this work is not meant to be deceptive, but to simply make items appear as perfect as possible. There is some criticism of the use of retouching in fashion photography, however, and some argue that it creates an unrealistic standard against which actual people are unfairly compared.
Most retouching is currently done using computer software and digital images. While the program Photoshop® is perhaps the best known photograph manipulation software, there are a number of other programs that can also be used to digitally edit and retouch photographs. These programs provide users with a number of tools to alter images, including the ability to crop a picture, lighten and darken parts of an image, and digitally airbrush images to appear more smooth or perfect. This software even allows those interested in retouching to easily place the face of one person onto the body of another.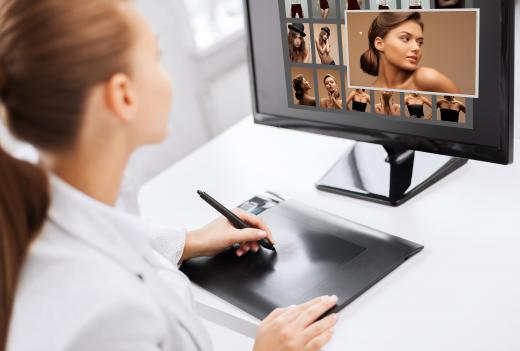 The use of retouching in fashion or advertising photography has been somewhat criticized, but far more controversy has arisen from retouched photographs used in politics or the news. As digital manipulation of images has made it easier and faster to alter photographs in a number of ways, some critics have railed against news outlets that feature edited images. This can be seen as a form of deceptive journalism, as an image can be represented in a way that may not be accurate to the original scene captured in it. Retouching has also been used throughout the history of photography to alter images for use in political propaganda, which is often seen as manipulative and deceitful.
AS FEATURED ON:
AS FEATURED ON:

By: olly

Retouching is a process by which a photograph is altered or manipulated to appear differently than how it originally looked when taken.

By: Syda Productions

Most retouching is done using computer software and digital photographs.

By: Africa Studio

Photo processing software, such as Photoshop, can allow for cropping, editing and otherwise manipulating images.

By: tomer turjeman

Photos may be retouched to fit into a specific theme for a project.

By: Brodetskaya Elena

Photo retouchers may work on outdoor shots to reduce things include sun glare.

By: Ferrante Pietro

Retouching can help put a greater emphasis on the focus of a photograph.