Miscellaneous
Fact Checked
What do You get for Winning the Nobel Prize?
In addition to immense prestige, Nobel Prize laureates also receive more concrete benefits. The Nobel Prize includes the Nobel medal, a diploma, and a monetary award. Prizes are generally awarded in Stockholm, with the exception of the Peace Prize, which is awarded in Oslo. The prize is always distributed on 10 December, the anniversary of Alfred Nobel's death, and laureates are announced in October.
The Nobel Prize includes the prize itself, made of 18-karat green gold plated with 24-karat gold and cast by the Swedish mint. The design of the Physics and Chemistry, Physiology and Medicine, and Peace prizes, featuring Alfred Nobel on the front and a symbol of the area in which the prize was awarded on the back, along with a motto in Latin, has been in use since 1902. The laureate's name is also engraved either directly on the back of the metal or along the edge, depending on the prize. The Nobel Prize is presented in a protective case.
With the Nobel Prize comes a diploma, in calligraphy, in either Swedish or Norwegian depending upon the prize. The striking diplomas can be considered works of art, and many famous artists and calligraphers have worked on them. The Swedish diplomas include a citation explaining why the prize was awarded to the recipient, while the Norwegian ones are traditionally plain. The designs of the diplomas have varied over the years and differ depending upon what the prize was awarded for. Many of the diplomas also include customized artwork commemorating the laureates for that year.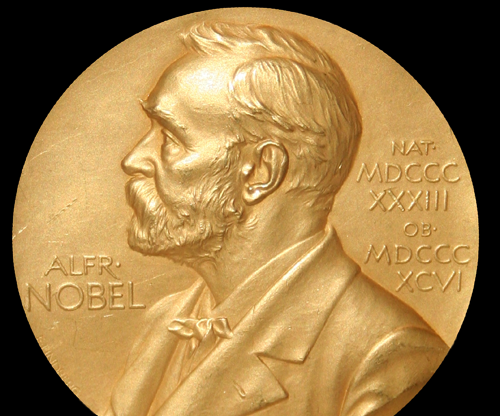 Nobel Prize winners also receive a cash prize, which in 2005 was ten million Swedish Kroner, or approximately 1.3 million US dollars. This amount is confirmed on the Nobel Prize diploma, and traditionally, laureates donate this sum back to scientific, cultural, or humanitarian causes, though this is not obligatory. In the case of two prize winners in one category, the sum is split between them – if there are three, the prize is split three ways, or more rarely, one winner receives half the money and the remainder is split between the other two.
AS FEATURED ON:
AS FEATURED ON:

Nobel Peace Center in Oslo, Norway.

One of the medals awarded to Nobel Prize winners.

By: pogonici

The Nobel Prize diploma is printed in calligraphy in either Swedish or Norwegian.

By: lesniewski

The determining body for the Nobel Prize in Medicine is the Karolinska Institute, a medical school near Stockholm, Sweden.