Pettable Review: How a New Pet Telehealth Service Stacks Up
I'm a lifelong pet owner. Since my childhood, I've had dogs, cats, rabbits, hamsters, lizards, and fish in my life. These pets, even those of the reptilian variety, have always been an important part of my family.
Growing up, my parents were good friends with the local vet, so we were lucky enough to be able to call him up when we had concerns about our animals, rather than having to leave a message at his office or schedule an appointment.
It's only fairly recently, as my own family has grown to include not only two children but also two pets (a dog named Loki and a cat named Ragnar), that I've come to realize what a luxury it was to have a family friend with vast veterinary experience on the other end of the phone.
Although taking care of our children is our number one priority, my husband and I still consider our pets to be valued family members. Unfortunately, though, getting our pets proper veterinary care can sometimes be fraught with logistical challenges and unforeseen expenses. With a full-time job and two young children to look after, going to the vet on the spur of the moment is almost impossible.
Luckily, we've recently become members of Pettable, a pet telehealth service that has completely transformed our ability to provide great veterinary care for our pets.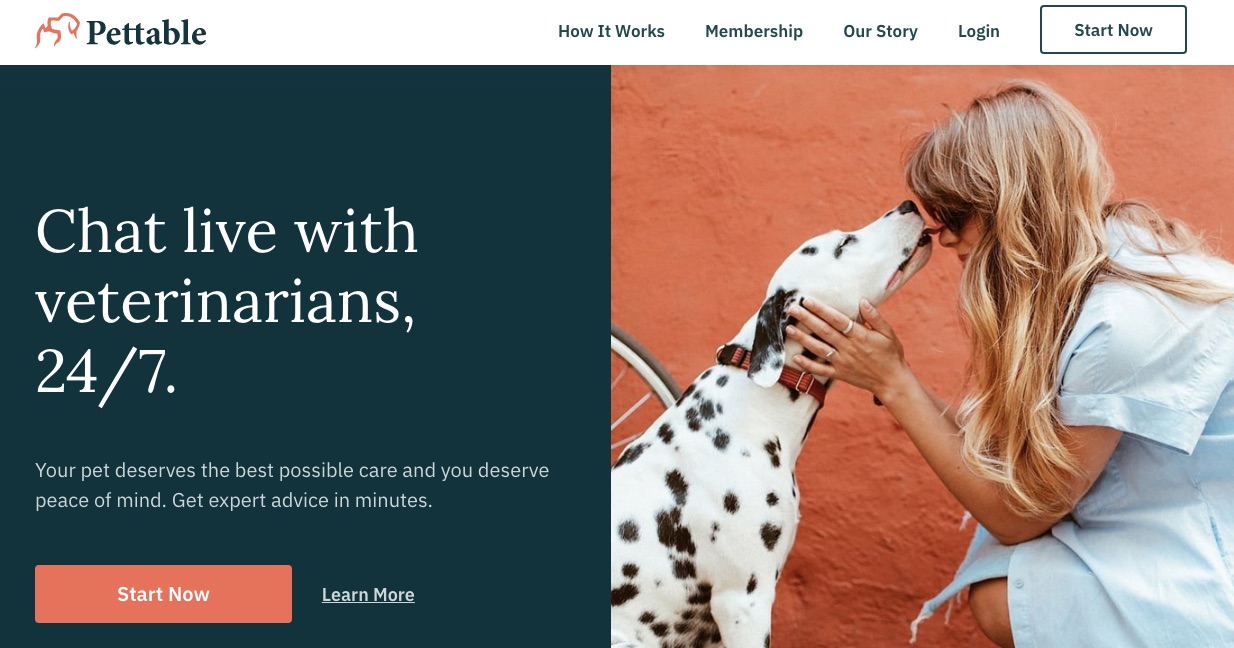 The Challenges of Being a Pet Owner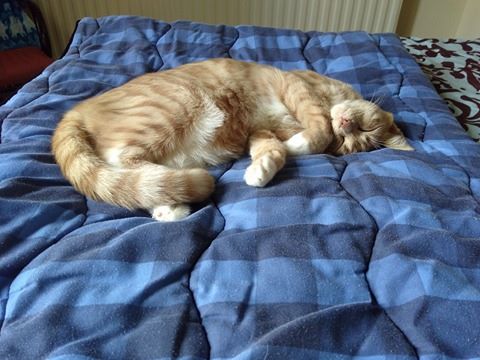 As every pet owner knows, having a sick pet is an incredibly stressful experience. It's awful to see your dog or cat acting listless, whining, or hiding, and not knowing what the problem is. At least for me, my first instinct when I notice one of my pets behaving strangely is to call up my vet to schedule an appointment.
Unfortunately, getting hold of the vet isn't always easy. My local veterinarian is very nice, and undoubtedly good at his job, but he's also extremely busy. And if there's a problem after hours, there's not much I can do about it.
Likewise, unless it's an emergency, getting an appointment within a day or two isn't always possible. And when you have a sick pet, waiting around is awful. And that's not to mention the cost: usually a vet visit costs at least $50, and far more if they have to run any tests. Taking a pet to an emergency animal hospital is even more expensive -- around $300, if I remember correctly from the time Loki somehow gobbled down half a bar of chocolate.
What Is Pettable?
Luckily, there is another way to keep your pets in good health and preserve your own peace of mind: pet telehealth.
Before hearing about Pettable from a friend, I had no idea that pet telehealth services existed. But it makes complete sense, especially in this era of social distancing. Just as with human telehealth, pet telehealth involves taking part in a remote consultation with a healthcare professional; in this case, a veterinarian or a veterinary technician.
The concept behind Pettable is simple: For a set monthly fee, Pettable members are granted 24/7 access to a veterinary team that they can contact with questions or concerns about their pets. With Pettable, you can ask a vet anything you want relating to your pet. There's no limit to the number of times you can chat with a Pettable vet -- they are always there, just a few clicks away.
With Pettable, all of the communication is done over their secure chat feature. You simply open up a new window and in less than a minute, you'll be chatting with a Pettable team member.
For now, Pettable's telehealth provision is focused primarily on chatting online, although there are plans in the works to introduce video calling. Although most conversations take place over live chat, you'll always receive a callback if you ever get disconnected while chatting with a Pettable vet. You can also upload images, videos, and documents using Pettable's chat program, in case the vet requests additional information about your pet.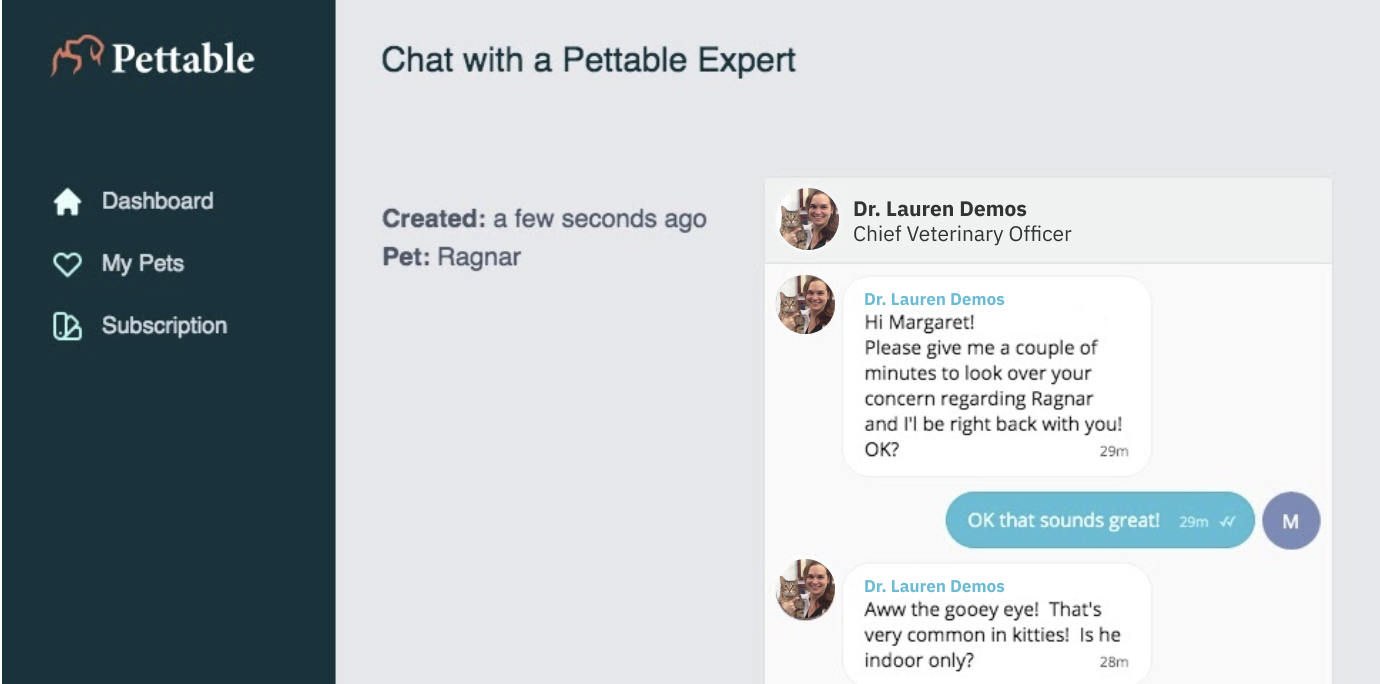 My Experience With Pettable
I've only been a member of Pettable for about a month, but I've already used it several times. Thankfully, I haven't had to turn to Pettable for any serious issues, but just knowing that there's a veterinary professional only a few clicks away is a relief.
In my experience, the telehealth service works seamlessly. Every time I've contacted Pettable, I've been connected with a vet almost instantly, which couldn't be more different from the stressful experience of sitting in the waiting room at the vet's office. As a pet owner, being able to quickly get in touch with a veterinary professional from the comfort of my own home is pretty much invaluable.
And during the Covid-19 pandemic, being a Pettable member has meant that I haven't had to go through the unpleasant experience of dropping my pet off curbside due to restrictions about entering veterinary offices. Having a chat with a Pettable vet is far less stressful for myself and my pets.
So far, my favorite thing about Pettable is how I can ask lots of little questions, not just about illness, but also about general pet care. I wouldn't feel comfortable making an appointment to ask whether wet or dry food is better for my slightly pudgy cat, nor would I want to call up my vet's office just to find out whether rawhide is safe for my dog, or how much grass is normal for him to eat.
There's no way that I would ever be able to ask my vet all of these questions due to the time constraints and costs of traditional vet care, but I much prefer talking to a human being rather than endlessly reading articles online. This is why Pettable is perfect for curious pet owners like me. Most importantly, Pettable's vets are already very familiar with my pets, so they always base their advice and guidance on the pet's age, breed, and health conditions, which is something that no amount of Googling can achieve.
For example, in my recent Pettable chat with Dr. Demos about how to deal with my cat's "gooey" eye, she was more than happy to answer my additional questions about Ragnar's diet and gave me several helpful suggestions, taking everything I've told her about him into consideration.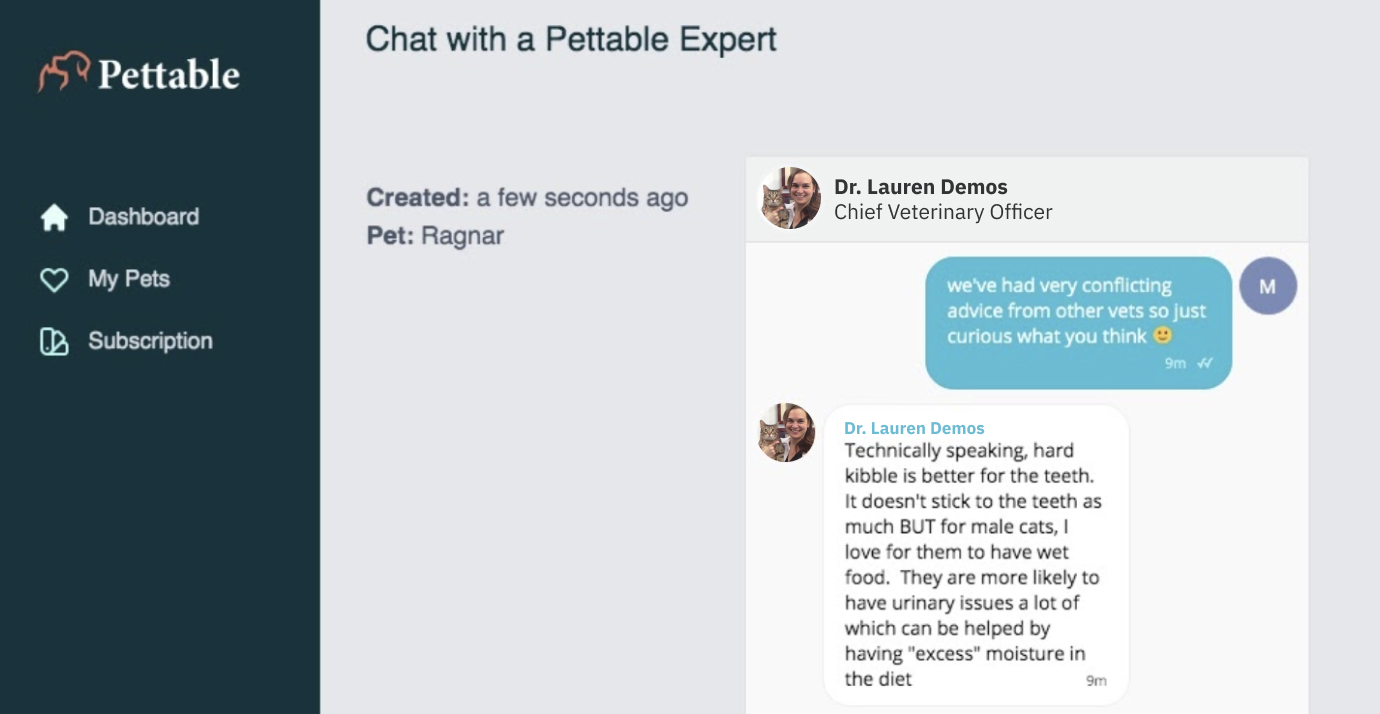 I love knowing that an experienced vet or vet tech is always available to chat with me, day or night, even about little issues that I normally wouldn't bother my vet about. With Pettable, no question is too small or insignificant, nor do I ever have to worry about incurring a bill for taking up too much of a vet's time. On the contrary, the Pettable vets I've communicated with have always been incredibly helpful and patient. I've never felt rushed during any of our chats, and even if I suddenly think of another question (even if it's about another pet), they have been happy to answer. Best of all, they genuinely want to get to know my pets, even in this virtual setting. In my most recent conversation with Dr. Demos, she wanted to know the story behind my cat's unique name, and she's always funny and easy to talk to.
Is Pettable Worth It?
In a word, yes. I do think that becoming a Pettable member is worth it for pet owners.
Pettable is unique from most other pet telehealth providers, which charge you every time you contact them with a question or concern. Pettable, on the other hand, gives you unlimited access to their vet team for $29.95/month. There are no surcharges or fees for anything that Pettable offers, no matter how many times you start a conversation with a vet, and regardless of the nature of your queries.
When I started reading up on pet telehealth, I discovered that many companies charge at least $30 for every consultation with a member of their team. For me, at least, that would add up extremely quickly, and it would discourage me from asking follow-up questions or expressing all of my concerns. And it's not much less than the cost of an in-person vet visit.
Pettable is completely different. You could literally ask dozens of questions and never pay more than $29.95 per month. Plus, you have the convenience of being able to ask questions whenever (and wherever) you want, and you'll never be put on hold or asked to reschedule.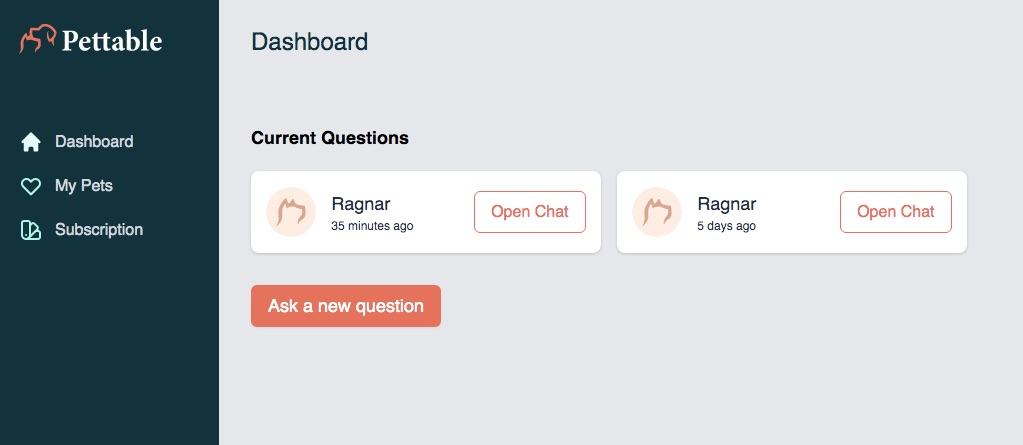 Another reason why I decided to become a Pettable member is to have instantaneous access to veterinary advice about potentially serious issues, even at the most antisocial hours. If I was ever really worried about my pet, I would want an experienced professional to advise me about whether or not my concerns are justified, before jumping in the car and dragging my pet to an emergency vet visit, especially late at night.
Over the years, I can recall several occasions when my pets were acting strangely or appeared to be very sick, and I wished I could have just spoken to a vet right away, rather than wasting time searching the Internet for advice. Since Pettable's vets respond to chats almost instantly, if a situation like that were to happen now, I know that they would tell me whether I should act quickly, or whether I was overreacting. Likewise, if an in-person visit were to be necessary, Pettable could help prepare me for the treatment options I might be presented with, what tests are likely to be ordered, and how much it might cost.
Although Pettable can't fully take the place of your local veterinarian, especially when it comes to vaccinations and serious medical conditions, it's an excellent resource to supplement occasional in-person vet visits. If you have questions about pet health or nutrition -- especially if you have multiple pets -- a Pettable membership will quickly pay for itself, not to mention providing you with peace of mind that you can't really put a price on.
If you're not sure, I would recommend giving Pettable a try, at least for a month, and seeing whether it suits you and your pets. You can cancel Pettable at any time, so there's really no downside to becoming a member. If you're on the fence, here's a Pettable review page with comments from customers.
Does Pettable Have Any Limitations?
It's important to recognize that there are some constraints on what Pettable vets are able to do, mainly because of regulations surrounding the pet telehealth industry. Specifically, they aren't permitted to officially diagnose your pet or prescribe any medications. However, Pettable vets can make suggestions and give advice based on the information you provide.
There are also some intrinsic limitations of the telehealth format, and some people may be frustrated about not being able to have their pet examined, and not being able to use video chatting.
Personally, I didn't find this to be a problem. The chat format is easy to use and the veterinarians on the other end were forthcoming about what they can and can't do. If your pet has an issue that requires an in-person examination or a blood test, for example, the Pettable team will be upfront about telling you.
Although I initially thought that the chat format would be somewhat limiting, it turns out that not having to use video calling is an advantage in many ways. With the chat, there's less pressure to immediately explain the situation, and I feel far more comfortable typing random pet health questions than I would during a video appointment with a more serious feel to it. Using the chat also gives me time to gather my thoughts, and it's an easy way to share information, including documents, images, videos, and website links.
Perhaps most importantly, the chat feature also lets you quickly go back and skim over your conversation, in case you've forgotten some of what was discussed. I find this to be a huge advantage over video chatting. Rather than having to take notes about what the vet is saying, I know that I can always scroll up and re-read our conversation, so there's no chance of forgetting an important suggestion, or misremembering the name of a particular product.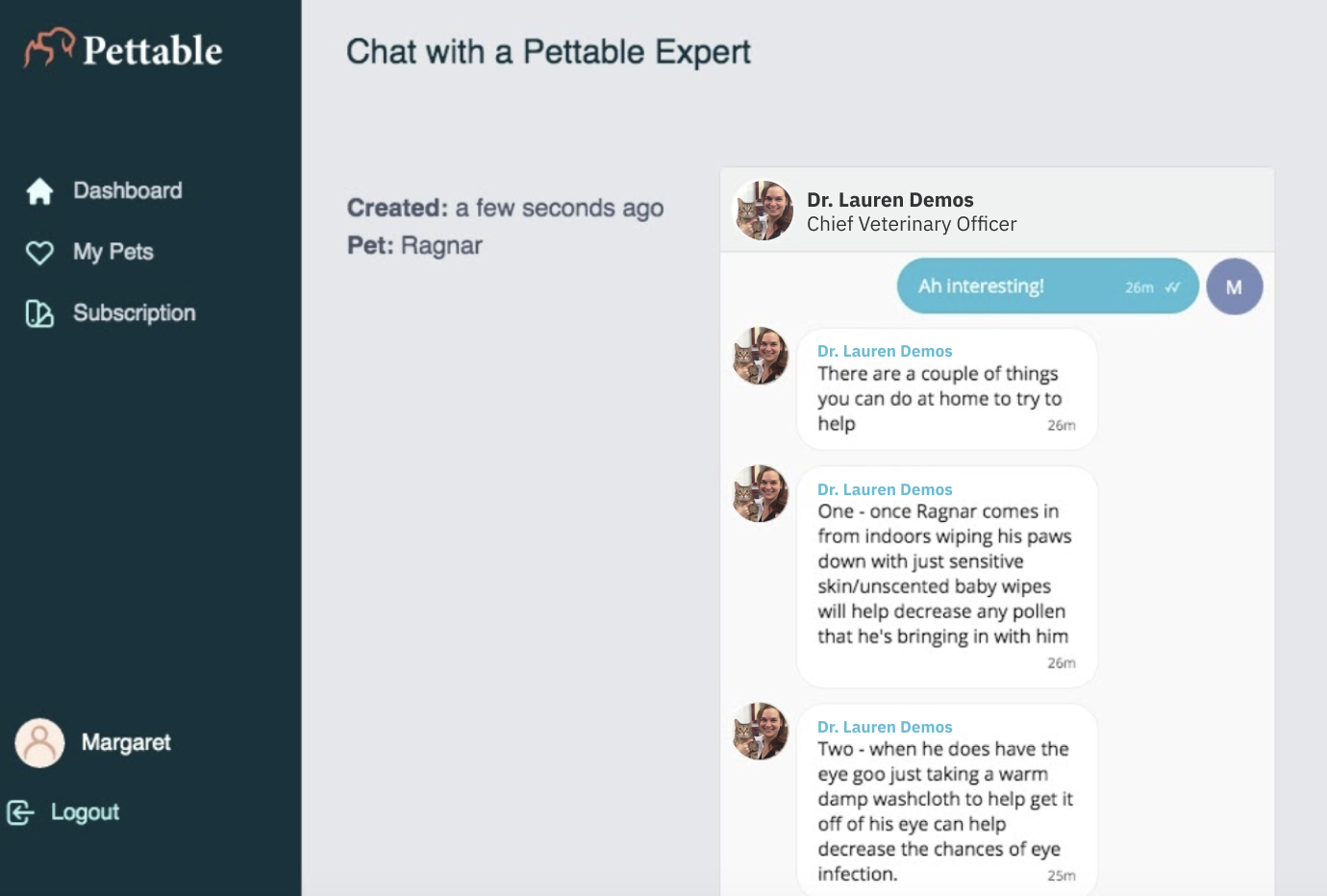 Getting Started With Pettable
Becoming a Pettable member couldn't be easier. It takes only a couple minutes, and if you change your mind you can cancel at any time, without any fees.
Visit the Pettable website and sign up for a membership
Fill in a few details about yourself and pet
Enter your debit or credit card details
Start chatting immediately with a Pettable vet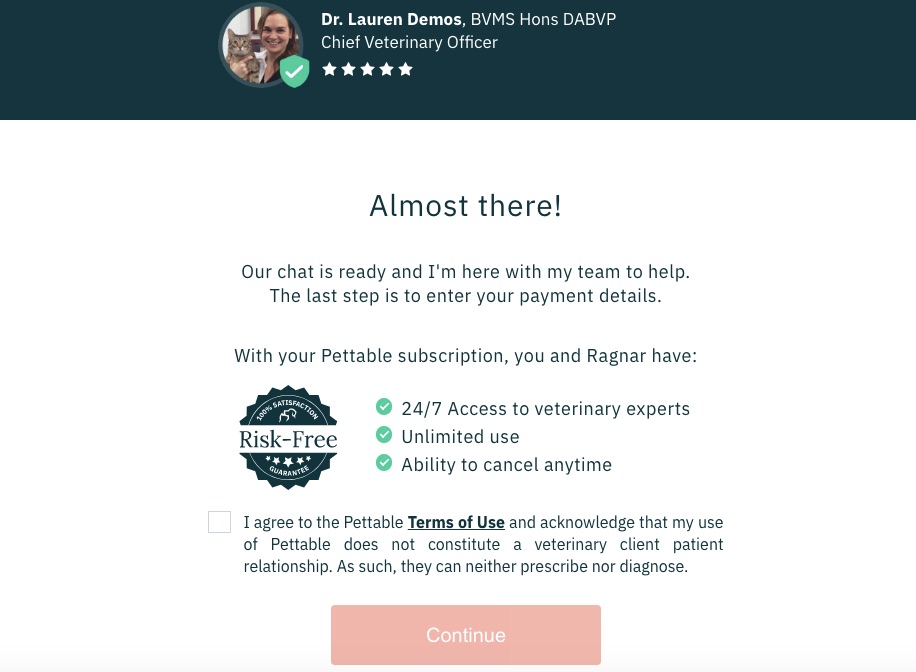 Pettable describes their service as "like having a vet in your family," and that's exactly how it feels. Being a Pettable member is like having a sibling or parent who is a vet and is happy to offer you the benefit of their knowledge and experience, even if they can't be there with you in person.