Keto Cycle Review - an Honest Review from a REAL User
When I decided that I want to give the keto diet a try, the first piece of advice that I received was to find a great keto diet app. At first, I didn't understand why it was so important to subscribe to an app. What difference would it really make? It wasn't until I started ketosis that I fully grasped the significance.
To really commit to the keto diet, you need to constantly keep tabs on your macros, carbohydrate intake, and more. This was almost impossible to do on my own. Little did I know that there are dozens of apps out there designed to help people like me. The only thing I still needed to figure out was, what is the best keto app on the market?
After experimenting with a handful of keto diet apps I finally landed on the one that met all of my needs: Keto Cycle.
Bottom Line:
What is Keto Cycle? – A ketogenic diet app that will help you with ketosis from start to finish. Keto Cycle has all the tools that you need to successfully make it through ketosis and meet your health goals.
What are the benefits of ketosis? – Aside from weight loss, users will also experience a reduced appetite, reduced blood sugar and insulin levels, and lowered blood pressure
Keto Cycle Features That We Love – A customized meal plan, personalized workout regimen, Keto Guide for Beginners, and a private community
Keto Cycle
Keto Cycle offers a new educated approach to this well-known keto diet. By incorporating weight loss, fitness, and overall wellness into one budget-friendly app, Keto Cycle helps guide you through your customized daily keto meal plan in the safest and most convenient way possible.
Tailored towards keto newbies and experts alike, the Keto Cycle app revolves around a personalized keto meal plan that has been created for you by the Keto Diet UAB. This personalized plan takes your body measurements, food preferences, physical fitness, and experience level into account, and is designed to meet every one of your individual health needs. On top of the personalized meal plan, Keto Cycle also provides its users with convenient, educational, and motivational resources to make keto as manageable as possible.
Pros:
Very affordable
Meal plans tailored to every user
Motivational tips and advice
Educational guides backed with scientific research
Calculations of daily calorie intake
Cons:
Customer service responses can take time
What is Keto Cycle?
At its core, Keto Cycle is a ketogenic diet app designed to help users with their entire keto journey. Are you looking for ways to track your daily calorie intake? Are you looking for motivation and inspiration to get through the day? Are you looking for new creative recipes to help make keto more fun? Keto Cycle has every tool you need to help make this diet easier and more convenient for you.
Keto Cycle has all of the standard tools that keto dieters need to stick to their diet day after day, but it also goes above and beyond with the features they offer. Users have access to a private community with over 20,000 members. This community shares success stories, delicious recipes, and advice, making it a great place to voice any questions or concerns you may have about your personal experience with keto. Another unique feature that Keto Cycle offers? Customizable grocery lists. This list breaks down the exact food and ingredients that you need for three meals every day, making trips to the grocery store less of a chore. As a plus, these grocery lists help reduce food waste.
How Does the Keto Cycle App Work?
As previously mentioned, the Keto Cycle App revolves around a personalized meal plan. One of the reasons why it's so important to invest in a keto app is that the keto diet is different for everyone. You can't just cut carbs out of your diet and expect ketosis to magically occur. It's far more scientific than I originally thought it was, and it takes following a very strict plan to make sure that keto works for you.
The first step of the Keto Cycle process is to fill out a survey. The survey will ask you a series of questions about your body measurements, food preferences, dietary restrictions, and lifestyle. Some of these questions include:
What is your current experience with keto (are you a first-timer, or have you been on a keto diet before)
How much time do you have to meal prep every day
What types of protein do you consume (are you a vegetarian or a vegan, or can you eat meat?)
What are five of your favorite food items
What are your current physical activity levels, and what are your physical activity goals
What are your current health conditions
What are your body measurements (age, height, weight, target weight, etc.)
After filling out the survey to the best of your ability, Keto Diet's UAB team will take that information and use it to form a personalized meal plan. Users will then pay for either a three, six, or twelve-month subscription. Once you have paid, you will then receive your personalized plan via email shortly afterward.
What are the benefits of ketosis?
I originally began using the Keto Cycle app because I wanted to start losing weight. While Keto Cycle helps users with weight loss, there are other health benefits of this diet plan.
Reduced Your Appetite
One of the worst parts about dieting is feeling constantly hungry. Ironically, being on the keto diet tends to have the opposite effect. One of the most immediate effects of the keto diet is that you won't feel as hungry as often. Research has linked ketosis with a decrease in appetite, as well as a decrease in ghrelin, which is sometimes referred to as the "hunger hormone."
Reducing your appetite is one of the few ways that the keto diet helps individuals lose weight. By consuming fewer carbs and more protein and fat, individuals are also eating far fewer calories.
Reduced Blood Sugar and Insulin Levels
The fewer carbohydrates you are consuming, the less sugar there is in your bloodstream. Once people begin a keto diet, they will notice a decrease in their blood sugar almost immediately.
The keto diet can be especially beneficial for individuals who have diabetes or insulin resistance. By removing carbs and sugary foods from your diet, both your blood and insulin levels lower dramatically. Research has shown that when some diabetics begin this diet, they can lower their insulin dosage by 50% almost immediately. That said, if you do have diabetes or insulin resistance, you should definitely consult a doctor before beginning keto. Diabetics beginning a ketogenic diet should work with their doctor so they can adjust their medication as needed while their glucose levels become lower and more stabilized.
Lowered Blood Pressure
If you are someone who deals with high blood pressure you will appreciate the benefits of ketosis. Another benefit of low-carb diets is they can help lower blood pressure. High blood pressure can ultimately contribute to numerous diseases including heart disease, strokes, and kidney failure. Ketosis can reduce your risk of getting certain medical conditions down the line.
What does the Keto Cycle plan comprise of?
Every user who subscribes to Keto Cycle will receive a personalized meal plan. Each meal plan includes:
An overview of what individuals should be eating for breakfast, lunch, and dinner
Strategies and tips to stick to the keto diet, including keto snacks and desserts to treat yourself with
Easy-to-follow, tasty, and simple keto recipes that keep you full and energized
A customizable grocery list
24/7 nutritionist advice and support
Access to a keto diet guide for beginners
Keto Cycle Features That We Love
Below I will outline some of the Keto Cycle's most desirable features. These are some of the features that drew me to Keto Cycle over some of the other ketogenic apps available.
Customized Meal Plan
One of the biggest highlights of the Keto Cycle app's program is its customized meal plan. Before I was on a keto plan tailored to me, I wasn't experiencing the desired effects I wanted from this diet. Now, I can confidently eat three meals a day, knowing that I am consuming the exact amount of food I need to reach my health goals.
Not only does Keto Cycle provide you with the exact number of calories you need to eat every day, but it also provides you with the tools to get there. Based on your dietary restrictions and food preferences, Keto Cycle will recommend nutritious meals for you to make for breakfast, lunch, and dinner. Once you select your recipes, Keto Cycle will then break down the ingredients into an organized shopping list. This is extremely helpful for meal planning and prepping for meals ahead of time. If there's anything you want to add to the list, you can do so.
Personalized Workout Regimen
Another thing I love about Keto Cycle is its focus on whole-body wellness. Even if your original goal was to lose excess weight, Keto Cycle can help you achieve other health goals as well, including fitness goals. Based on how you responded to the original questionnaire, Keto Cycle will create a personalized workout program tailored to you. Keto Cycle's workouts are usually between fifteen and forty-five minutes and are geared towards helping you lose weight.
Keto Diet Guide for Beginners
As a keto diet newbie, Keto Cycle's complete guide for beginners was a game-changer for me. In hindsight, I don't think I could have tackled the keto diet without it. Transitioning from a normal diet to a new diet plan is harder than I thought it would be. It typically takes a couple of weeks for your body to adjust to a keto diet. This ketogenic diet app will help guide you through this transition, day by day, and make it a lot less painful of a process.
Private Community
Keto Cycle's private community is a source of information and inspiration. Made up of over 20,000 people, members of this keto community are constantly sharing tasty keto recipes and success stories. Words of encouragement from this community can really go a long way in hyping you up on difficult days. These motivational messages also remind you why you are doing keto in the first place.
As someone who doesn't know a lot of other people on the keto diet, this private community doubled as an educational resource. If you have any questions or concerns about the diet, the community is a great place to turn to. Nutritionists will even occasionally host Q&A sessions for users to take advantage of.
Who is the Keto Cycle App For?
Unlike other apps, Keto Cycle is specifically geared towards those who are on a keto diet. If you are new to keto, this app is a great go-to for keto beginners. With its complete keto guide for beginners, keto newbies can slowly and safely ease themselves into this new diet. Users also have access to a private community, nutritionists, and Keto Academy if they have any concerns during their diet duration.
Keto experts will get just as much out of this app. This app is designed to help make keto easy and help you avoid daily life disruptions as little as possible. Keto Diet provides you with tools such as grocery lists, calorie counters, and a recipe library to make keto manageable, efficient, and even fun!
How Much Does the Keto Cycle App Cost?
The subscription cost for Keto Cycle depends on how long your plan is. Users have the option to pay for either a three-month, six-month, or twelve-month plan. The three-month plan is $2.75 a week, the six-month plan is $1.92 a week, and the twelve-month plan is $1.25 a week.
Keto Cycle Vs. Alternatives
Keto Cycle is far from the only keto diet app available. Before settling on this app, I compared it to a few of the other top apps on the market.
Keto Cycle vs. Total Keto Diet
Created by Tasteoholics, Total Keto Diet is known for is its shopping list creation tool. This app can find hundreds of keto recipes and track their macros. When it comes to their keto recipes, Total Keto Diet abides by three rules. This app will keep your net carb count under 25 grams a day, help you increase your protein intake to 60 grams a day, and will provide you with recipes that are both satiating and delicious. If you try a recipe that you love, you also have the option to add it as a favorite. Other key features of this app include:
Keto calculator
Macro tracker
Food database
Beginner's keto guide
If you choose to opt for this app, there are a few things you should be aware of before you subscribe. Some of the cons of the Total Keto Diet app include:
Relatively small food database (less than one million foods)
Poor app functionality every once and a while
Inaccurate bar code scanner
Keto Cycle vs. Carb Manager
Carb Manager is known for its numerous tracking devices. Users can log all of the basic things that are crucial to the keto diet such as total carbs, net carbs, fats, ketones, blood glucose, and more. But users can also track other lifestyle factors such as water intake, exercise, and body weight. When it comes to logging your foods, Carb Manager also has more than one option. Whether you would prefer to log food by taking photos, using a barcode scanner, or using voice commands, Carb Manager has got you covered. Other key features of this app include:
Recipe library
Shopping lists
Community platform
Educational guides
If you choose to opt for this app, there are a few things you should be aware of before you do so. Some of the cons of the Carb Manager app include:
Relatively smaller food database
Nutrient data is inputted by other users and is occasionally inaccurate
Inaccurate bar code scanner
What is the Ketogenic Diet?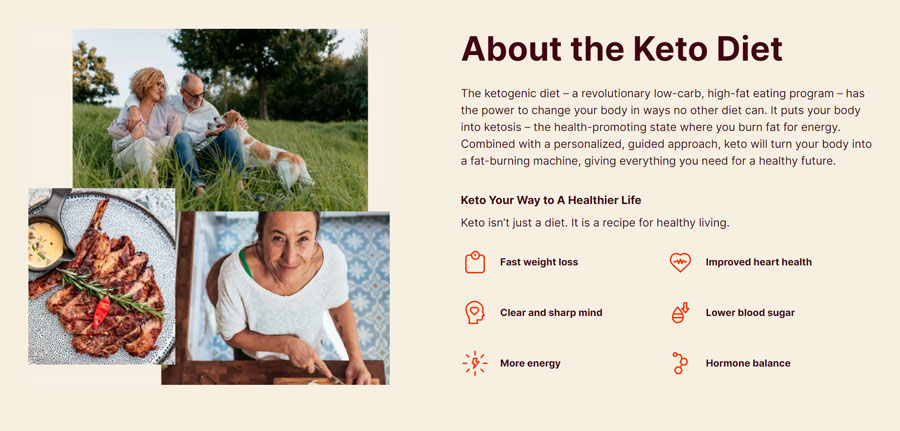 A Keto Diet is an eating plan that revolves around eating very few high-carb foods, a lot of healthy fats, and moderate amounts of protein. This low-carb diet works by depleting the body of all its carbohydrates. When you eat something high in carbs, your body produces glucose. Glucose is the easiest molecule for your body to convert into energy, and therefore, is the first molecule that your body will convert into energy if it can. Since glucose is being used as the body's primary energy source, your fats are not needed and are stored in other parts of the body.
However, when your body no longer has any glucose to turn into energy, a process called ketosis occurs. Ketosis is a state in which the body burns fats instead of carbohydrates as its main energy source.
Is the Ketogenic Diet Safe?
For most people who don't suffer from medical conditions, following a keto diet is safe, if done properly. If you are worried about your health and safety, consult with a doctor before starting the keto diet, and use an app while your body is in ketosis.
If you are diabetic, it is especially wise for you to consult a doctor before deciding that a keto is a right path for you. Breastfeeding women and people with metabolic conditions should also avoid being in ketosis.
Is the Ketogenic Diet Healthy?
As mentioned previously, the keto diet has many health benefits. Some of the health benefits of keto include:
Improving acne
Aiding with weight loss
Reducing appetite
Reducing the risk of certain cancers
Improving heart health
Reducing the risk of seizures
How Do You Start a Ketogenic Diet?
Before beginning the keto diet, you need to figure out what your daily meal plan will be. Your daily meal plan will not just involve cutting out carbohydrates from your diet. You need to be consuming a very particular amount of protein, healthy fats, and carbs every single day. Apps like Keto Cycle can provide you with that meal plan and help you figure out how to stick to that plan long-term.
Once you begin following your meal plan, it should take two to four days for your body to enter ketosis. However, depending on factors such as physical exercise, age, and metabolism, it may take longer.
Tips On How To Do The Ketogenic Diet Safely
The ketogenic diet has been gaining a lot of popularity lately. This is mainly because people are finally starting to realize that the traditional western diet is not working for them. The keto diet helps you lose weight by adhering to a high-fat, low-carbohydrate intake. It not only aids people in losing weight but improves their health.
However, there are things you need to understand before you start the keto diet. Here are some tips on how to do the ketogenic diet safely.
How To Balance Your Keto Diet?
The keto diet is high in fat and low on carbohydrates. Make sure you balance correctly the food you eat to achive your goals in a healthy manner.
Make Sure You Get Adequate Amounts of Nutritional Fats
The keto diet is a high-fat diet, so you need to ensure you get enough fat. You should aim for at least 60% of your calories from fat.
Get Enough Lean Protein
Lean protein is vital for the keto diet because it helps you feel full and provides your body with the amino acids needed to build muscle. You should aim for at least 30% of your calories from protein.
Understand That All Protein Is Not Created Equally
Aim to eat clean proteins like wild-caught fish, grass-fed beef, and organic chicken. Avoid processed meats like deli meat and sausage.
Limit Your Carbohydrate Intake
The keto diet is low-carbohydrate, so you must limit your carbohydrate intake. You should aim for less than 50 grams of carbohydrates per day. Get your carbs from vegetables. Vegetables are an incredible source of fiber and nutrients.
How To Take Care of Yourself Physically During a Keto Diet?
Don't try to get to the finish line too soon. Don't forget of the following while you're on a diet.
Drink Plenty of Water
The keto diet can lead to dehydration if you're not careful. This happens because it's a type of diet where the intake of sodium is reduced, and sodium helps the body retain water. You should aim for 64 ounces or more of water per day.
Get Enough Sleep
Sleep is important in the keto diet because it allows your body to recover from your workouts and repairs muscle tissue. It also helps regulate hormones. While the amount of rest each individual needs differs, aim for at least 7 to 8 hours of sleep per night.
Don't Overdo It
The keto diet is a steady marathon, not a sprint. You need to slowly increase your fat intake and decrease your carbohydrate intake over time. If you put too much pressure on your body, you will likely stall your progress or even gain weight.
Have Patience With Yourself
The keto diet takes time to work. It can take many weeks before you start seeing results. Don't give up when you don't see results immediately. Just continue working at it, and you will eventually get there.
How to Take Care of Your Health While on a Keto Diet?
Make sure to put your health first while on a diet.
Check With Your Doctor First
It is crucial to check with your doctor before starting the keto diet, even with the app. It is especially detrimental for those who have any medical conditions or are taking any medications.
Be Prepared for the Keto Flu
The keto flu is a real thing. It is a period (usually a few days to a week) when your body adjusts to the new diet. You may experience fatigue, headaches, and brain fog.
Supplement Your Diet
Supplements that can help you with the keto diet include MCT oil, magnesium, and exogenous ketones. They work by helping you get into ketosis faster and providing you with energy when your body is adjusting to the new diet.
Get the Support You Need
The keto diet can be challenging to do on your own. Getting support from friends, family, or an online community is essential. It will assist you in staying motivated.
Have Fun With the Diet
The keto diet doesn't have to be all work and no play. Find ways to make it fun, and you will likely stick with it. Celebrate the small wins along the way.
While the Keto App is helpful in meal planning and tracking macros, you need to know how to stay healthy throughout the diet to avoid health risks. These tips give you the information you need to follow the keto diet, nourish your body and mind, and be successful on your keto journey.
If you follow these tips, you should be able to do the keto diet safely and effectively. Remember to be patient throughout your keto journey, and don't give up if you aren't getting the results you expect immediately. The keto diet takes time to work, but it is well worth the effort.
Final Verdict
When it comes to the keto diet, not only is it a good idea to use an app, it's important to use the best app. Keto Cycle equips you with all of the tools you need to tackle the keto diet confidently, safely, and effectively. The best part about this app is it's a one-stop shop for all things keto. From its private community and motivational tips to its educational guides and 24/7 access to nutritionists, Keto Cycle has anything and everything you need for your keto diet.
Is Keto Cycle worth it?
Yes. Keto Cycle is a one-stop shop for everything you need on your Keto journey. Even though you do have to pay a small fee, you won't need to pay to use any other resources while you are subscribed to this app.
Is Keto Cycle legit?
Yes. Since its conception, Keto Cycle has helped thousands of customers meet their health goals through ketosis.
Does Keto Cycle factor dietary restrictions into its meal plans?
Yes. One of the questions that Keto Cycle asks in its initial questionnaire regards food preferences. If you are vegetarian or vegan, you can indicate that in the initial survey. You should also mention any food allergies.
If I have a health condition can I still try Keto Cycle?
If you have a health condition, consult with your doctor before starting the keto diet. The keto diet can be especially dangerous for diabetics, breastfeeding women, and people with metabolic conditions.
Do you have to pay for Keto Cycle?
Yes. You have to pay a small fee to subscribe to Keto Cycle. The fee differs depending on whether or not you subscribe to the app for three months, six months, or twelve months.
Does the Keto Cycle pricing plan automatically renew?
Yes. Unless you cancel your subscription, your Keto Cycle plan will renew.
After you place an order for Keto Cycle, what happens next?
After you submit the answers to your Keto Cycle questionnaire, the Keto Diet UAB team will begin to construct a customized meal plan for you. For quality control, each plan is checked by multiple members of the Keto Diet UAB team.
How long does it take to receive your Keto Cycle plan?
For the most part, Keto Cycle members receive their personalized plan two hours after submitting their quiz results. However, don't be concerned if it does take slightly longer. Individuals are asked to wait 24 hours before reaching out to the customer service team for support.
Why should you opt for Keto Cycle?
When it comes to keto diet apps, each one has features that they do and don't include. Keto Cycle on the other hand has every feature that you could possibly want out of a keto diet app. This means that you only need to rely on one app during your keto journey.
What are some of Keto Cycle's newest features?
Keto Cycle has recently added two new features: a keto streak game and a symptoms tracker. While not much is known about either of these new features just yet, the symptoms tracker is predicted to be a tool that helps individuals identify if they have keto-flu symptoms.
Can I still use Keto Cycle if I change my lifestyle habits?
Yes. If you significantly change a certain lifestyle habit, you may want to consider reaching out to Keto Cycle and requesting a new meal plan. Factors such as upping your exercise may slightly change your meal plan and how much food you should be consuming every day.
What languages is Keto Cycle offered in?
If you would prefer to use the Keto Cycle app in a language other than English, you have 11 other languages to choose between. Keto Cycle is offered in English, Arabic, Czech, Danish, Dutch, Finnish, French, German, Hebrew, Hindi, Hungarian, Indonesian, Italian, Japanese, Korean, Malay, Norwegian Bokmål, Polish, Portuguese, Romanian, Russian, Simplified Chinese, Slovak, Spanish, Swedish, Thai, Traditional Chinese, Turkish, and Vietnamese.
Does Keto Cycle have a refund policy?
Keto Cycle users can only request a refund on certain grounds. Users can only request a refund within the first 14 days if their Keto Cycle plan is "proven to be not as described or faulty."
Where can I learn more about the Keto Cycle app?
If there are any further questions that you have about Keto Cycle, strongly consider reaching out to the customer support team via email: hello@ketocycle.diet.
How do I cancel my Keto Cycle subscription?
If you go to the page about managing your subscription, you will have the option to cancel your subscription.