10 Best Super Greens Powders, According to a Dietitian [2023]
Discover the top 10 super greens powders of 2023, handpicked by a dietitian for their nutritional prowess. Each blend is packed with vitamins and antioxidants to boost your health. Curious about which powder made the top spot and why? Continue reading to find out.
Super greens powders are a quick and easy way to boost your daily intake of nutrients and vitamins. These powders are made from a blend of nutrient-rich green superfoods and are perfect for those who may not have time to eat enough fruits and vegetables. In this article, we'll be taking a look at the best super greens powders on the market.
According to the CDC, only 9% of American adult get the required intake of vegetables that they need. While the best bet at supplying all your body's needs is by eating fresh vegetables and greens, super greens powder can help adults who lack time or means to add whole food to their diet. 
We have rounded up several super greens powder brands you can trust and have reviewed them extensively, so you can make the choice that suits you best. What's more, you can begin using them today to either help meet your nutritional needs or supplement your diet. Read on to learn about the best greens powder for you and your needs and achieve your health goals. 
Why use Super Greens Powder?
Studies of super greens powders have shown they have many tangible benefits for those who use them. A pharmaceutical study in India for example showed that potent super green powders can increase levels of antioxidants almost as well as the required daily intake of fresh fruits and vegetables. Other studies show that the enhanced bioavailability of antioxidants and other nutrients from super greens powders can help prevent chronic diseases.
In addition, organic super greens powders can help relieve high blood pressure and seem to have a loose connection to enhanced energy though science has yet to confirm it. 
Thus if you are an athlete with enhanced dietary needs or if you suffer from persistent low-grade illnesses, Super Greens may be an addition to make to your diet.
Top 10 Super Greens Powders
We've compiled this list to help you navigate the over-saturated market of super greens powders and help you figure out which of these products are the true best super greens powders. At the top is Live it Up Super Greens, a company with a truly excellent reputation and sourcing for its product. We also mention products such as Nutricost, Orgain, Sunwarrior, and others for their vast customer satisfaction and nutritious content. You can choose from any of these products and rest assured that you will get the benefits of super greens powders out of them. 
Live it Up Super Greens is Live it Up (formerly Ensō Supergreens) best-seller for only the best reasons. By mixing one scoop of Super Greens powder with water, you can take in significant amounts of no less than seven vitamins, iron, calcium, and even 2.5g of protein - with only 2% of your daily carbohydrate recommendation. 
Thus, Live it Up Super Greens boost your health by helping you meet your daily vitamin intake and helping your gut to maintain its health with the addition of over 7 billion probiotics per scoop. It also contains no dairy, added sugars, or preservatives.
To top it all off, Super Greens dissolves easily in water and does not have an awful, bitter taste, making taking in your needed greens easy and even tasty.
Get 15% Off with WISEGEEK15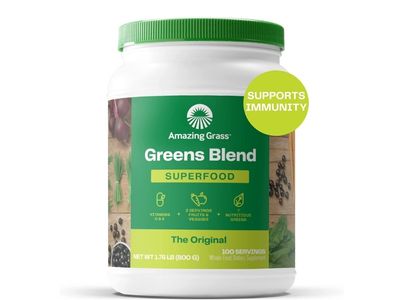 Amazing Grass Greens Blend super greens powder boasts a unique trait, one of the many that landed it on this list: dietary fiber. One of the many things skeptics claim about super greens powders, even the best super greens powders, is that you only get dietary fiber from whole foods. 
Amazing Grass has responded to skeptics' claims by including three grams of dietary fiber in every serving of their super greens powder. 
Amazing Grass Greens Blend also contains several organic types of grass, broccoli, spirulina, and chlorella as its base. The powder also includes antioxidants such as pineapple, carrots, and acai berry to give it an extra nutritional edge. 
They offer three flavors: original, berry, and chocolate. Once you choose your flavor, you can choose to either drink this greens powder by simply adding it to water or making it part of a shake but beware the original flavor might be hard to swallow. 
Garden of Life's organic super greens powder demonstrates its product's excellence by displaying its certifications from the non-GMO project and many other organizations on its product. 
This super greens powder does not just include vitamins for those who take it. For those suffering from cramps or fatigue, the magnesium, potassium, and manganese in Garden of Life's powder may be able to help you. 
Vitamin K, Riboflavin, and Vitamin B round out the nutrients on this powder's label but don't let that reduce the work of the company in sourcing the ingredients.
With one serving, you will be taking in the contents and nutrients of dozens of plants and vegetables. And you will be helping further the first supplement company to be certified carbon-free. 
Orgain is a household name in sports nutrition and protein powders and just a few years ago they decided to turn their expertise to creating super greens powder. The results have been fantastic in diversifying the market, as many people have made Orgain super greens their go-to. 
While Orgain's "superfoods super nutrition powder" might not contain as many vitamins as other powders, its density of superfood concentration, with over 50 superfoods, means it supposedly includes one billion probiotics. The primary probiotic it contains is Bacillus Coagalanus, a bacteria that stimulate gut health by producing lactic acid in the gut. 
Like many other super greens powders, Orgain's superfood powder is simple to use. You can add as many scoops as you want to water and stir them in, or you can use their suggested smoothie recipes on their site. Reviews attest to the good taste of this super greens powder, especially when blended with almond or oat milk and honey.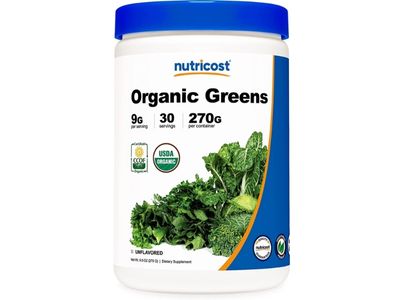 Nutricost's super greens powder is one of the most straightforward super greens products you can find on the market. While other companies up their "superfood count" and include dozens of fruits and vegetables to increase their product's nutrient density, Nutricost does not. 
Nutricost only includes organic greens, grasses, and leafy vegetables in their greens powder such as kale, spirulina, spinach, broccoli, and other green superfoods. 
While it means their powder's vitamin concentration may suffer, it does not mean their super greens powder is any less effective or high quality. 
If the reason you are considering taking super greens powder is your digestive health and promoting energy, then Nutricost's super greens powder is one of the best options for you. This powder's high concentration of protein, fiber, and iron can help you gather more energy and strength while digesting more easily. 
This product's only other drawback is its taste. With such a concentration of green vegetables, most customers do not find its taste pleasant and thus we do not recommend just adding it to water and stirring. Instead, try adding a serving or two to a smoothie. 
Sunwarrior Ormus takes an interesting approach to their super greens powder ingredients, and according to customers, that approach has paid off. Ormus grows its source vegetables in volcanic soil, giving them a higher nutrient density and darker hue visible in this super greens powder. 
The powder comes from raw juice with the ingredients and goes through a drying process to become a powder. The process retains the nutrients from vegetables, giving this powder an abnormally high probiotics concentration and a hefty amount of protein, potassium, and iron. 
With 2 billion probiotics, such as L-acidophilus and L-Plantarum in each serving, Sunwarrior Ormus greens will help promote your health in manners far beyond just strength and energy. The probiotics present in just one scoop of these greens have demonstrated connections to cancer prevention, skin condition treatment, especially eczema, and therapeutic uses against depression and other mood disorders.
This high number of positive effects of these probiotics puts Sunwarrior Ormus super greens powder on this list, but that is not all the company can brag about. Their product is climate-pledge friendly and boasts a vegan composition, like other true greens powders, free of dairy, sugar, or GMOs.
Additionally, many customers enjoy the mint flavor of these greens and find them easy to add to their diet because their flavor does not scream vegetable concentrate powder.
Like Nutricost's greens, Naked Greens keeps its super greens powder simple. There are only six organic vegetables and grasses and ten ingredients in Naked Greens' powder, and those greens are boosted with the power of probiotics and prebiotics.
Naked Greens stands out from the get-go for its inclusion of one ingredient more than any other: Vitamin K. 
One serving of Naked Greens super greens powder gives you 42 percent of the daily vitamin K intake, and Naked Greens choose greens high in this vitamin for a reason. 
While it may seem like the vitamin profile of this super greens powder is limited, vitamin K does the heavy lifting to repair the body and promote vitality. It promotes healthy bone tissue and structure in the body, which means this super greens powder is particularly good for men and women who are getting older and want to look after their bone health. 
Naked Greens' simple approach pays off, as this greens powder has universally had a positive effect on customers' lives. 
There is one caveat to be aware of with this powder, however. Though it is dairy-free, soy-free, and gluten-free, it does contain added sugar. The gram of added sugar in each scoop has a specific purpose - to dress up the bitter taste of the vegetables included in the powder. 
Ancient Nutrition super greens powder packs heaps of superfoods into a single scoop with specific purposes: to increase gut health, to help detoxify the body, and to increase energy. 
To that end, they include 17 different organic superfoods in the powder's fruit and veggie contents. Favorites such as spirulina, spinach, chlorella, and newcomers such as matcha and goji berry make an appearance on the ingredient list. 
Additionally, ingredients from kombucha that promote probiotic growth are included in Ancient Nutrition's super greens blend. Roots such as Ashwagandha are organically sourced before being added to the blend. These ingredients join the powder to assist its benefits in tapping into the users' brains. 
The botanicals in Ancient Nutritions blend have connections to stress relief, anxiety relief, the sharpening of focus, and the increase of strength. 
It also has some drawbacks, namely a low concentration of vitamins, and a particularly harsh taste. While the taste can always be hidden by other flavors in a beverage, you should be absolutely sure you're getting the required vitamin concentration that your body needs.
With four grams of dietary fiber, Country Farms super greens powder has the highest concentration of fiber on this list, in addition to ten grams of greens, fruits, prebiotics, probiotics, and a mushroom blend to promote gut health. 
Country Farms strictly sources all of their ingredients and only uses organic superfoods, over 20 of them, in creating their "natural" super greens powder. 
If you are seeking a boost in your exercise activity or having digestive problems, this greens powder may be best attuned to help you. Its combination of fiber, probiotics, and mushrooms can help your gut begin digesting more efficiently and kick toxic foods from the past out of your digestive system. Meanwhile, its concentration of over a dozen fruits can give you the added energy you have been looking for to boost your fitness. 
Though it does not contain any added sugars or sweeteners, one of the powder's filler ingredients is organic Rebaudioside A, which comes from Stevia. So, keep this in mind if you are considering purchasing these greens. 
Sunfood super greens powder strongly concludes this list. This super greens powder contains no less than eight vitamins and comes from just 19 ingredients. 
With all these vitamins in the mix, Sunfood's super greens powder has the potential to help you do more than just improve your gut health. With a high concentration of calcium and several Vitamin B's - this super greens powder can help improve your brain power and function while fighting mood disorders and bone pain. It can also help strengthen your immune system and ability to fight off disease. 
In addition, this super greens powder can help people whose bodies are still developing because its concentration of vitamin B-complexes can promote healthy cell growth and increased heart function. 
The 19 vegetables and fruits they choose to make this powder are 100 percent certified organic products, so you need not worry about added sugars or sweeteners in this mix. In addition, this product, like some of the best on our list, is certified vegan and is even a good vegan source of protein with its three grams per serving. 
Sunfood's super greens powder has another benefit: it comes with natural flavors that tone down an otherwise unpleasant taste. So, with flavors like pineapple taking over, it can be easier to stomach them than many other powders when you add them to water or food. 
Key Considerations
As you can see in part from the descriptions above, there are several aspects to keep in mind when purchasing super greens powder and several aspects that set others apart as the best super greens powders. 
Nutrients 
A greens powder can brag about its benefits all its producers like; if the label shows it contains no nutrients, probiotics, or any beneficial ingredients, you can toss it in the trash. When you're looking for a greens powder, look for vitamin concentrations, look for diversity of probiotics, and look at the actual fruit and vegetable composition of the powder.
If a greens powder has several fruits and vegetables but doesn't have iron, potassium, sodium, fiber, or vitamins, then you can consider that greens powder trash. All these greens powders we picked are nutrient-dense, even when they are not full of several vitamins. 
Organic 
The debate about organic food continues but science is starting to side with the organic food movement. Organic food is of generally higher quality and thus, more nutrient dense. Try your best to find greens powder blends that use only organic foods, as you will be sure that the powder contains the highest quality and most nutritious version of whatever vegetable or fruit is contained in it. 
Additives 
Generally, good greens powders should have no additives. Some companies will add a gram of flavoring to counter the heavy rooty or bitter taste of the vegetables, but other than that there should be no additives. Check the label to see if the super greens powder has any additives and then you can evaluate their safety. Common additives are laxative compounds, sugars, sweeteners, or gluten compounds. 
Go by this rule of thumb - if you are not looking at the list of fruits, vegetables, vitamins, or probiotics, and you do not recognize the chemical name of whatever substance has been added as filler, do not buy the product. 
Clean Ingredients 
When choosing a super greens powder, you want to make sure that its ingredients are solely plant-based and free of soy, gluten, or any animal products like dairy. Luckily, this is easy. Just look for the vegan.org stamp and look at the label. Both of these pieces of information will tell you how clean the ingredients in your powder are. 
Sourcing and Labeling 
All listed best greens supplements are labeled according to American standards. Thus, the daily intake values on the labels reflect a 2,000-calorie diet. You can use this information to help interpret your dietary needs or try to guess them yourself. 
But as far as the rest of the label goes - pay close attention to the vegetable and fruit contents too. This part will tell you how they sourced their fruits and vegetables and how they contributed to the final mix. If they sourced each plant from the whole version of the plant, it will say so here.
Taste 
Taste is impossible to detect from the label unless you are buying a flavored greens powder. Look at customer reviews to see how they feel about taste and see how they dress up bad tastes for greens powders. 
As you weave through the labyrinth of health supplements, navigating the ocean of customer feedback is crucial. This is where the Live it Up Super Greens review comes into play. Being the nutrition equivalent of an all-star team, the super greens have rapidly climbed the popularity ladder in the health sphere. Each review sings praises of its unparalleled blend of vital nutrients, subtly hinting at the secret behind the tasteful experience.
Despite the conventional wisdom that greens powders inherently carry a distinctive, often unpleasant taste, super greens are a pleasant surprise, a deviation from the norm. The Live it Up Supe Greens review from countless satisfied users underline this very aspect - the subtle, palatable taste that makes it easy to incorporate into their daily routine. Whether mixed into a morning smoothie or a glass of cool water, the flavor seamlessly blends without the typical overpowering greens powder taste. Truly, Live it Up Super Greens have redefined what it means to combine health with taste, raising the bar in the greens powders market.
Final Thoughts
So concludes this discussion of the best greens powder on the market. It is not limited to these 10 - there are other great products out there - but these 10 will bring you the benefits you seek quickest. We still recommend Live it Up Super Greens above all else and if you want to know more of our recommendations so you can start living healthier, just check out some of our other posts. 
Transitioning into the world of top-tier wellness has never been easier, thanks to the rise of the best greens powders. Your journey towards holistic health could begin with a scoop of Live it Up Super Greens
Filled to the brim with nature's finest ingredients, this is a greens powder that doesn't compromise on quality. Let this premium blend elevate your daily routine, proving that true wellness can indeed be simple and delicious. Seek out the best, feel your best with Live it Up.
Frequently Asked Questions
There may be lingering questions, and here is the spot where we will address them. 
When Should You Use Greens Powders?
You can use super greens powders at any time of the day. If you will not have any other time the rest of the day, you can take them in the morning, or you can take them to help with digestion after dinner. It does not matter. 
Are powdered greens good for digestion?
Powdered greens promote gut health through promoting probiotics and prebiotics, so yes they are good for digestion and have the potential to help you if you have suffered from IBS in the past. 
Do super greens help with bloating?
Super greens can help with bloating because they stimulate enzymes in your stomach to strengthen your digestive system. Thus, when your gut wants to bloat or produces gas, your digestive system is more able to rectify the problem. 
How long does it take greens powders to start working?
After two to three months it is safe to evaluate whether or not powdered greens are benefitting you and helping your health improve.