5 Best Putting Mats to Putt like a Pro
Putting is one of the most intricate parts of golfing; not everyone can do it well. Even the pros need to perfect their putting skills. Getting the best putting mat can make or break your golf game. Utilizing a tremendous indoor putting mat can help you improve your skills without spending time and money on the course.
Whether you're looking to brush up on your skills, are new to golfing, or want a fun activity to do in your garage, getting one of the best putting mats is critical.
Why You Should Use a Putting Mat
So, why should you be using a cutting mat? You'll want to purchase a putting mat for your home, office, or other space for several reasons. The main reason is that your putter is the most used golf club in your golf bag, so knowing how to use it and use it well will improve your game and make you feel more confident on the course.
Another reason you'll want to invest in a putting mat is that it's an easy way to improve your game without taking up much space or continuing to pay to head to the golf course. You can set the mats up easily anywhere and hit the balls until you decide to stop. Plus, they're fun even if you're not looking to practice your putt that day strictly.
Top 5 Indoor Putting Mats
You'll find many options available if you're on the hunt for the best putting mat. Not all of them are created equal, so we've narrowed down the five best putting mats worth your time and money.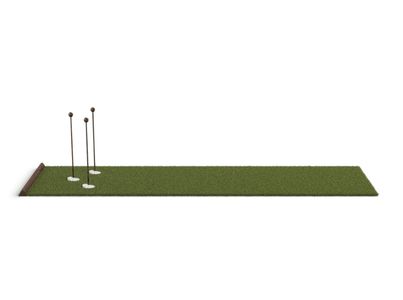 If you were to ask us what the best indoor putting mat is, we'd have to say it's the PrimePutt Putting Mat. PrimePutt's product is our top choice for indoor putting mats for several reasons, and it has minimal cons to purchasing it.
Thousands of golfers, including some professionals, use this putting mat to perfect their putting skills. If you want to practice like the pros, then this is a great putting mat to consider buying. But why do the professionals lean towards this putting mat?
It's among the most realistic putting surfaces and indoor putting mats on the markets. Practicing on a mat that feels more like a real putting green will give you a better experience when you're ready to hit the golf course.
Other features of PrimePutt's product are the innovative cup design, the stay-put bottom, and the lack of the block backstop. The putting mat comes with a cup and flagstick. These quickly move any of your balls to the back of the cup. This way, you don't need to remove the balls before trying again.
The mat comes with a durable yet flexible bottom that won't let the putting mat slide around as you practice. We also love the backstop that prevents any missed putts from rolling off the mat or bouncing back and blocking your next try. This excellent feature allows you to stay focused on your game without chasing the ball or removing it from the mat every time.
As if you need any more reasons to love PrimePutt's Putting Mat, it rolls true every time, so you don't need to do maintenance on the mat often, it lays flat without much effort, and it's easy to transport.
When you purchase this indoor putting mat, you'll get a 100% money-back guarantee if you're not happy with the putting mat, regardless of the reason. Their world-class service is something to admire, and they always ship their putting mat for free. The only things we think the company could improve with the putting mat are to include a ball return, add lines, and reduce the weight.
Bottom Line: PrimePutt's Putting Mat is the second best thing to practice your putting next to an actual golf course. The mat feels realistic, won't slide around, and is easy to roll out and start practicing.
It's no secret that the pros on the PGA Tour tend to have a putting mat to keep them on top of their game, but if you're looking for an indoor putting mat that professional golfer Dustin Johnson uses, the Perfect Practice Putting Mat is it. The mat is 9'6" long, perfect for use in your home, office, garage, or wherever you want to practice.
Perfect Practice's Putting Mat is made with sturdy acrylic material that won't wear down after only a few uses. It features two holes which allow you to perfect your accuracy and precision on each stroke.
The surface of the putting mat is crystal velvet. It's not the most realistic option, but the smooth material allows your ball to roll seamlessly to the hole, just like it would on the natural greens on the course.
Another prominent feature that will allow you to stay on top of your practice is the ball return. You won't have to fetch your balls from the mat or hole after every putt. An auto-return system quickly rolls your golf balls back to you so you can continuously swing.
This feature is great for some people, but others might not prefer it. The Perfect Practice mat comes with clear lines on the mat so everyone can practice easier. There are lines for both right and left-handed individuals. You'll be able to try and follow the guidelines to perfect your aim. But this feature isn't as realistic as other mats, but still very helpful.
You'll find that this mat has skid-free technology to allow your ball to gracefully glide towards the hole like it would on the green. One of our favorite features is the two holes. You can use the regulation hole to get comfortable putting and the smaller one to really perfect your aim.
Our only complaint about the mat is that the ramp isn't adjustable, so you'll always be putting it uphill, and it takes a little longer to roll flat than competitors.
Bottom Line: Professionals love this mat thanks to the guidelines on the mat that can help you hone your aim. It won't slide around and has an excellent ball return, so you can keep practicing without having to pick up your golf balls.
For those looking for a basic putting mat that's still high-quality, the PuttOut Pro Golf Putting Mat is a great option to consider. Whether you're just starting golfing, have been for years, or are a professional, everyone can benefit from this indoor putting mat.
The mat comes with a durable backing made with rubber that allows the mat to stay put as you practice. The heavy rubber is ideal for placing on most surfaces and will lay flat once you finish rolling out the product from the carrying case.
The fact it's easy to roll out and roll back up and put in the carrying case makes this the best putting mat to bring with you on the go. It's less than five pounds, so almost everyone can easily carry it around and set it up wherever they need it.
PuttOut made this putting made with nylon material. As far as realistic putting goes, it's not the most realistic out there, but you'll still be able to hone your skills from the comfort of your home or office. Despite the nylon, the surface is designed to showcase a medium to fast green to help you perfect your putting skill on those style greens.
As you practice your putts, you'll be able to utilize the alignment guides that are clearly visible on the mat. It has various target points and distance markings so you can see how you're doing and where you need improvement. Something to note about purchasing this mat is that you'll be able to see the hole clearly, but you'll need to buy a separate putting cup.
A feature many people love about this mat is the various color options. You'll be able to choose from five colors yellow/green, green, gray, blue, and blue-black. Most people go with the traditional green or yellow/green, but it's nice to have options if you're trying to match it to a specific room in your home.
We love that you'll have a two-year manufacturer's warranty with the product if you ever experience any issues.
Bottom Line: PuttOut putting mat is perfect for those looking for a basic yet functional design. You can easily roll it out and back up to take with you everywhere, use the alignment guides to perfect your skills, and have a blast doing so.
The WellPut Golf Training Mat is another top choice for those looking to practice putting at home. Something that makes this putting mat stand out amongst the competition is that while many professionals use the mats we've mentioned, The design gained approval and recognition from one of golf's top coaches, Cameron McCormick.
Cameron McCormick coaches golf professionals like Daniel Berger, Jordan Spieth, and So Yeon Ryu. With the approval of one of the best coaches, you can train like professional golfers with this mat. The mat's design is there to replicate the natural greens as best as possible so you can have more accurate practice.
The whole point of a putting mat is to help you hone your skills, so adding visual aids and guidelines can help you do that. We love this mat because it has more of these guidelines than others, allowing you to try different angles and methods to perfect your putting skills more quickly. It's excellent for eye positioning and building muscle memory.
These guidelines help you roll at two different speeds. One speed or direction allows you to perfect your accuracy, while the other will help you perfect your distance control on the green. There are over 50 different exercises you can try and three levels, which allow for plenty of practice and fun too. You can access these via the book or on their mobile app.
You'll be able to choose between a ten, 13, and 26 feet length, allowing almost everyone to find a place for the mat. While it's best to practice indoors, this mat is UV-resistant if you want to bring it outside once in a while. It's easy to transport and store when you're not using it.
Overall, this putting mat is a great choice. The only real issue is that it often doesn't lay as flat as it could, but you can correct this by placing heavier materials on the corners for a few hours.
Bottom Line: This is one of the most comprehensive putting mats that will help you hone your skills. With over 50 exercises, you'll never get bored with this putting mat and see a significant improvement on the course.
Last but not least, we have GoSports Pure Putt Golf Ramp. This beautiful putting mat features a wooden border, giving it a much more aesthetically pleasing appearance. While we love that feature, if you're looking for a cutting mat to bring with you, this might not be the best option out there.
Even though it's easy to assemble the wood paneling and take it down, it's much easier to roll up other mats than this one. If you are thinking about taking this mat with you on the go, you'll want to remember that it weighs over 13 pounds. While that's not too heavy, when compared to others that are less than five, it's a hefty option.
The mat is nine feet long, allowing a decent amount of practice space. You'll find two cup sizes that allow you to hone your skills further than just with a regulation-sized hole. While you're more than welcome to use your favorite golf balls, it comes with four for you to practice with if you choose.
One of our favorite features is the automatic ball return. The balls will come back to you without you needing to pause your focus and retrieve them. The guidelines are minimal on the mat, but you'll be able to see how far you're putting, which helps build muscle memory and see if you need to use less or more power when swinging.
Whether you're left or right-handed, you'll be able to enjoy the mat and practice with ease. You'll be able to practice different putting drills to prepare you for the various green conditions on golf courses.
You'll notice that this is one of the best putting mats for those looking to practice on a ramp. The ramp provides a little more difficulty, but it's worth practicing because there are some real-life situations where you'll have to put it on a hill. The one downside is that you can't change the height of the ramp to put it on a flat surface or a lower hill.
Bottom Line: This putting mat is the perfect mat to leave in your home or office when you want to hone your short game. You'll be able to use two hole sizes and the alignment guides to see your skills.
Key Considerations for Putting Mats
Whether you're looking at one of the five best putting mats we've mentioned or are still browsing, here are several key features you'll want to consider before purchasing an indoor putting green.
Size
As you've probably guessed, there are several different sizes of putting mats to choose from. Which size you'll choose is ultimately what works best for you.
Going with a smaller putting mat is ideal if you don't have a lot of space, whereas if you have plenty of room, you might prefer a longer one. You'll need to assess where you'll put the putting mat before purchasing to ensure you don't buy one too large.
Roll
Greens on the golf course are smooth, so you want to ensure you're getting a putting mat that's smooth enough to allow you to practice as best as possible. The best way to assess the smoothness is how well the ball rolls as you putt it. Getting a putting mat that allows for a great roll every time is necessary.
Quality
As with most things you invest with, you'll want to consider the quality. If you plan on getting years of use out of your putting mat, you'll want to look for higher quality. This way, it can withstand wear and tear and any travel you might do with the putting mat.
Portability
How portable the putting green is can determine which one you'll choose to buy. If you're not planning on bringing it with you to different locations, then the portability factor might not matter to you. Being lightweight and easy to pack makes for great portability.
Durability
You'll want to look at the durability of the mat. A durable putting mat will last you a long time regardless of how often you're practicing your putt. Some models will wear down quicker than others, so you'll want to look at options that will hold up for a long time. A more durable mat means it's a better investment for you.
Features
While putting mats all have one basic job, to teach you to putt better, they all come with different features. Some have ramps so you can practice more difficult putting and more. When looking at a putting mat, you'll want to think about the features you want and if that particular product has what you need.
Price
We can't talk about key considerations without considering the price of the putting mat. You'll want to consider your budget and how much you're willing to spend on an indoor putting green. You can get a decent quality one for an affordable price if you're on a budget.
Final Thoughts
Purchasing a putting mat can change how you play golf. You'll feel more confident when you're on the course as you practice your putt, and your scores might improve. If you're ready to get one of the best putting mats out there, you can't go wrong with our top pick, the PrimePutt Putting Mat. If that's not the one for you, you have four other great options.
Frequently Asked Questions
Those looking to purchase a putting mat often have a lot of questions. Check out these frequently asked questions and their answers if you still have questions.
Are putting mats worth it?
Absolutely. Most people who golf believe that these tools are worth it. They help you improve your putting skills, and they're fun! Of course, if you don't think you'll use it, you might not find a putting mat worth it.
What putting mat does Dustin Johnson use?
PGA champion Dustin Johnson uses the Perfect Practice putting mat to perfect his put and get ready for the course.