7 Best Laundry Detergent Sheets, According to Experts
Discover the top 7 laundry detergent sheets that experts swear by for a clean, eco-friendly wash. These innovative products promise to revolutionize your laundry routine. Curious about which brands made the cut and how they stack up against traditional detergents? What's your current go-to for laundry?
The time has come to change the way we do laundry, but which detergent sheets actually get the job done? Our experts will give you their pros, cons, and other important notes on the seven best laundry detergent sheets on the market.
At A Glance
Over the past two decades, the evolving body of research into traditional laundry detergents has culminated in one uncomfortable truth: it's terrible for the environment. Phosphates that choke aquatic life, bulky plastic packaging that piles up in landfills, and even unclear instructions leading to detergent overuse—all of these things contribute to a growing consensus among scientists that it's time to ditch liquid detergent.
Instead, many experts recommend switching to a natural, low-impact alternative like laundry detergent sheets. Unlike liquid detergent or detergent pods, these sheets typically come in recyclable cardboard packaging, offer pre-measured quantities to prevent overuse, and avoid harsh chemicals and carcinogens.
That said, finding the best laundry detergent sheets can be a challenge. Because the industry is relatively new, products can vary widely in terms of cost, quality, scent, and how well they clean your clothes. So, to help you determine the best sheets for you and your family, our experts have reviewed the seven best laundry detergent sheets on the market.
While, ultimately, we suggest HeySunday as our recommendation for best detergent sheets among those we reviewed, we're confident that many of the products on this list could outperform your current liquid detergent.
Best 7 Laundry Detergent Sheets
Despite the fact that detergent sheets are a relative newcomer to the laundry industry, several companies are already working to provide high-quality, effective products. Below, we've outlined the pros, cons, and bottom lines of our seven favorites.
HeySunday was founded on the idea that a clean conscience shouldn't come at the expense of clean laundry. In pursuit of that, the company creates easy, effective, and safe products that protect their customers and the planet.
HeySunday's detergent sheets are plant-based and contain no toxic ingredients. Some of the ingredients include vegetable-based surfactants, sunflower oil, tea oil, protease, citric acid, and glycerin. This product is also completely plastic-free and cruelty-free, and the packaging is compostable and biodegradable
HeySunday's product is extremely easy to use. The sheets dissolve instantly in hot or cold water and are safe to use with colors and whites. All you have to do is throw a single sheet in the washer, and you're ready to go!
Customer satisfaction is also at the forefront of HeySunday's priorities. One package of detergent sheets includes 60 sheets for $20, or $0.33 per wash, and shipping is included. Customers also have the opportunity to save 40% by subscribing to repeat orders, with the option to cancel at any time, and have access to a full money-back guarantee if unsatisfied with the product.
Bottom Line: HeySunday's mission is to create easy, effective, and safe products that protect their customers and the planet. With its tough-on-stains formula, full money-back guarantee, and free shipping, this eco-friendly and easy-to-use product is our top choice among laundry detergent sheets.
This is a great product for you if you frequently deal with stubborn stains that just won't come out, whether from baby food, wine, or pasta sauce. The sheets from Grove Co. Laundry have a powerful stain-removing powder that works well on tea stains but not as well on grass stains. This product is sold in various scents, including an unscented variety.
Grove Co. Laundry uses plant-based ingredients and is free of harmful chemicals, dyes, and brighteners. It comes in plastic-free, recyclable packaging and promises a low carbon and water footprint. Each sheet only takes a minute to dissolve once added to water.
Grove Co. pricing varies depending on the scent you choose, but you can generally expect to pay about $12.99 for a pack of 32 sheets (about $0.41 per wash), but customers will need to spend at least $20 per order to check out and get free shipping.
Bottom Line: Grove Co. Laundry is a great product for people who always have trouble getting stains out of their clothes. This product is environmentally friendly and free of harmful chemicals, dyes, and brighteners.
Tru Earth is an eco-conscious cleaning company committed to helping save our planet by using zero-waste packaging to deliver its laundry sheets. In addition to this feature, Tru Earth also dedicates itself to giving back to the community; for every subscription they get, they give 32 sheets to people in need, such as frontline workers, food banks, and others. Their products are also vegan and cruelty-free. 
As for the product itself? The eco-strips made by Tru Earth clean pretty well and don't damage or fade most fabrics. These strips are also safe to use in high-efficiency washers. This company also uses plant-based ingredients in its products that are safe for sensitive skin. 
While there are many benefits to using Tru Earth's eco-strips, this product does come with a hefty price tag. A 32-strip package costs $21.95, which means it costs approximately $1.50 to do one load of laundry.
Bottom Line: Tru Earth prioritizes giving back to the planet in more ways than one. The company uses zero-waste packaging and is cruelty-free, and it donates laundry sheets to people in need for every subscription sold.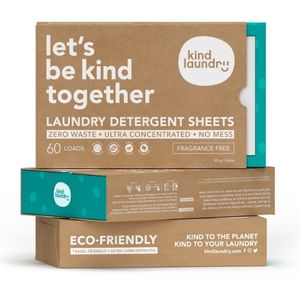 Angie Tran and Berland Law founded Kind Laundry to be kinder to our planet, laundry, and health. This brand cares about the environment and doesn't use any plastic or waste in its packaging. Its formula is biodegradable and doesn't contain any harmful chemicals. Its plant-based formula is tailored to sensitive skin types and is also very effective on bright colors. Still, some customers have said that the formula isn't as good at getting stains out of whites. 
The overall cost is $19.95 for 60 loads of laundry (about $0.33 per load). One downside to Kind Laundry is that its subscribers are only eligible for free shipping. This means you need to spend more for the product if you want to experiment with it as a first-time customer.
Bottom Line: Kind Laundry claims to be an eco-conscious brand that uses zero-waste packaging, plastic-free packaging, and a biodegradable formula.
As its name suggests, EcoRoots tries to give its customers the best cleaning and bathroom products that are good for the environment and don't make a lot of waste. All of its cleaning products are paraben-free, phthalate-free, phosphate-free, and free from optical brighteners and harsh chemicals. EcoRoots' laundry sheets are ultra-concentrated and packaged in compostable, plastic-free packaging. The laundry sheets are also biodegradable, safe for all types of washing machines, and free of synthetic fragrances and palm oil. 
EcoRoots has both scented and unscented laundry sheets available. The scented options utilize essential oils and plant extracts. As an added perk, each sheet is enough for two loads; you can tear one sheet in half if you just do one load. Enough sheets for 64 loads will cost $19.19, and free shipping is not included.
Bottom Line: EcoRoots offers an eco-friendly product that is safe for all types of washing machines and free of synthetic fragrances and palm oil. That said, the company does not offer either free shipping or a money-back guarantee.
Beyond Clean offers a USDA-certified biobased product. When you order the company's laundry sheets, they arrive in an envelope, making them easy to store. Most stains, like coffee, egg, and gravy, come out very well with this product. Red stains such as lipstick and spaghetti sauce, however, are harder to remove. Still, Beyond Clean's strips are a very solid investment no matter what type of washing machine you have.
Both scented and unscented Beyond Clean products are available for purchase, and the unscented options are great for those with sensitive skin. While the product is affordable—$8.99 for 32 strips—there is no subscription option.
Bottom Line: Offering a relatively effective, eco-friendly product that's easy to store, Beyond Clean is a great budget-friendly option. However, this company does not offer subscriptions, and some reviews say it does not clean as well as other detergent sheets.
Based in Toronto, Eco-Living Club offers ultra-concentrated, eco-friendly laundry detergent strips. This product is packaged in fully-recyclable cardboard and is free of harsh chemicals like phosphates, bleach, and optical brighteners. It is also vegan, cruelty-free, 100% biodegradable, and greywater friendly. 
Eco-Living Club's laundry strips are extremely easy to use. All you need to do is tear along the perforated strip and toss one into your laundry machine. If you are washing a full load of laundry, using a full sheet is best. The product is certified hypoallergenic and dermatologist-tested, making it great for those with sensitive skin.
Eco-Living Club does offer carbon-neutral shipping, but only for customers in Canada. It costs $16.99 (CAD) for 40 strips, and subscribers can save 20%.
Bottom Line: Eco-Living Club sells eco-laundry detergent strips that are highly concentrated, certified hypoallergenic, and tested by dermatologists. In a few reviews, customers have said there are problems with the quality of the strips and that they don't clean their clothes well.
How do Laundry Detergent Sheets Work?
Laundry detergent sheets are pre-measured sheets containing concentrated detergent and are made to dissolve in the wash cycle, so you don't have to pour detergent into a cup. Simply toss 1-2 sheets into the washing machine with a load; the heat and water will dissolve the sheet, which releases the cleaning agents. 
Detergent sheets are easy to use and store, come in many different scents, and are environmentally friendly. Plus, they are often manufactured using softer chemical ingredients.
Our Methodology
Finding the best laundry detergent sheets can be time-consuming, especially because manufacturers aren't always completely candid about their products and their flaws. We spent weeks analyzing laundry detergent sheets based on the following criteria:
Stain removal test
One of the most critical factors in a laundry detergent sheet? Its ability to remove stains. We stained dozens of fabric swatches with the most common stains people typically find on their clothing, including red wine, spaghetti sauce, coffee, grass, and oil.
Then, we placed the laundry detergent sheets in a regular 8-pound laundry load for each stain swatch. Once the fabrics were dry, we rated the laundry detergent sheets' effectiveness based on the AATCC stain release scale. 
Scent test
When washing clothing, cleanliness is undoubtedly important, as is scent. Individuals want their clothes to look and smell clean, after all. For this test, we placed each laundry detergent sheet in a regular load of laundry. Afterwards, we compared the scent of each detergent sheet by checking how long the scent lasted, how strong the scent was, and whether the scent remained after a second wash. 
Durability test
The last thing consumers want is their clothing to get damaged during washing because of harsh and abrasive ingredients. In our durability tests, we paid attention to protection against wear and tear and the preservation of color and texture.
Gentle detergent sheets are also less likely to cause skin irritation, making these sheets better options for people with skin sensitivities. We analyzed each laundry sheet to ensure no brand caused damage to the clothing by comparing each load before and after it was put in the wash. 
Softness test
Ideally, when your clothes come out of the washer, they will be clean, fragrant, and soft. Some laundry detergent sheets have softeners and moisturizers that make clothes feel softer after being washed. Others leave detergent residue, which causes the clothes to feel stiff or rough after washing. We analyzed the ingredients in each laundry sheet formula, checked how fast each sheet dissolved, and felt the clothing before and after it was put in the wash to check for softness. 
Environmental impact test
We looked at several factors to ensure the laundry detergent sheets in this roundup were environmentally friendly. We looked at biodegradability, how concentrated each formula was, and whether or not it featured plant-based ingredients, harmful ingredients, or phosphates. We also looked at packaging, carbon-neutral shipping, and whether the brand gave back to the environment in any way. 
Key Considerations When Purchasing Laundry Sheets
There are many factors to consider when purchasing the best laundry sheets for your home. Here are some key criteria to keep in mind:
Ingredients
The ingredients in laundry detergent sheets determine the effectiveness of the cleaning product. You want to make sure that all of the detergent sheets' ingredients are written clearly on the label. Some of the common surfactants and stain-fighting enzyme ingredients to keep an eye out for are linear alkylate sulfonate, other sulfates and sulfonates, and enzymes such as amylase, lipase, and protease. 
Scent
An ideal scent is a subjective criterion that will differ from person to person. It's important to consider how you would like your clothes to smell and whether or not you prefer scented or unscented detergent. It may take experimenting with several different sheets to determine your favorite fragrance. 
Fabric type
Consider what fabrics you wear daily. Do you live in a cooler climate and wear lots of wool? Do you have a tendency to purchase silk and lace fabrics? Wool, silk, lace, linen, and rayon are all fairly delicate fabrics that need to be washed carefully and, sometimes, with special detergent. Check to see if your laundry detergent sheets are able to clean your most commonly worn and washed fabrics. 
Effectiveness
From environmental impact to aromatic scents, laundry detergent sheet companies prioritize various factors. But at the end of the day, it's important for sheets to effectively remove stains, dirt, and sweat from your clothing.
Environmental impact
One of the primary reasons people choose laundry detergent sheets over regular detergent is because of the positive impact laundry sheets have on the environment. That said, if you are going to opt for laundry sheets over detergent, you want to make sure that the brand you choose is eco-conscious. Do some research into the ingredients, packaging, and manufacturing processes of the brand. Look for biodegradable sheets made from plant-based ingredients that come in recyclable packaging. 
Cost
If you want laundry detergent sheets to be a part of your daily life for a long time, the product you buy must be affordable. We included pricing and subscription details so that you know what you'd expect to pay per load.
Benefits of Using Laundry Sheets
There's a reason that laundry sheets are the hottest new product in the laundry space—they have many advantages. Here are some of the ways you can benefit from using laundry sheets. 
Water conservation
Laundry detergent sheets are often made to be more concentrated than regular liquid detergent. This means that they need less water to dissolve and activate the cleaning agents. Using these concentrated sheets reduces the amount of water you use for each load of laundry, leading to significant water conservation over time. 
Reduced waste
One of the biggest downsides of traditional liquid detergents is that they are usually packaged in giant plastic bottles. These bottles have a negative environmental impact to produce AND typically get tossed and end up in landfills. Laundry sheets are typically packaged in small envelopes, which are often recyclable. 
Suitable for sensitive skin
Laundry detergent sheets often have gentler ingredients that are less likely to cause allergies. This makes them better for people with sensitive skin. If you have sensitive skin, keep an eye out for dermatologist-tested sheets, unscented sheets, and those made with plant-based ingredients. 
Convenience
People often dread the time and energy they put into mundane tasks like laundry. Using laundry sheets allows you to skip a few steps in the process. Instead of pouring and measuring out detergent and fabric softener, all you have to do is toss a single sheet into your load, and you're good to go. 
Easy-to-use
Even people with minimal laundry knowledge can use laundry sheets. All you need to do is toss 1-2 sheets into your load of laundry, with no measuring involved. This makes laundry sheets particularly ideal for young individuals who are doing their own laundry for the first tim, like high school and college students. 
Space-saving
A giant jug of detergent can take up significant shelf space if you live in a studio or one-bedroom apartment. Not only are laundry detergent sheets easy to use, but they are also easy to store, as they take up little to no room. 
Travel-friendly
When you are going away on a road trip or a weekend getaway, most of the time, liquid laundry detergent doesn't make the traveling team. But if you are staying in a home with an internal laundry unit, you can easily slip your laundry detergent sheets into your suitcase. This will keep you from needing to purchase additional detergent during your travels. 
Consistent results
Measuring laundry detergent can be confusing, even for adults who have done hundreds of loads in their lifetime. One of the perks of using laundry sheets is that there's no second-guessing yourself. Every sheet is pre-measured and packed with the same amount of formula. This makes sure that every load of clothes gets clean and soft. 
Multi-purpose
Laundry detergent sheets are typically a one-stop shop for all your cleaning needs. Many brands incorporate fabric softener, detergent, and stain removal all into a single sheet. 
Reduced static cling
If a laundry detergent sheet's formula includes a fabric softener, it can help reduce static cling. Static cling is when clothes become electrically charged and stick to one another. When you take clothes out of the dryer, this often happens because the tumbling process generates static electricity. Fabric softeners coat fabrics with thin layers of lubricant, making them less likely to cling to other fabrics or your skin. 
Final Thoughts
For good reason, laundry detergent sheets are rapidly becoming every household's go-to cleaning product. Laundry detergent sheets still offer effective stain removal, odor elimination, and fabric softening properties, not to mention that they are much easier to use and store than liquid detergents and are far more environmentally friendly and safer for sensitive skin.
In this list, we included a comprehensive breakdown of some of the most popular laundry sheets on the market. Ultimately, we believe that HeySunday stands out for its exceptional cleaning power in addition to maintaining a level of eco-friendliness consumers expect from laundry detergent sheets. If you're ready to say goodbye to your messy and bulky traditional detergent full of dyes and chemicals, we recommend you make the switch to HeySunday for a safe clean you can count on.