ADHDAdvisor.org Review: Unlock a Tailored ADHD Treatment Plan
ADHD diagnoses have steadily increased in recent years, and the industry responded with several new online services to identify and treat the condition, one of which is ADHDAdvisor.org. Like the others, this telehealth service claims to offer convenient, affordable, and personalized treatment for adults. But is it reliable, and can it actually help those struggling with ADHD? 
To find out, we conducted a first-hand investigation and went through the process, from taking the initial assessment to meeting with one of their mental health clinicians. As experts in the field, we're here to share our overall impressions based on what our independent reviewer encountered, allowing you to make an informed decision. 
ADHDAdvisor.org Key Takeaways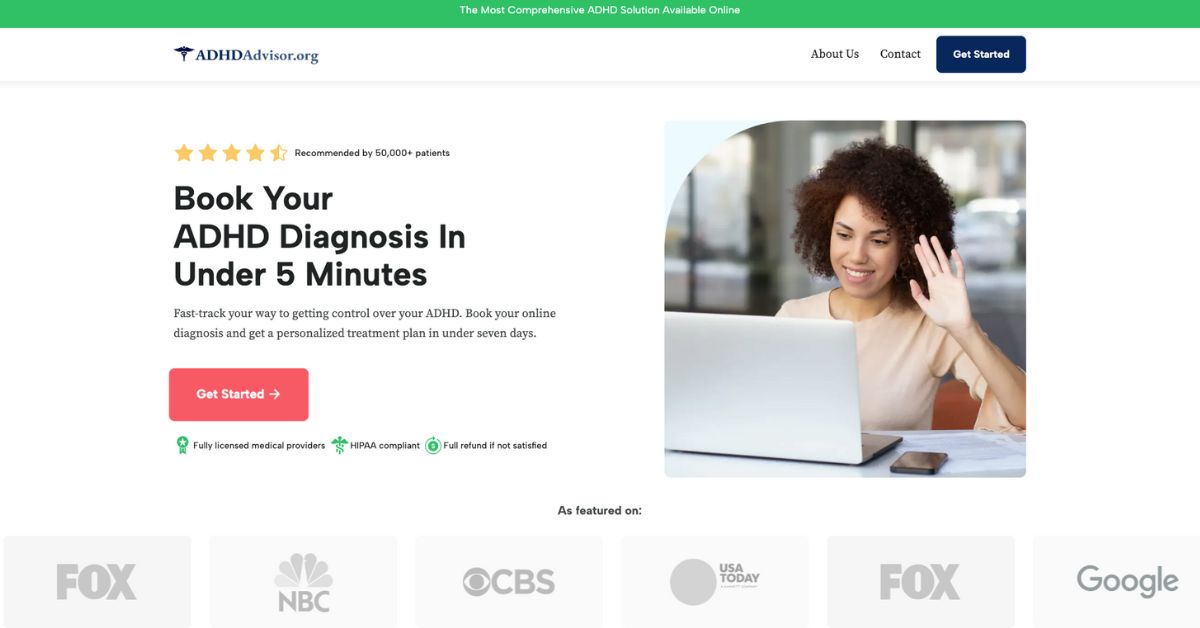 ADHDAdvisor.org is a telehealth platform specializing in ADHD treatment. Available in 35 states, the company only works with fully licensed medical providers, including MDs, PMHNPs, and therapists.
After patients take an initial assessment online, ADHDAdvisor.org connects them with a qualified expert who conducts a thorough evaluation. If diagnosed with ADHD, the provider will recommend a personalized treatment plan, which may include non-stimulant medications, counseling, or both.  
Pros
Can book appointments seven days a week, mornings to evenings (including same-day) 
Personalized treatment plans for ADHD
Offers therapy and success coaching sessions
Affordable prices and a full money-back guarantee 
Also helps clients with anxiety, depression, and PTSD
Cons
Not available in all 50 states yet (35 currently)
Doesn't offer controlled substances (like Adderall)
The Bottom Line (4.7 out of 5 Stars): 
ADHDAdvisor.org takes a holistic approach to ADHD treatment, offering non-stimulant medication management, therapy, and success coaching. With competitive pricing and personalized treatment plans, we recommend ADHDAdvisor.org to adults looking for convenient and comprehensive support.
ADHDAdvisor.org vs. Competitors
ADHDAdvisor.org is one of the best services we've tried, but it's worth noting how it stacks up against the competition. Below is a breakdown of each brand's core offerings and how they compare.
Post-Analysis Conclusions
With a comprehensive selection of ADHD treatment plans and an emphasis on customer service, personalized care, and flexibility, ADHDAdvisor.org is an excellent choice for adults looking for holistic ADHD treatment. 
Although patients have to pay for a subscription upfront, Cerebral offers complete services for a variety of mental health challenges, making it an ideal service for those with insurance who want virtual support. 
Done offers an affordable monthly subscription for adults who only need medication, but patients seeking therapy will need to use a different service.
How Does ADHDAdvisor.org Work? 
The ADHDAdvisor.org process has three main parts:
Take an online assessment.
Meet with a mental health clinician.
Start a personalized treatment plan if diagnosed with ADHD.
Based on our experience, it's a straightforward process from start to finish. Here's what to expect: 
Take the Initial Assessment
ADHDAdvisor.org first asks users to take an initial assessment on its website, which resembles the Adult ADHD Self-Report Scale V1.1 and other self-reported ADHD questionnaires. Example questions include:
How often do you make careless mistakes when you have to work on a boring or difficult project?
When you have a task that requires a lot of thought, how often do you avoid or delay getting started?
Do you regularly have trouble concentrating on reading or watching television? 
The assessment takes no more than five minutes and measures ADHD symptoms rather than diagnosing the condition. But if the user's responses suggest they may have ADHD, ADHDAdvisor.org allows them to move forward with scheduling an official diagnosis appointment. 
Schedule a Diagnosis Appointment 
Those who schedule a diagnosis consultation must pay a $20 deposit to secure their appointment. ADHDAdvisor.org gave us plenty of flexible scheduling options, including weekends and evenings.
While getting something on the same day is possible, we recommend you give yourself enough time to complete your patient intake forms, which must be uploaded at least four hours before your diagnosis appointment (otherwise, you will have to reschedule/pay for the initial and rescheduled appointment).
Set Up a Patient Portal
After scheduling an appointment and paying the deposit, the next step is setting up a patient portal with Healthie. Patients can communicate with their providers, make or adjust appointments, and upload documents with this interface.
Submit Patient Intake Forms
As stated before, patients must upload the required patient intake forms to their Healthie patient portal at least four hours before their appointment. These include the usual consent forms, emergency contact information, and a few additional ADHD self-reported questionnaires. Patients must also upload their photo ID before meeting with their clinician to verify it's actually them seeking treatment. 
Meet with a Mental Health Clinician
Once all the required paperwork is out of the way, the only thing left to do is meet with the provider via Zoom. This initial diagnosis appointment only lasts for about thirty minutes and mainly focuses on assessing the patient and how their brain works. 
For example, the clinician asks questions about their childhood, personal habits, attention span, and related topics. It feels more like an open-ended conversation that allows the patient to express themselves beyond what they could indicate in the assessments. 
The provider is essentially trying to gauge whether or not the patient has ADHD and, if so, what type of ADHD. Some people fall under the impulsive/hyperactive type, whereas others are inattentive and easily distractible. In some cases, patients have a combined form of ADHD, meaning they exhibit hyperactive and inattentive behaviors. 
However, since the appointment is only 30 minutes, patients may need a follow-up visit to give the provider more information before reaching a conclusion. Don't get discouraged if this happens to you; if anything, a second appointment shows how the service genuinely wants to help rather than giving you an inaccurate diagnosis and prescription. 
What Treatment Plans Does ADHDAdvisor.org Offer? 
All ADHDAdvisor.org treatment plans will vary depending on the patient's needs and health. Options often include non-stimulant medication management, therapy, and success coaching. Here's a look at the core ADHDAdvisor.org treatment plans and what they involve. 
Medicine Management
Because ADHDAdvisor.org is a telehealth service, their team of licensed mental health clinicians cannot prescribe controlled substances (i.e., stimulants like Adderall) as easily as in-person providers. However, they can prescribe non-stimulant medications, such as Atomoxetine or Clonidine, if deemed necessary for the patient's treatment plan. In cases where the patient may need stimulants, ADHDAdvisor.org's clinicians can recommend they see an in-person provider who can write the prescription. 
With any medication treatment plan, patients will continue to check in and see their provider to monitor their symptoms, adjust dosages/brands if needed, and request refills. And since Healthie allows patients to message their provider directly, they may not always have to schedule a virtual Zoom appointment, depending on the request. 
Therapy Appointments
ADHDAdvisor.org clinicians may recommend patients try psychotherapy if medication isn't the right solution or the patient doesn't get diagnosed with ADHD. Therapy can teach those with inattentive or hyperactive tendencies to manage their symptoms and learn how to improve, which helps address the root cause rather than just the symptoms. Additionally, patients will only meet with expert psychotherapists who match, if not exceed, industry standards. 
Success Coaching Sessions
Similar to therapy, success coaching sessions are held with qualified mental health coaches trained to help patients reach their goals. Depending on their current roadblocks, patients may meet weekly or bi-weekly and learn how to build healthy habits, such as sleep routines. Success coaching can especially benefit those who don't have a diagnosable mental health condition but want professional guidance to overcome similar challenges. 
Final Verdict: Why We Recommend ADHDAdvisor.org
Based on our investigation and testing, we recommend ADHDAdvisor.org to adults seeking holistic and personalized ADHD treatment. While some will automatically rule out this service because its clinicians don't prescribe stimulant medication, we believe exploring all treatment options is essential before settling on a prescription. 
Services that diagnose patients in less than thirty minutes and hand out medication may seem appealing. However, they fail to address the chief objective of any medical function: to understand the patient's needs and find the type of treatment that works for them, not everyone else.  
ADHDAdvisor.org clearly puts the patient first by taking time to give an accurate diagnosis, beginning with small steps, and offering a one-stop-shop for therapy and treatment options. If patients aren't happy with the service, they can request a full refund through customer support. When you're ready to get started, head to ADHDAdvisor.org and take the initial assessment to see if you qualify for an appointment. But even if you decide to go with a different service, we hope you reach your goals and receive the proper support. 
Frequently Asked Questions About ADHDAdvisor.org
Is ADHDAdvisor.org legit?
Yes, ADHDAdvisor.org is a legitimate service that only works with fully licensed clinicians and therapists. After taking the initial assessment, patients who qualify will meet with one of their medical providers who can practice in their state, in accordance with federal and local regulations.
How much does ADHDAdvisor.org cost?
The initial diagnosis appointment with ADHDAdvisor.org costs $150 ($20 upfront and $130 after the consultation). Additional services, including therapy, success coaching, and medication management, cost anywhere from $90 to $175 (or less with a subscription). Patients can also purchase a therapy session package, which includes four appointments and a discount. 
Is ADHDAdvisor.org HIPAA compliant? 
Yes, ADHDAdvisor.org is fully HIPAA compliant and prioritizes patient confidentiality. Patients can speak honestly with their provider and know their personal medical information is safe. Unless you authorize others to access your records, ADHDAdvisor.org will never share them.
Are there other reviews of ADHDAdvisor.org? 
For a further understanding of ADHDAdvisor.org's offerings, you may also want to check out another ADHDAdvisor.org review which provides a detailed analysis of their services from a different perspective