What Makes the Cheetah So Fast?
Olympic sprinter Usain Bolt was universally considered the world's fastest human until he retired in 2017, and most of his records still stand.
But could he have outrun a cheetah? Get real. Bolt ran 100 meters in 9.58 seconds, but it would take a cheetah only 5.8 seconds to break the tape. Or maybe you think your Ferrari Enzo could beat a cheetah off the blocks. Wrong again. That Ferrari travels about 8.1 meters per second, and can go from zero to 60 miles per hour in 3.3 seconds. The ultra-swift cheetah clocks in at 10 meters per second, and gets up to 60 mph in just three seconds. In fact, the world's fastest land animal achieves a speed of 40 mph in just three strides.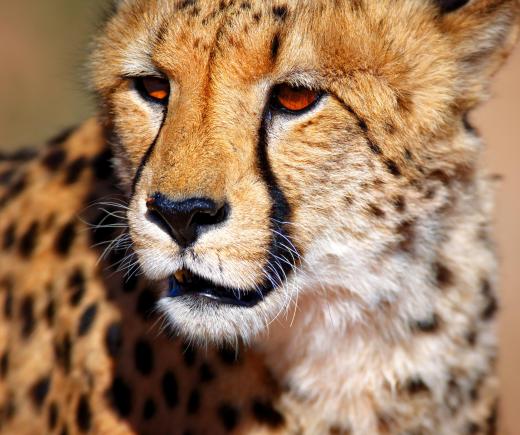 The cheetah is truly built for speed, with a slender body, a small head and long thin legs. This runner typically weighs about 125 pounds (56.7 kg), so unlike other big cats, there isn't a lot of weight to carry. The cheetah also benefits from an oversized heart, large lungs and nostrils, a super-flexible spine that bends with each stride, and a large tail that acts as a rudder and counterweight, to keep the cat from spinning out on turns.
The number of cheetahs in the wild has shrunk from about 100,000 in 1900 to about 10,000 today.


Once found all over Africa, Asia and India, cheetahs now exist only in small parts of Africa and Iran.


Unlike lions, tigers, leopards and jaguars, cheetahs don't roar; instead, they meow and purr much like a house cat.
AS FEATURED ON:
AS FEATURED ON:

By: JohanSwanepoel

With its specialized physiology, a cheetah can accelerate from 0 to 60 mph in 3 seconds, which is faster than a sports car.