What Should I Consider When Buying a Shower Curtain?
Unless your bathroom includes a shower or tub enclosed with glass doors, a shower curtain will be the most prominent fabric feature in your bathroom. When buying a shower curtain, consider your desired décor and invest in the curtain before buying matching accessories like rugs and towels. Also, you might want to consider how a shower curtain is meant to function before you buy.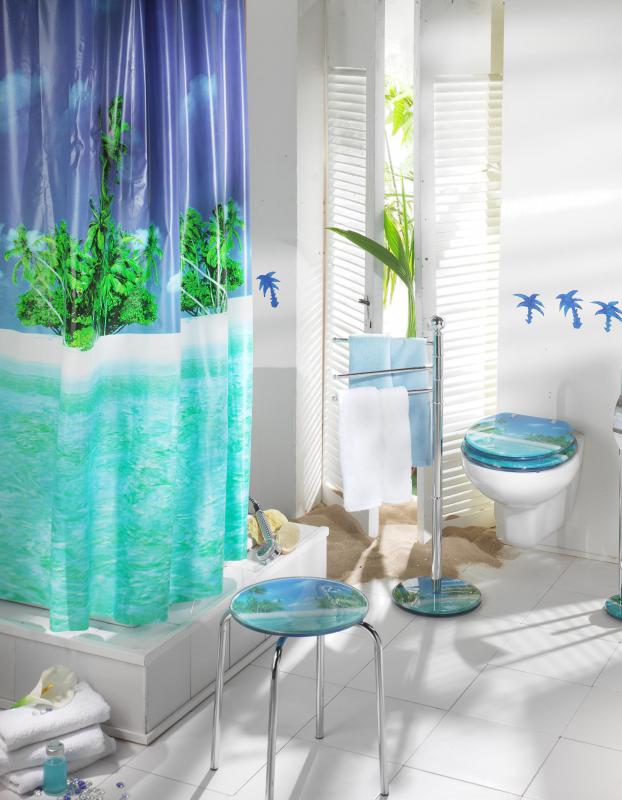 There are two types of shower curtains – vinyl and fabric. Vinyl shower curtains are less expensive than fabric, can be wiped clean and are very practical. However, fabric shower curtains lend a more luxurious and formal feel to a bathroom. Deciding between buying a shower curtain that is fabric or vinyl is mostly a matter of preference, but pay attention to how they are hung.
Most standard shower curtains are hung with 12 hooks from a curtain rod. Though your basic tension-spring curtain rod will accommodate most any shower curtain and liner, certain styles of shower curtains are better suited for a traverse rod. If you are buying a shower curtain with tie backs on each side, you want a traverse or double rod to go with it. A traverse rod allows the shower curtain to remain stationary and has separate hooks for the liner to slide open and shut. This is far more convenient than placing both the curtain and the liner on one set of hooks.
When you are buying a shower curtain to match a specific décor or design, remember that except on the aforementioned special traverse rod, the shower hooks will show. You can choose plain, neutral style shower hooks or you can purchase designer ones that coordinate with your entire bathroom. Again, it's a matter of preference, but its better to invest in coordinating shower hooks and curtain because they hang together. You can always purchase less expensive rugs and towels that match well but aren't necessarily meant to go together.
Other factors to consider when buying a shower curtain include durability for wear and wash. Lace shower curtains may be light and romantic, but if the tub sees frequent use, they may not hold up well. Further, because mold and mildew can build up anywhere there is excessive moisture, you might choose a shower curtain that is machine washable. The packaging label should provide washing details. Also read the package to see if you are buying a shower curtain that includes a liner. If no liner is included, you'll need to buy it separately. The liner provides your floors with protection from misdirected water.
Buying a shower curtain is an easy way to update a tired bathroom and give it a new look. You can buy an expensive one or a bargain priced one, either way as long it serves its purpose of privacy and protection, it will be a practical purchase. It's up to you if you want a fully coordinating, designer bath set or just a plain crisp white.