What Is the History of the State Seal of Michigan?
Legislators adopted the state seal of Michigan at the state's Constitutional Convention in 1835. It was designed by Lewis Cass, the second governor of the Michigan territory, who based his design on a seal used in advertising by the Hudson Bay Fur Company. The state seal of Michigan was last changed in 1911, and may only be used on 15 official documents and displayed during official government events.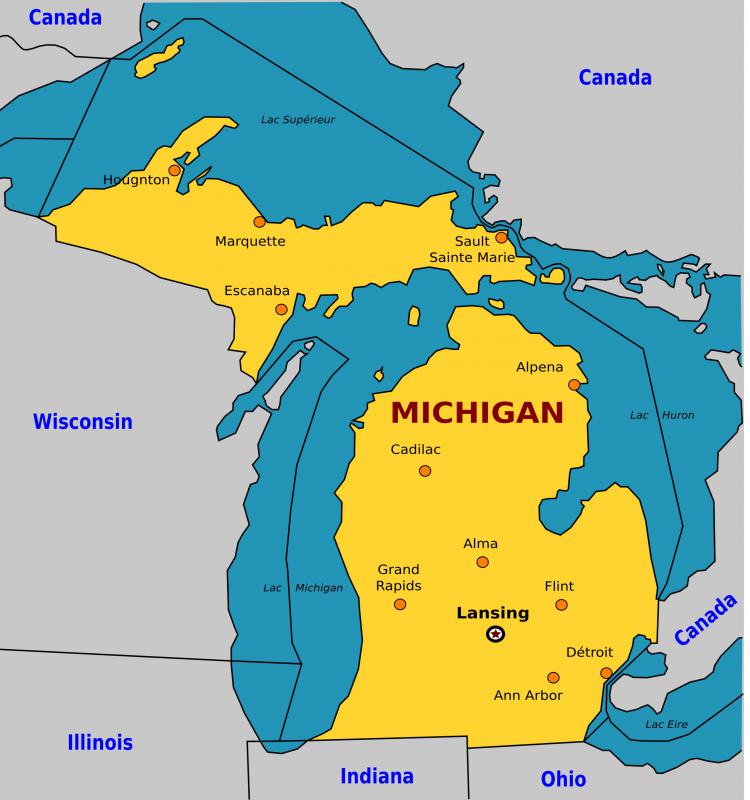 Michigan's state seal depicts a man inside a blue shield gazing on a peninsula where the sun rises. He raises his right hand in a symbol of peace, but holds a gun in his left hand to indicate a willingness to defend the state. The shield is flanked by drawings of an elk on one side and a moose on the other. At the top of the state seal of Michigan, the American eagle holds an olive branch and three arrows in its claws, also representing peace and the right to protect the state.
The state seal of Michigan also contains its motto, Teubor, defined as "I will defend." Directly above the image of the eagle, the U.S. national motto appears as E Pluribus Unum, meaning "out of many, one." Other words on the seal are translated from Latin as, "If you seek a pleasant peninsula, look about you." Along the border of the seal run the words "The Great Seal of the State of Michigan A.D. MDCCCXXXV."
When this border is removed, it makes up the Michigan coat of arms. In a lengthy set of descriptions, the Michigan Constitution spells out when and how the state seal may be used. Only 15 state documents may be stamped with the state seal of Michigan, but fewer rules apply to the coat of arms.
The coat of arms appears on a wide range of official documents, but it may not be reproduced for commercial purposes. Exceptions exist for stationery and other items not advertised for sale, as long as the symbol is not combined with other emblems or words. These laws allow the coat of arms on items typically bought by tourists, such as post cards and key chains.
Michigan is known as the Great Lakes State for its five major lakes and more than 11,000 inland lakes. The upper and lower peninsulas are divided by Lake Michigan and connected by the Mackinac Bridge. Very few residents live in Michigan's upper peninsula, which is mostly forest land. Almost half the state of Michigan is covered by water.