What Is the Difference between the Exocrine and Endocrine Glands?
The exocrine and endocrine glands, though similar in some ways, serve different purposes in the body. Exocrine glands secrete mucus or protein to the outside of the body, while endocrine glands secrete hormones into the blood. The various substances produced by the exocrine glands are often used to lubricate various systems, rid the body of harmful microorganisms, or adjust the temperature of the body. Endocrine secretions, on the other hand, are usually used in the body's complex communication system and can cause a variety of changes in body chemistry. Though exocrine and endocrine glands are both used in a variety of bodily processes, only the endocrine glands are able to communicate with distant systems in the body.
One of the main differences between the exocrine and endocrine glands is their location in the body. For the most part, exocrine glands are located near the surface of the skin or in body cavities that lead to the outside of the body, such as the eyes, nose, mouth, or sexual organs. The digestive system is also home to exocrine glands that can be found along its entire length. Endocrine glands, on the other hand, are often found deep within the body. The adrenal gland, located on top of the kidneys, and the pituitary gland, found in the brain, are two of the more well known glands of the endocrine system.
Another difference between exocrine and endocrine glands is their purpose. Many of the exocrine glands produce mucus, a slimy substance made of glycoproteins and water, that is used to lubricate organs such as the eyes and the esophagus and to catch harmful substances trying to come into the body through the mucous membranes. Some of these glands secrete proteins that can assist with digestion. Exocrine glands near the surface of the skin release sweat, a substance that is used to cool the body down if the internal temperature becomes too high.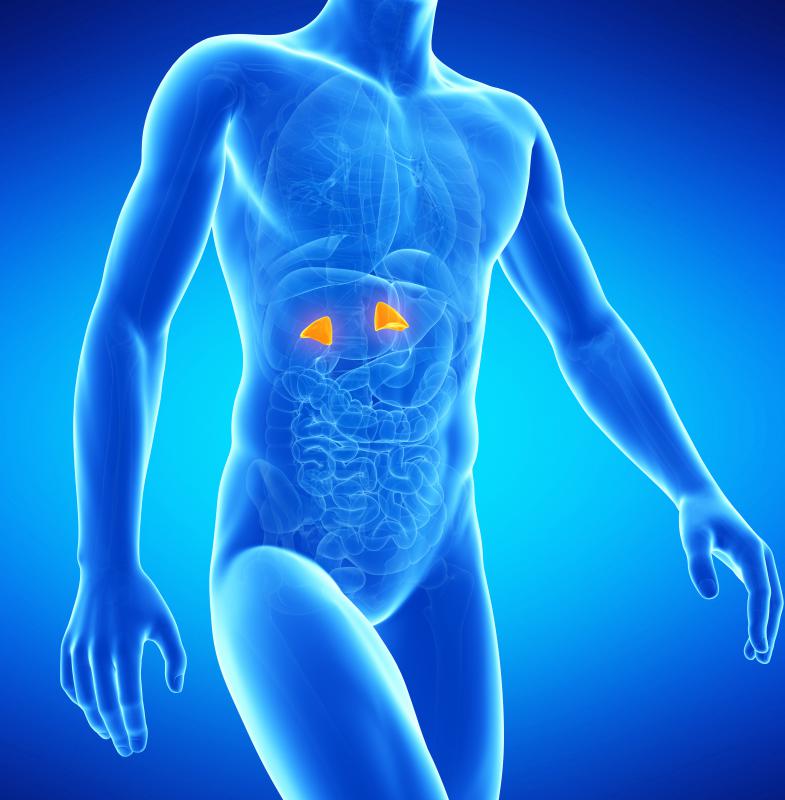 The endocrine glands secrete hormones that control many of the processes in the body. The pituitary gland is responsible for growth and sexual maturity as well as a number of other processes. When a person is put into a dangerous situation, secretions from the adrenal gland instruct the heart to beat faster and the blood pressure to rise in preparation for fighting or running from the danger. These, and the other glands in the endocrine system, release hormones into a person's bloodstream, sending messages that can be received throughout the body.