What is the Connection Between Arthritis and Scleroderma?
Arthritis and scleroderma are closely related in that they are both autoimmune diseases. In some patients, the symptoms of arthritis and scleroderma are known to overlap. Both diseases are very serious and are accompanied by varying levels of pain and discomfort. Experts believe that scleroderma, however, is the more life-threatening of the two.
Scientists know that patients with scleroderma tend to overproduce collagen. The primary cause of scleroderma, however, is not exactly known. As a result of too much collagen, individuals with scleroderma experience hardened, thickened skin, which sometimes even dangerously affects internal organs. Other symptoms may include hair loss, heartburn, skin discoloration and ulcers on the fingers. Arthritis and scleroderma have similar symptoms in that both cause joint pain and swelling, particularly of the hands and fingers.
Researchers studying the effects of arthritis and scleroderma have found that some patients with scleroderma eventually develop rheumatoid arthritis. In fact, arthritis is often noted as a symptom of scleroderma. Both conditions may seriously affect the quality of one's life as daily activities, such as cooking, eating and dressing become painfully difficult to accomplish.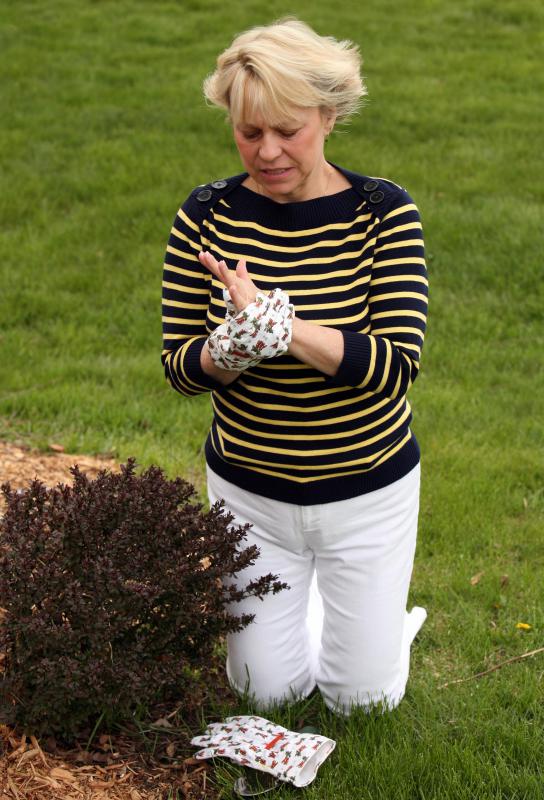 When arthritis and scleroderma symptoms occur simultaneously, individuals often experience weakness in the thigh and upper arm muscles. Fatigue, tender joints and feverish joints may also be noted. In serious cases of scleroderma, difficulty swallowing and digestive problems can sometimes be present, as well as kidney failure, an irregular heart beat and severe breathing difficulties due to lung fibrosis.
Medications used to treat arthritis, as well as scleroderma, include nonsteroidal anti-inflammatory drugs (NSAIDs), pain medications, and topical creams and ointments. Scleroderma medications further include prescriptions to regulate blood circulation and blood pressure, medicines to aid in digestion and antidepressants since both arthritis and scleroderma also often result in psychological stress. Exercise is also important in working to ease the symptoms of each of these diseases. While exercise may be difficult due to hard skin or the effects of rheumatoid arthritis, it is important to maintain flexibility of the skin and muscles compromised by arthritis and scleroderma.
Rheumatoid arthritis and scleroderma are both widely considered to be different forms of arthritis. Connective tissue diseases like scleroderma tend to be rare and are often confused with other autoimmune diseases like lupus. This confusion sometimes results in a delayed diagnosis. There is no cure for either disease, but early intervention can help improve the quality of life for a person suffering with autoimmune diseases.