Shopping Guide for Home Printers
If you're looking for a top printer, you'll find a huge range of models offering every conceivable feature and extra. How do you decide which is best for you?
The BestReviews team looked at hundreds of inkjet and laser printers during our research. When we buy something to test, we use our own funds to purchase the item. To ensure that our reviews remain subjective and trustworthy, we never accept free samples from manufacturers.
And when we're done testing products, we donate them to charities and other non-profit groups that can use them.
Our goal during the selection process for our product matrix, above, was to find five stand-out printers that meet our quality and performance standards while remaining affordable for the majority of home and small businesses owners.
Our five finalists will do just about everything, from rapid black and white printing to scanning, copying, automatic color duplexing, and outputting from a smartphone or tablet. We're happy to recommend any of them.
So how did we come to these decisions? A full analysis follows.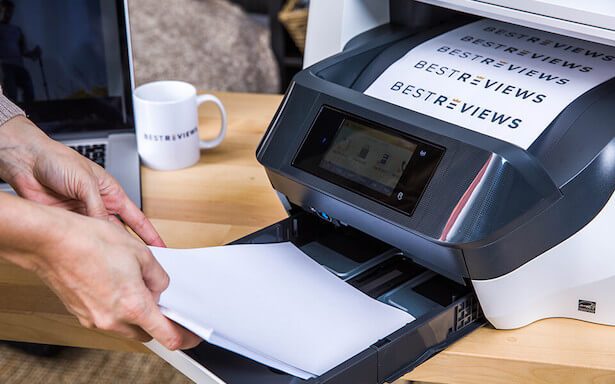 Considerations
Output Statistics
The BestReviews lab staff examined each printer's output statistics: pages per minute, color quality, and so on.
Features
Few printers just print any more; multifunctional models abound. What's more, the prices of these machines are now well within reach of the average home user. Are print-only machines worth the expense? Do these models save you money or grant a better performance? Our lab staff noted and tested the features offered by each printer on our shortlist.
Connectivity Options
Most printers can still plug into a computer, but WiFi is everywhere now, and an increasing number of machines print wirelessly from smartphones and tablets. During testing, we noted the offerings of each model on our shortlist.
Price
It's possible to buy a cheap printer for less than $50, but the faults of these bargain models frequently outweigh the savings. And the truth is, a decent machine could cost you just a little more than $50. Even at the top end of the pricing scale, a high-quality multifunctional printer is remarkably affordable.
Read on to discover the price of each of our shortlist contenders. You can also check out our matrix, above, to discover this information.
Color vs. Monochrome
Little difference exists between the cost of a color printer and the cost of a black and white printer. So why not have the color option? There are several reasons, actually.
The best monochrome printers are:
As such, some consumers find it prudent to buy a cheap monochrome printer for text printing and an all-in-one color printer for everything else.
Notably, all of the monochrome models we looked at were laser printers, designed for rapid output of large amounts of text and/or black and white images. Even the very best inkjets struggle to produce text that's as sharp (particularly at sizes below 12 point), and when they do, they run much slower because they're on a "high resolution" setting.
Single-Function Printer vs. Multifunctional Printer
Should you buy a single- or multifunctional printer? In general, this is an easy question to answer. If you can find a quality color printer with fax, scanning, and copying capabilities for the same price as a printer without those functions, the decision is a no-brainer.
However, some situations exist in which you might prefer a single-function printer. Consider the following:
If you want photo-realistic output of high quality, you almost certainly want a specialist machine that focuses solely on the task at hand.
A printer with a built-in scanner would probably serve the needs of most consumers, but if you require high-resolution scans for trade printing or graphic displays, a machine dedicated entirely to high-resolution prints could be your best bet.
Business owners might prefer a more robust single-function unit that can consistently handle their heavy output demands.
Inkjet vs. Laser
This is always going to be a difficult question to answer, and even the BestReviews lab testers had differing opinions.
However, all agreed that your final choice should depend largely on what you intend to use the printer for.
In the early days of home printers, the choice between inkjet and laser was rather straightforward. Back then, laser printers created images with superior detail, but the machines were prohibitively expensive.
Inkjets were far more affordable, but the final product wasn't nearly as sharp.
Today's printers employ the same basic technologies, but much has changed.
Laser and inkjet printers share similar price tags. And although laser toner remains much more expensive, you get up to ten times as many pages from a cartridge.
Print resolution is no longer an issue. Even cheap inkjets render a decent output. The graphic quality of our inkjet finalists is well above average.
Features to Consider
Most inkjet and laser printers offer similar features. Almost all can communicate wirelessly with your smartphone or tablet. Many offer WiFi so you can share the printer with other users. And, as we've seen, scanning, copying, and faxing are common.
Here are some notable "other" features you might be interested in:
Paper Tray Capacity: If you do a lot of printing, a large-capacity paper tray comes in handy.
Automatic Feeding: If you print lots of envelopes or cards, automatic feeding of multiple sizes is useful.
Automatic Duplexing: This feature is great for those who want to execute rapid double-sided printing.
Borderless Printing: This is great if you want to print lots of photos, but you should check the print sizes available before making a purchase.
Ink Refill Subscription Program: A program such as this could save you money, but we urge consumers to think about their usage patterns before choosing a printer with this feature. It's not necessary for everyone.
A Note About Ink Quality
Of course, you want your prints to last forever — especially if you use your printer to create copies of beloved family photos. But some inks fade over time. Here's what you need to know about ink technology as it stands today:
Inkjet inks fall into two categories — dye-based and pigment-based. Dye-based inks are 100% liquid; the color is dissolved in water. Pigment-based inks have solid particles in the mix and consequently last longer.
Testing suggests that some images created by cheap replacement ink fade in as little as three months. This may be extreme, but it's a known danger of buying remanufactured cartridges.
Ink purchased directly from the printer manufacturer may cost more, but the images rendered from it could last longer. The reason: this ink will probably be part pigment (the black) and part dye (the colors).
If you want your photo images to retain their richness for years, consider a specialist photo printer and the corresponding ink and paper. You'll pay more, but you'll enjoy remarkable technology.
Pointers
We wholeheartedly endorse all of our chosen printers, but what it you're still not sure which product is right for you? After all, your printing needs may differ from those of your neighbor.
Keep these pointers in mind when making your final decision:
If you need high quantities of monochrome/grayscale printing, choose a monochrome laser printer. This unit will offer you:
Fast printing
Sharp detail
High-volume capability
If you need high quantities of business printing, choose a color laser printer. This unit will offer you:
Fast printing
Fine detail
Quality presentation (though not best for photos)
High-volume capability
If you need general-purpose home or small business printer, choose a color inkjet model. This unit will offer you:
A lower initial investment
Cheaper ink
Good photo quality
If you need large quantities of high-quality photo printing, choose a specialist color inkjet printer. This unit will offer you:
Exceptional visual quality
Prints that hold their color for decades
Best of the Best
In such a competitive market, it's tough to pick a winner, but the best printer we've found is the around $299 HP OfficeJet Pro 8750. In the ongoing battle between laser and inkjet, this machine offers the best of both worlds.
For starters, it's fast. You can get up to 24 black and white pages per minute (37 in "draft" mode) and up to 20 pages of color. The paper tray holds 250 sheets, so you needn't refill it every couple of minutes. Not only will it duplex print, it will also automatically scan or copy both sides.
And with a 50-sheet document feeder, you have only to hit the start button and come back a bit later when the job is done.
The HP OfficeJet offers every conceivable connectivity option, so it will print from any device. If you're working directly with the machine, you'll enjoy its color touchscreen. This machine has a fax facility, too.
With all that going on, you'd expect the HP OfficeJet Pro to be something of a monster. It's no lightweight at 33 pounds, but its clever design (HP calls it "Print Forward") keeps everything surprisingly compact.
Several owners have been annoyed by the HP's "Instant Ink" subscription program. But while some people dislike it, this feature continues to grow in popularity; it's difficult to avoid. Furthermore, many people find it downright convenient.
There's always an argument for job-specific printers, and that's fine if you're heavily into producing plans, technical documents, or photography. But most of us want a relatively cheap, fast, reliable machine that will do just about anything. That's what you get with the HP OfficeJet Pro 8750, and that is why it earns our top honors.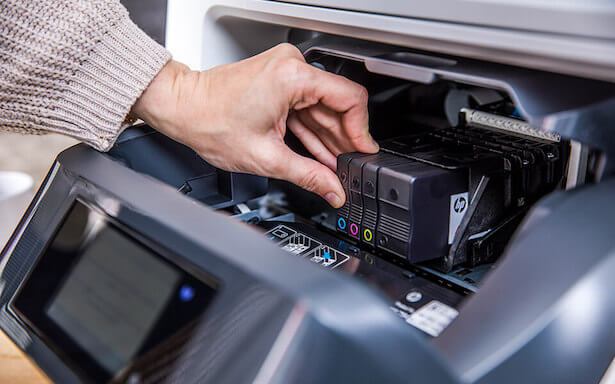 Best Bang for Your Buck
All of the printers in our product matrix are top machines, and identifying the Best Bang for Your Buck printer posed a bit of a challenge for our testers. In the end, however, the printer that offers the best value for your money is the Canon MX922.
The Canon is a remarkable machine with a great reputation. It performs every task you might need, from scanning to copying to duplex printing. The Canon's photo reproduction quality is particularly outstanding, but then, you might have expected that from a company that also produces bestselling cameras.
This printer's connectivity and compatibility are as good as anything out there; no matter what gadget you've got, there's a way to make it print using the Canon. Colors are particularly rich thanks to the printer's five inks — a bonus feature that could also save you money. Setup is considered easy by most owners, and while it may not be the fastest printer in the world, owners register few complaints about its output once it's started.
Given its low price of just around $91, it's not surprising that this is one of the most popular machines on the market. Of course, that fact lends itself to a few criticisms, but these are substantially outweighed by the number of positive comments and the number of owners who "absolutely love it." If you're watching your budget and you seek a terrific home printer, this could very well be the best choice for you.