Renal dialysis is a medical process that becomes necessary when the normal functions of the kidneys become compromised by kidney failure. The kidneys help keep the body and its blood healthy by removing harmful wastes from the blood. Dialysis involves filtering the blood of excess fluid, minerals, and waste when the kidneys can no longer do so on their own. Typically, patients with less than 85% kidney function will be recommended for renal dialysis, though the actual level of kidney function for recommendation may vary from patient to patient.
Renal dialysis is typically takes place in one of two ways. Either the patient regularly attends a dialysis center or the patient receives dialysis at home. Either way, dialysis requires the use of a special machine that pumps blood out of the body, where it undergoes filtration, and then returns it to the body. Patients who receive renal dialysis because of chronic kidney failure will typically have a permanent port surgically installed for ease of access because regular dialysis is necessary. However dialysis can also be performed on a single or limited treatment basis if it becomes necessary due to an acute illness that effects the kidneys.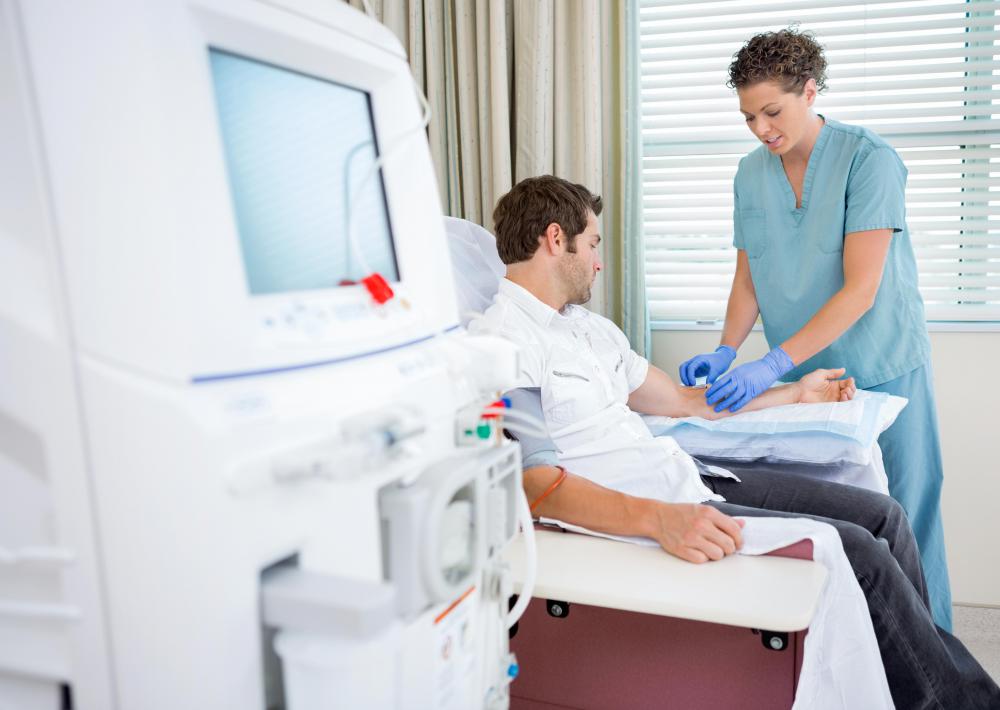 In essence, renal dialysis is a way to artificially replicate some of the necessary functions of the kidneys. For patients with chronic kidney failure, dialysis is the only way to filter out toxins that would otherwise impact the body and eventually cause death. Once a patient with chronic kidney failure begins renal dialysis they typically do not stop unless they receive a kidney transplant.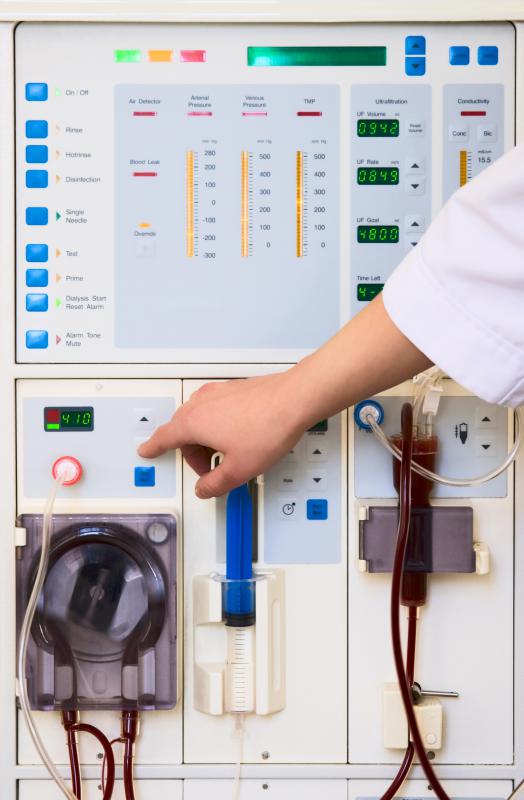 In the United States, dialysis patients can automatically qualify for Medicare regardless of age. Private insurance companies typically offer some type of coverage for the procedure, though coverage may depend on the reason for dialysis and the location it is administered. Most areas have a few designated renal dialysis centers for patients and they must be referred by their doctor before beginning treatment. Appointments are typically made based on the number of times the patient needs treatment each week and the schedule must be maintained.
For patients beginning dialysis, it can be a confusing process initially. However, your doctor will explain the process and the dialysis center where the first treatment takes place will further explain how dialysis works, how it will be paid for, and can supply information on home dialysis machines. Many patients prefer the convenience of home dialysis, but a caregiver specifically trained in the use of the equipment must be present.