What is Orange Oil Termite Control?
Orange oil termite control is a type of pest management that uses the extract of orange rinds. This extract is often sprayed on wooden support beams underneath a house to kill termites living near the foundation. Exterminators can also drill holes into walls and ceilings and apply this product. During treatment, homeowners do not need to leave their residence or remove plants and animals, as there is no danger of harmful fumes.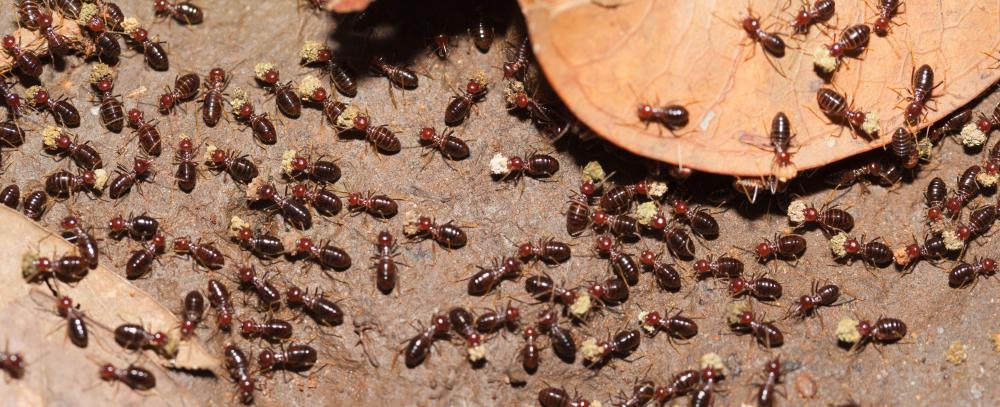 Orange rinds are typically pressed in a machine in order to release their oil. This oil contains a substance known as d-limonene, an ingredient that is poisonous to termites. The extracted oil is typically a yellowish-orange liquid that might be slightly greasy.
Even though it is toxic to termites, d-limonene is not harmful to humans. It does not kill the insects on contact, but rather poisons them when they eat wood treated with this product. For this reason, orange oil may require several applications in order to eliminate an infestation.
Exterminators who practice orange oil termite control usually begin by spraying wooden beams under a crawl space as well as any wood siding, window frames, and eaves of the roof. They might also spray indoors, covering paneling, cabinets, and baseboards. In some instances, they may drill small holes into walls and ceilings in order to be able to get to wooden studs that are hidden.
People who have orange oil termite control done do not normally need to leave the house while the substance is being applied. They also do not need to pack up food or water during this time. Homeowners generally do not become sick from inhaling fumes. In fact, the treatment may leave a pleasant citrus fragrance lingering in the air.
Exterminators who apply orange oil to buildings do not usually need to wear protective gear while doing so. There is also little danger of harming the environment if a container of the product spill. In the event additional applications are needed, there is no need to worry about the termites building a resistance to d-limonene.
One of the disadvantages of orange oil termite control is that it is often difficult to treat all the wood in a given structure. This means homes that are heavily infested may not benefit from this method of pest control. The product itself can also be more costly than traditional chemicals, and may even be more expensive if a building require multiple treatment sessions.