What is Disability Etiquette?
With 20 percent of Americans having some type of disability, the odds are decent that many individuals know someone with a disability. Disability etiquette involves how to interact with people who have disabilities. These unwritten rules serve as a guideline for how people who do not have a disability to behave around individuals who do. Disability etiquette provides a way for individuals to feel comfortable around people with disabilities and helps to avoid awkward situations.
Disability etiquette entails that an individual treats a person with a disability as a human being with feelings. A person is not defined by his disability and a person with a disability should be referred to as an individual first and foremost. Decorum calls to steer clear of asking questions about a person's disability unless it is brought up. Etiquette includes not rushing to help a person with a disability without being asked. A person should only provide assistance if the offer is accepted, and should not to be offended if the request is turned down.

Get started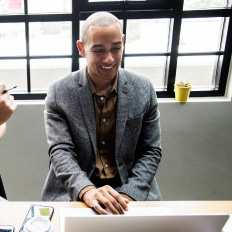 Wikibuy compensates us when you install Wikibuy using the links we provided.
In most circumstances, it is acceptable to shake hands with a person upon meeting him. However, when being introduced to a person with a disability, it may not always be socially acceptable to shake his hand. Upon first encountering a person with a disability, disability etiquette requires asking him if it is acceptable to shake hands. Smiling with a warm, verbal greeting is acceptable upon an initial meeting with a person with a disability.
When conversing with a person with a disability, social etiquette dictates speaking directly to him. An individual should try to make eye contact and speak directly at a person with a disability. A person should give his full attention when conversing. Disability etiquette also requires that an individual does not act as if he understands what a person with a disability says if he does not. It is socially acceptable to be honest and ask the person with a disability to repeat himself or to write down what he is trying to say.
Disability etiquette necessitates respecting the personal space of a person with a disability. In conversing with a person in a wheelchair, decorum requires refraining from touching the wheelchair unless asked. Also, a person should try to put himself at eye level when speaking with an individual in a wheelchair. When interacting with a person with vision impairment, etiquette requires refraining from treating a seeing eye dog as a pet.
Sometimes, a person may have a disability that may not be seen. These can include trouble with vision, hearing loss, mental impairment, or learning disability. Much of disability etiquette involves using common sense and acting friendly around individuals with a disability.