Blood-spinning is the process of removing blood from a patient's body, spinning it in a centrifuge, and injecting it into the location of a bodily injury. Usually, the health care practitioner infuses the blood with extra substances that will help heal the damaged tissue. The purpose of blood-spinning is to infuse an injured area with as much blood as possible because the more blood surrounding the injured tissue, the more nutrients and reparative substances can be carried to it. This is a very popular treatment in sports medicine, and is often used to treat sprains and tissue injuries.
During the process of blood-spinning, a doctor draws just one or two vials of blood from the patient's arm. The doctor then spins the vial or vials in a centrifuge, separating the plasma from the hemoglobin. This agitation increases the number of growth hormones in the sample, creating a fortified vial of blood. To further fortify the sample, the doctor usually adds synthesized calcium and thrombin enzymes — both of these things mingle with the blood to create a very nutrient-rich gel. The growth hormones in these samples are typically supremely concentrated.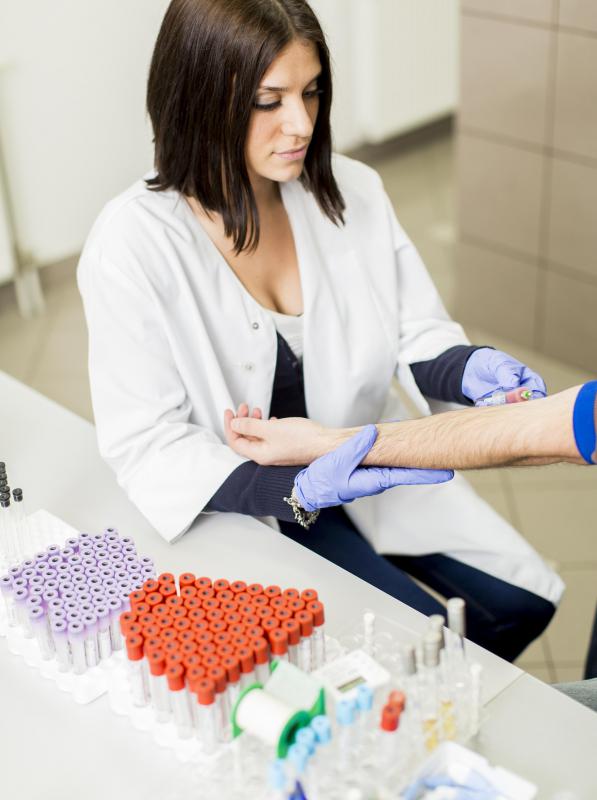 After treating the blood, the doctor injects the rich gel into the injured area. This may be a sprained joint, a fractured bone, or an injury to the tendons and other connective tissues. The gel stimulates healing by aiding circulation around the wound and causing healthy cells to grow much faster. An injury that might normally heal in about five weeks might only need one, with the help of blood-spinning. This is especially advantageous in the sports world, since athletes may not be able to afford being out of the game for long periods of time.
Sports regulations closely monitor the use of blood-spinning to ensure medical practitioners aren't using it to enhance a player's performance. As it is, some sports only allow blood-spinning to be used on certain types of injuries, such as tendon injuries. Using blood-spinning on muscle tears might enhance the muscle and artificially increase an athlete's abilities. Proponents of blood-spinning have been very careful to separate the term from blood doping, which is an illegal procedure.
Most sports outlaw blood doping because it involves drawing blood up to a month before an athletic event and injecting it into the body when the blood is very high in oxygen. This enhances the player's energy and performance artificially, even though it is the player's own blood being used. Blood doping is also not used on injuries. Doctors are usually carefully monitored to be certain they're performing the correct procedures.