Basil olive oil is a combination of olive oil, usually extra virgin, and basil. It is one of many available types of olive oil flavored with herbs. The oil can also be made at home using either dried or fresh herbs. There are many variants on basil olive oil, featuring alternate herbs or types of oil.
Olive oil is used to flavor many different types of food, including salads, pasta, fish, poultry and bread. The addition of herbs and spices to extra virgin olive oil can greatly enhance and change the flavor of the oil. The popularity of flavored olive oils has led to the creation of olive oil specialty markets and retail lines as well as restaurants dedicated specifically to the tasting of various olive oils.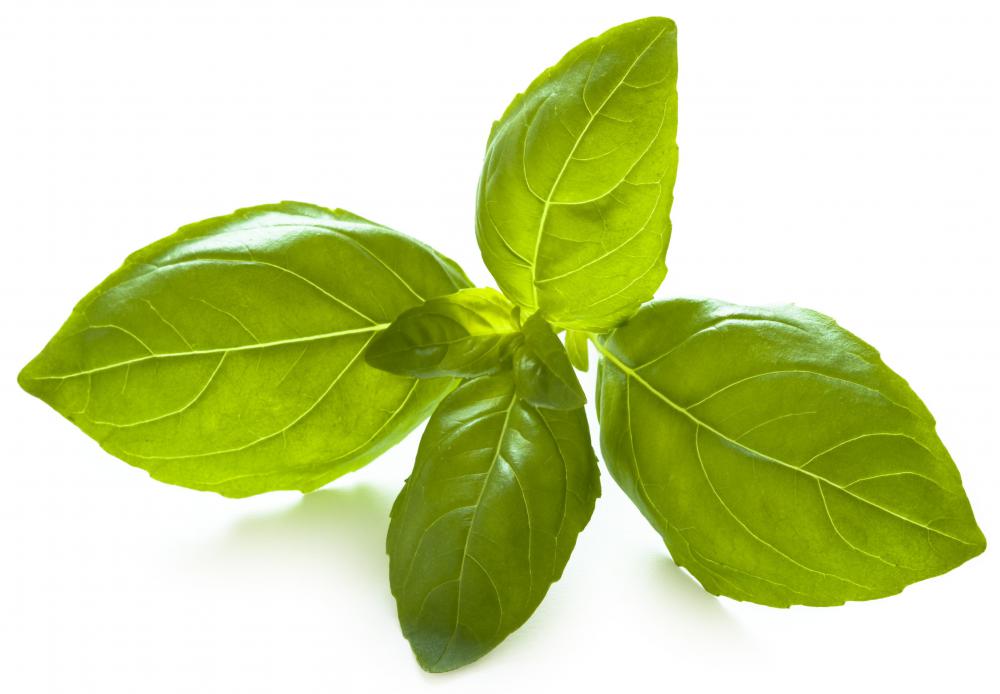 There are a number of options for making basil olive oil at home, and all are relatively simple. In one method, fresh, dried basil is washed and dried and placed in a glass jar or bottle, then covered with warm olive oil. The mixture is stored in a cool, dry place for approximately two weeks before use to allow the flavors of the basil to mix with the olive oil. The oil should be used within a few weeks to ensure freshness.
Fresh basil, instead of dried, can also be used for basil olive oil. Two cups of fresh basil are combined with one cup of extra virgin olive oil. Before combining, the basil should be boiled for five seconds then immediately placed into ice water, for blanching purposes. The basil and olive oil are then mixed in a blender to a liquid consistency. The mixture is strained and stored in a glass container and should be used within one week to ensure freshness and to prevent food poisoning.
Some prefer to grow basil at home instead of buying it fresh or dried at a grocery store. Basil is best grown outside in warm weather, although it can be cultivated indoors with plenty of sunlight or a strong fluorescent lamp. Basil seeds and potting materials can be found at any home and garden store. The seed packet will typically include potting and growing instructions.
A number of other herbs can be substituted for basil in order to make different varieties of olive oil. The same methods can be used for these herbs, including rosemary, mint, cilantro, or garlic. A small amount of garlic should be used, to prevent too strong of a flavor. Sunflower oil or saffron oil can be used in place of extra virgin olive oil.