What is an Ethicon Suture?
An Ethicon suture is a suture product manufactured by Ethicon, a subsidiary of Johnson & Johnson. Ethicon has been a major figure in the production of sutures and wound closure products since the 1940s. This company manufactures products for both human and animal use in settings like operating rooms, clinics, and emergency rooms. The Ethicon name is both well known and highly respected in the medical community.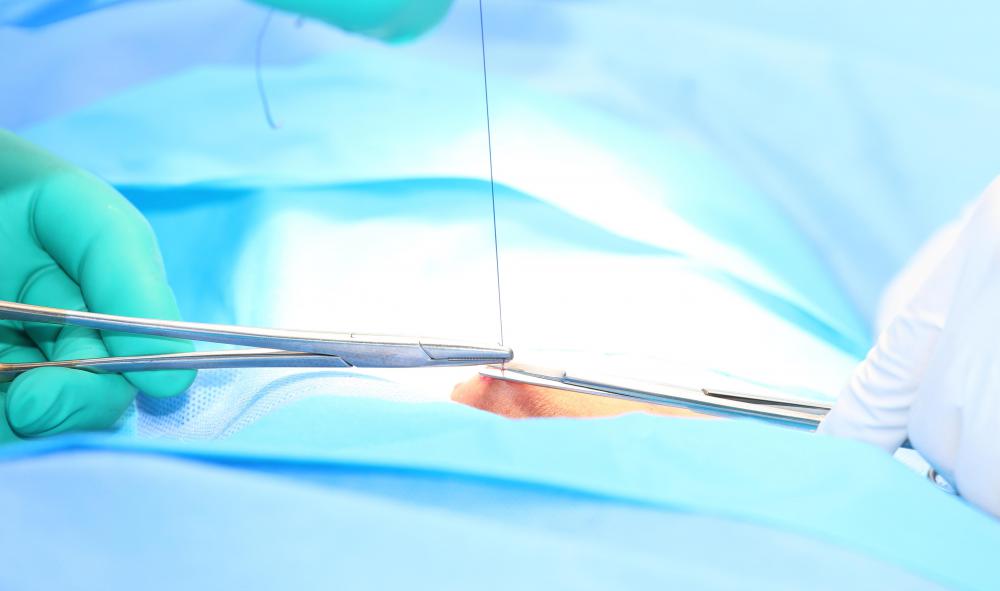 Some of the Ethicon suture lines include VICRYL®, MONOCRYL®, and PROLENE®. Within each line, there are a number of options, including sutures coated with materials designed to resist infection and sutures with other special features. The company's goal is to produce an Ethicon suture for every need, ensuring that practitioners do not need to purchase sutures from other manufacturers. In some areas, the company's market share is over 70%.
Ethicon manufactures thousands of products. Its suture division produces an array of sutures made with different types of materials and accompanied with surgical needles. An Ethicon suture may be absorbable or nonabsorbable and can be manufactured with biological or synthetic materials. These sutures are available in different sizes and lengths, in order to meet the needs of practitioners who need everything from tiny sutures for ophthalmological procedures to heavy duty sutures for orthopedic surgery.
Ethicon prides itself on innovation. The company has a number of divisions that focus on different aspects of wound closure and wound care. New Ethicon sutures are constantly in development and the company is also interested in developing safer and more efficient methods of using sutures. For example, the company designed special packaging for the Ethicon suture that would make it easier to correctly identify different types of sutures in the operating room.
Like other manufacturers of medical devices and equipment, Ethicon must meet rigorous standards. Its products must be approved by government regulators before they can be sold and the company is required to provide products that are sterile, safe, and dependable. Practitioners who reach for an Ethicon suture during a procedure count on the company to produce products of consistent high quality; mistakes such as improper sterilization can endanger patients.
The Ethicon suture catalog is continuously updated with new products. Hospitals and clinics can order catalogs directly or meet with sales representatives to discuss Ethicon products suited to the types of procedures they perform. Representatives may have samples for surgeons and other health care providers so that they can handle new products personally before placing orders.