What is an Amniotic Fluid Test?
An amniotic fluid test is commonly known as an amniocentesis. This is a prenatal procedure that involves using amniotic fluid to determine the health and development of a fetus. Amniotic fluid is the material found inside of the uterus surrounding the baby when a woman is pregnant. Testing of this fluid is not a standard procedure. It is generally performed only when there are certain suspected risks for the fetus.
Amniotic fluid serves as protection for a fetus. An amniotic fluid test is an invasive procedure that involves assessing that fluid for signs of abnormality. To conduct this test, a medical professional uses a hollow needle to invade the abdomen and the uterus. Once the needle is in the uterus, he will collect and extract amniotic fluid.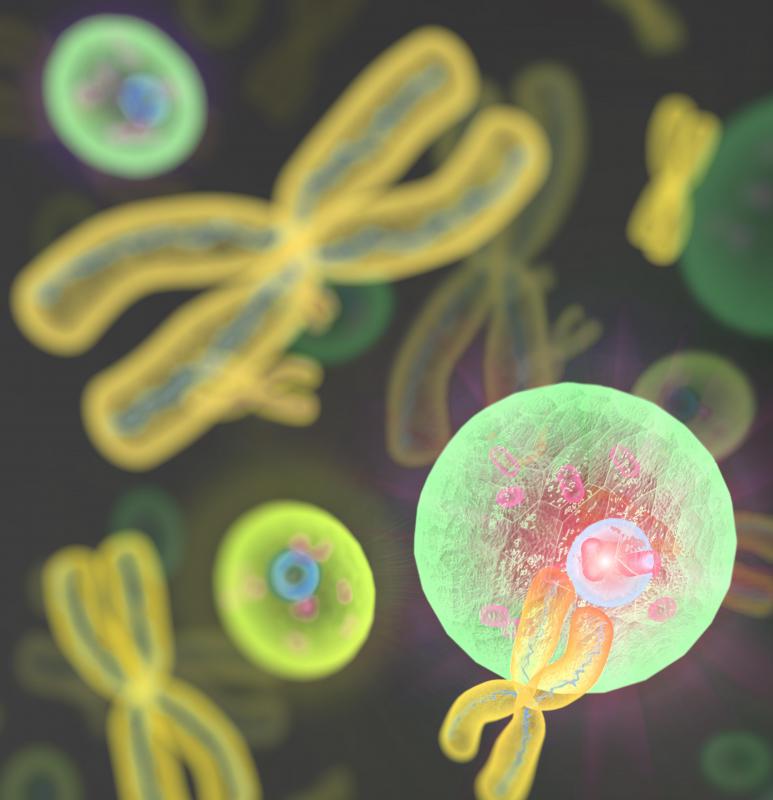 Amniocentesis can be used for a number of reasons. One of them is to determine how healthy a baby's lungs are. This can be especially important in instances when early delivery is being considered. An amniotic fluid test can also determine the likelihood of genetic defects. Furthermore, it can provide indication of chromosomal disorders, which are conditions where a baby is born with an extra chromosome, resulting in conditions such as Down's syndrome and Patau's syndrome.
An increased likelihood of chromosomal disorders is associated with mothers who are over 35 years old. Age can, therefore, be one reason that an amniocentesis is advised. These tests may also be ordered when there is a history of certain defects or disorders within a family. This can include the medical history of extended family members or it can include instances where a woman has previously given birth to a child with such problems.
Although it is an outpatient procedure, it is one that may take some time. A woman is not generally released immediately after the testing. An ultrasound is usually done afterward to confirm that the fetus has normal heart beats. Once this is done, the woman is likely to be required to spend additional time under observation to make sure that all is well.
An amniocentesis can result in discomfort for a woman. She may experience cramping, vaginal spotting or leaking amniotic fluid. These symptoms should not be ignored. A medical professional should be notified immediately. Amniotic fluid testing involves a serious risk. Although it only occurs in a minority of cases, some women do experience miscarriage as a result of the testing. The chances of miscarriage are increased if the testing is done before the 15th week of pregnancy.
An amniotic fluid test is usually conducted at the discretion of the mother. When a physician suggests the testing, he will generally educate the woman about the reasons why she may want to consider it, the risks she may incur, and the manner in which the procedure will be conducted. It is then generally left up to her to make the final decision. In most cases, when mothers agree, such testing is conducted between the 15th and 20th weeks of pregnancy. Results generally take several weeks.