Acne body spray is a spray that features acne-fighting ingredients. Some commercial companies sell body sprays that are both scented and contain pimple-fighting ingredients, like salicylic acid and benzoyl peroxide. A few of these sprays are also unscented, which may be especially beneficial for sensitive skin. Individuals may also make homemade acne body spray from grain alcohol and certain herbal and plant extracts. There are dozens of recipes for this kind of skin treatment, so people can tailor their acne body spray formulas to their personal needs.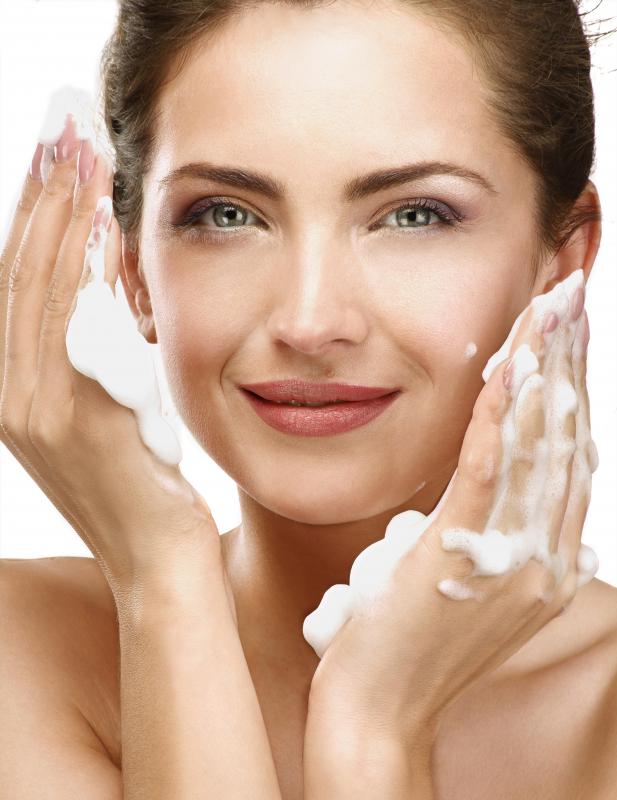 Like facial acne, body acne may be relatively mild or quite serious. It may show up on the skin as surface-based, white heads that break open and stain clothing, or as deeply-seated, painful cysts. Either way, acne body spray combined with other treatments, such as an acne-fighting body wash, may help keep this condition under control. These sprays should generally be used right after a person bathes. The spray bottle should be held about 6 inches (about 12 cm) from the body, so the person can adequately mist his or her skin with the spray.
After spraying the affected areas, the individual should generally gently rub the spray into the skin and let it air dry. Those using commercial products should try to wear white clothing after applying this body spray because chemical acne treatments can discolor or bleach colored fabrics. Many people experience the best results when they use acne body spray in the evening, and either shower or gently wipe it away in the morning.
Most homemade acne body spray recipes start with distilled water and some kind of grain alcohol, like vodka. The maker should generally mix equal parts of these two ingredients together in a spray bottle before adding the rest of the ingredients. One of the great things about these natural sprays is that they usually have a pleasant scent in addition to helping clear away body acne.
Witch hazel and tea tree oil are two of the most well-known herbal treatments for acne. Just a spoonful of either of these ingredients should be sufficient because too much can cause skin irritation. Thyme, camphor, or sage oils could also work well for those who find that witch hazel or tea tree oil aren't effective, or are too harsh for their skin. Lavender, rose, and citrus essential oils may also help soothe acne and often give acne body spray a pleasant scent. All homemade sprays should generally be refrigerated when not in use. Those using these sprays should make just a bit at a time because it only remains fresh for about a week.