What is a Transitional Living Room?
A transitional living room includes both traditional and contemporary furnishings. A transitional style means that traditional looks are transitioned, or moved forward, by blending them with contemporary, up-to-date pieces. The overall look of a transitional living room is typically comfortable, practical and uncluttered, but with more traditional detail than in purely contemporary spaces.
For example, plaid fabrics or classic florals may be found in transitional living rooms rather than only more modern abstract prints and wide stripes. Solid colors are also used in transitional spaces; the look should always be soft rather than bright. Cotton, leather, corduroy and cut velvet are some of the popular types of fabrics that can suit a transitional living room style.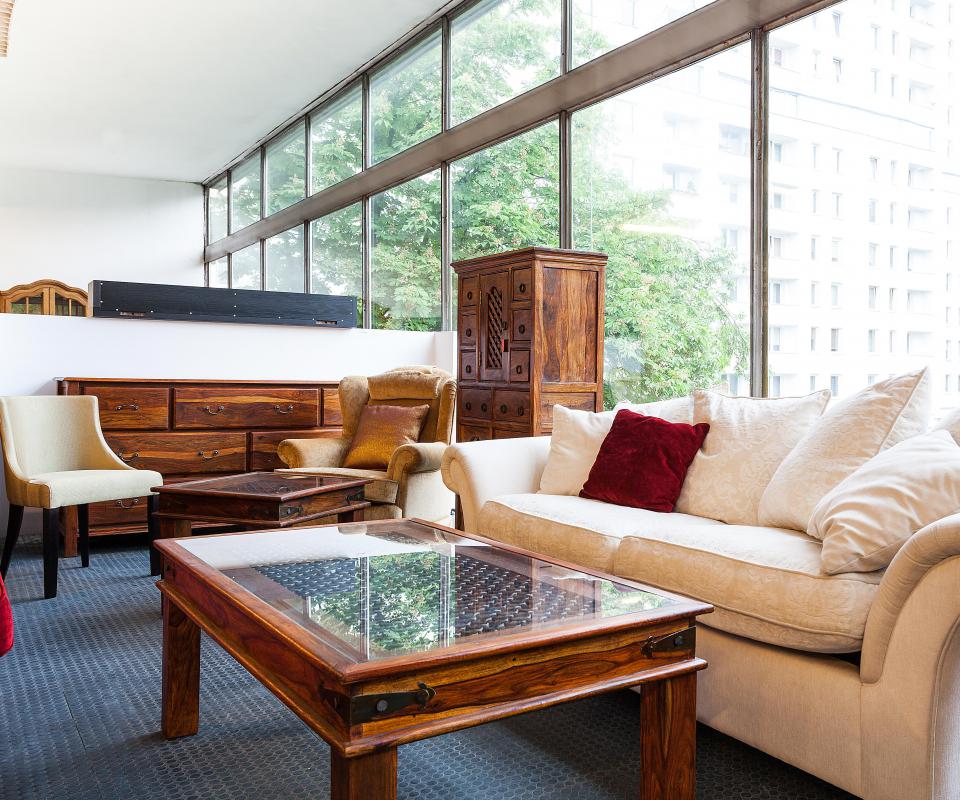 Transitional wood tones should be natural whether they are darker or lighter. Mahogany and birch are two popular woods for transitional decorating; they're neither the darkest nor the lightest in their respective categories. Birch is a medium-light wood that coordinates with many different fabric colors and styles. Mahogany is much darker than birch with a typically rich maroon undertone. One wood tone should usually be used throughout in a transitional living room or at least a careful mix of woods; these spaces should look comfortable and natural, but also neat and well-coordinated.
Along with wood furniture often found in traditional living rooms, the glass and metal of modern spaces are also blended into most transitional living or great rooms. For instance, wood shelving units may be combined with a glass and metal coffee table in a transitional living room. Or, the opposite could be done with a wood coffee table, such as an apothecary type with many drawers, and glass and metal wall shelves.
Seating for transitional living rooms tends to be traditional with a twist, such as a classic beige or taupe rectangular sofa updated with overlapping back pillows. Old-world style, carved wood dining or accent chairs may be covered with contemporary fabric in wide stripes. Symmetry is often a transitional feature that can bring a traditional flavor to the space.
For instance, two traditional chairs may have a modern glass table between them. A silver-toned, contemporary lamp may be placed on each of two classic wood end tables. At first glance, a transitional living room may be difficult to identify. It's only by picking out both traditional, old-world style or antique items and contemporary or modern pieces that the true qualities of many transitional living spaces may be noticed.