A tomahawk is a type of ax native to North America. Classically, tomahawks are lightweight with a short handle. This tool has a long history in North America, and tomahawks continue to be produced and used for a variety of purposes, from traditional religious ceremonies to more mundane applications. Some very interesting examples of historic tomahawks can be seen on display in some North American museums, especially those which collect Native American artifacts.
The term "tomahawk" comes from the Algonquian word tamahak, which actually just meant "blade." Colonists from the 1600s included the word in several glossaries and writings about the Native Americans, indicating that they are familiar with the concept, and over time, the term came to be used specifically to refer to an ax, rather than any type of blade. Colonists also referred to all Native American axes as tomahawks, despite the fact that most tribes had their own terms for these tools.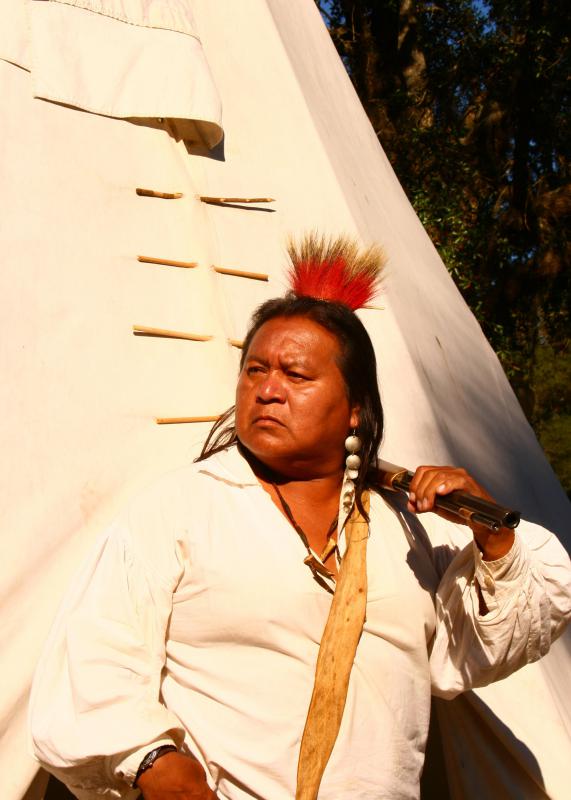 For the Native Americans, the tomahawk was an all purpose tool. The head was usually made of stone, bound to the wound with rawhide thongs, and the ax could be used for hunting, personal defense, making war, chopping wood, and a variety of other tasks. People carried their axes with them and maintained them on a regular basis to keep them sharp and in good condition, and members of various tribes also traded and exchanged tools, ensuring that design innovations spread.
The tomahawk also had ceremonial importance for some Native American tribes. Much as Europeans would set down weapons to enter peace conferences or the presence of royalty, some Native Americans also set aside their tomahawks as a gesture of respect in these situations. Ceremonial versions with ornate carvings and decorations were used in religious ceremonies, and some tribes had pipe tomahawks, in which the handle of the ax doubled as a pipe.
Europeans quickly realized the value of the tomahawk to many of the tribes they traded with, and they developed trade tomahawks made with metal heads for the purpose of exchange with Native American tribes. Some theorists have also suggested that the pipe tomahawk design may have originated with creative Europeans, not Native Americans, since it emerged in the 1700s and many of the first recorded instances of the design involve gifts made from Europeans to tribal leaders.
Some people continue to use tomahawks as tools in North America, and others collect them out of historical interest. The tomahawk is also a standard issue tool to some members of the United States military, where it is used for everything from close quarters combat to breaking open supply cases.