What Is a Stippling Brush?
A stippling brush is a cosmetic brush used to apply foundation or powder to the face or body. The brush hairs are of varying lengths, which can create a smoother, more elegant finish. These brushes are available in a variety of sizes, suitable for use on the face as well as on the body, and can be used with both powders and liquids.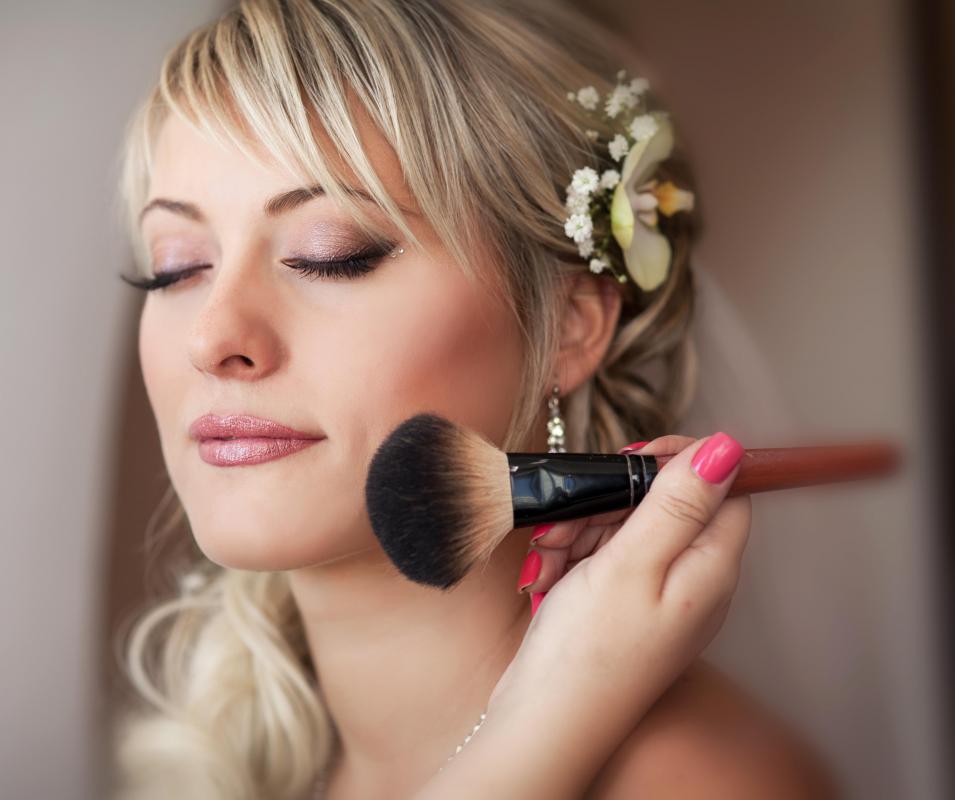 Many people find properly applying foundations, bronzers, and tinted body lotions to be difficult. They may get uneven or unnatural-looking coverage from using traditional sponges, puffs, or brushes. The stippling brush can offer cosmetic product users a bit more control over the amount of product, but also give the user a much more natural appearance. This is particularly important given the rising popularity of powder foundations, which are not as easy to blend as liquid or cream products. The same principle applies for the application of different types of blush.
When using the stippling brush for foundation makeup application, the user can lightly dip the brush into the product. The longer brush hairs will catch the product so that it can be applied to the face. The person applying the makeup can control the amount of pressure used in brushing the makeup onto the skin. This allows the shorter brush hairs to spread out and soften the layer of product. The result can be a much more natural appearance than simply attempting to apply a single layer of foundation.
Users of body care products that contain tints or shimmers may also wish to use a stippling brush to apply those products. Some companies even make these brushes in larger sizes for use on the shoulders or other parts of the body. The effect of using a stippling brush can be particularly useful when using bronzers to affect the look of natural sun exposure.
Given the way that a stippling brush can be used, it may be best to purchase several of these brushes to address various cosmetic needs. For example, if a woman uses both liquid and powder foundations, she may find it more convenient to have one stippling brush for each type of foundation in order to prevent the residue of one product affecting a subsequent makeup application. Similarly, if she uses stippling brushes for applying body makeup, she may wish to have a separate brush for a bronzer and one for shimmer powders in order to avoid mixing the products.