A polling place or polling precinct is a location which is used for the purpose of voting in an election. Since elections occur infrequently, a structure such as a rental hall or church is often rented for the purpose of serving as a polling place. In many regions, polling places are staffed by volunteers who may be offered a small fee to compensate for their services. Many countries have specific rules about conduct at polling places to ensure that all voters have access to the polls and to protect voting rights and privacy.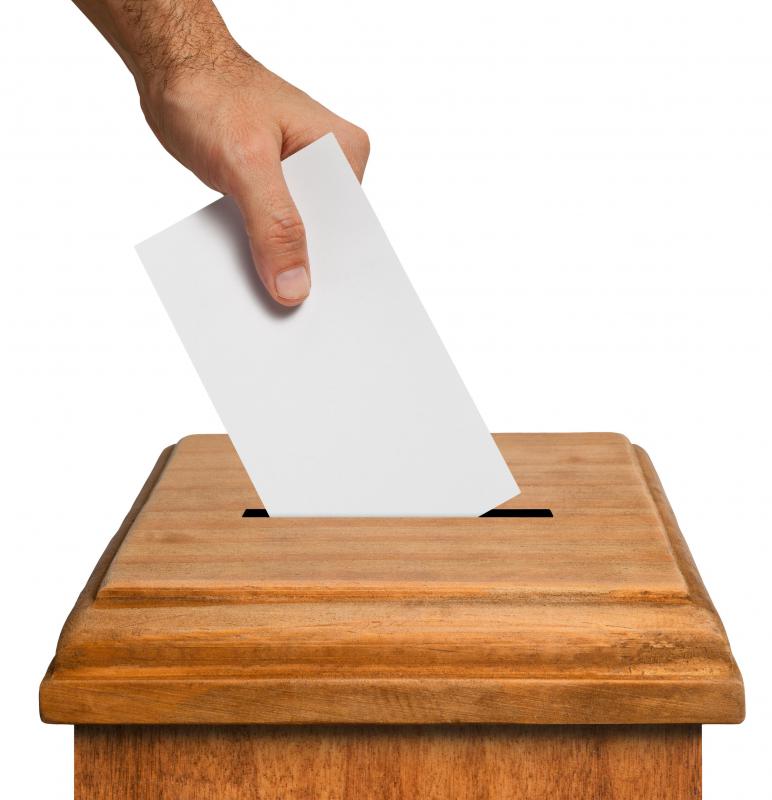 The use of "poll" to describe a collection of votes comes from 1625. Polling places have traditionally been treated with varying degrees of respect, depending on the era and the nation. During some periods in the United States, for example, African-American voters were barred from their local polling places, despite having the right to vote. In other instances, polling places have been dominated by a single political party which has pressured voters into supporting its candidates.
In the United States, as in many nations, political advertising and discussion are not permitted in close vicinity to a polling place. This is designed to reduce the pressure on voters, so that they feel comfortable voting with their consciences. A polling place must also admit all registered voters, regardless of race, creed, class, or political opinion, and it must provide accommodations for disabled voters or voters with special needs.
In a polling place, a number of booths are established so that voters can make their choices in private. The staff of the polling place check to see if the voter is on the rolls for that location, and hands the voter a ballot which he or she must mark. Ballots are collected in a locked container which is taken to voting officials for counting. In regions with electronic voting, voters may vote on machines rather than marking ballots.
The right to vote is protected in many countries, as is the right to vote independently without pressure or interference from third parties. In countries where voting rights have not been fully established, monitors from neutral nations may oversee elections to ensure that polling places are run in a responsible fashion. These monitors also report violations of voting rights such as political pressure, discarded votes, or intimidation.
In most regions of the world, voters must vote at a specific polling place, which ensures that voters do not cast votes in multiple precincts. The location of your polling place can usually be found on your sample ballot, if you have been mailed one. If you have a voter registration card, your polling place may be listed there as well. If you do not know the location of your polling place, call the registrar of voters in your region to find out where it is. If you like to avoid the polls altogether, register for a permanent absentee ballot, which will mailed to you so that you can vote and return the ballot at your leisure.