What is a Podiatry Clinic?
A podiatry clinic is a clinic which focuses on providing care to patients with foot, ankle, and lower leg conditions. The doctors who practice at a podiatry clinic are known as podiatrists, and they have received specialized medical training in the care of the lower extremities. In addition to podiatrist, a podiatry clinic typically also has staff such as nurses, equipment technicians, receptionists, and so forth.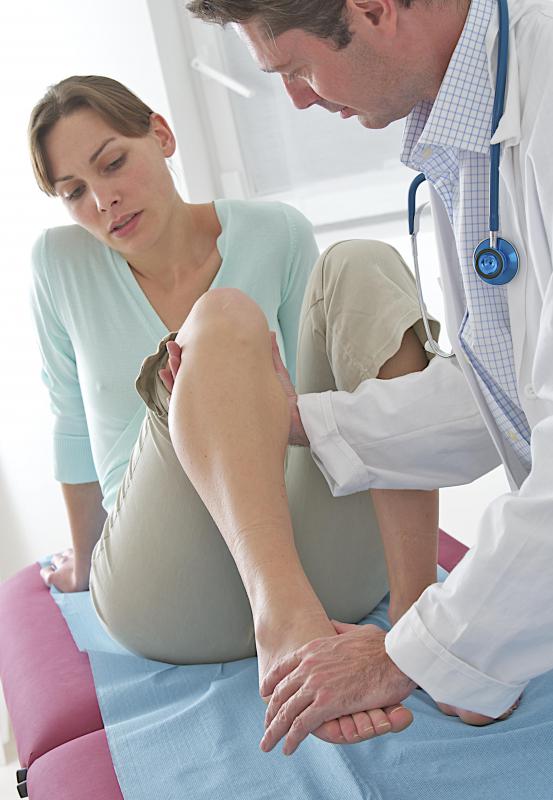 Patients may be referred to a podiatry clinic by a physician who feels that they can benefit from the attention of a podiatrist, or they can make appointments independently. Podiatrists are qualified to perform surgery on the foot, ankle, and lower leg, and they can also be involved in non-surgical diagnosis and treatment. Seeing an expert can ensure that a patient gets the most appropriate care, and can provide patients with access to the latest developments in foot and ankle medicine.
At a podiatry clinic, patients can work with doctors who may specialize in particular areas of podiatric medicine, such as sports medicine, pediatrics, foot care for diabetic patients, and reconstructive surgery. The patient typically meets with a doctor for an intake in which an initial exam is conducted and information is gathered about the patient's history, and the doctor may recommend additional diagnostic tests before working with the patient to develop a treatment plan.
Some patients have chronic foot and ankle problems which require regular visits to a podiatry clinic for care. In this case, the patient and doctor work together to manage and treat the chronic issue, keeping an eye out for signs of emerging complications and changes which could mean that the patient needs a different course of treatment. Other patients may visit for a one-time issue which requires the attention of a podiatrist, ranging from a shattered ankle which requires surgical repair to a sports injury in the lower leg.
Many podiatry clinics offer second opinions for patients who want additional consultation before developing a treatment plan, and some offer complementary medicine such as acupuncture, massage, and herbal medicine. Traveling to a podiatry clinic for treatment can provide a patient with access to first-rate foot and ankle care, and some clinics in more rural areas offer traveling hours, setting up temporary clinics in facilities like regional hospitals so that people who cannot travel to the clinic can still have an opportunity to see a podiatrist. Appointments for traveling clinics usually book up quickly, making it advisable to schedule one as soon as possible.