The POPSICLE® in English-speaking areas of North America is known as a paleta in Mexican culture. What makes the Mexican version different is its typically natural sources of ingredients. While a north-of-the-border POPSICLE® will typically contain artificially contrived flavors, a south-of-the-border paleta is likely to be made of natural juice and noticeable chunks of the fruit used in the recipe.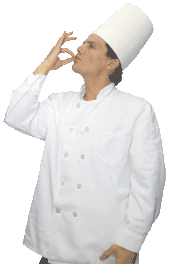 Just like ice cream trucks have grown to an iconic status in many cultures, so too have the storefront or roving paleterías and their vendors, or paleteros, hawking their fresh batches of paletas. These are often sold alongside other frozen treats made of ice cream, called helados. Such treats are marketed this way not just throughout Mexico, but also in other areas of North and South America.
The ingredients used to make paleta are straightforward but vary widely depending on the flavor being sought. According to several paleta recipes at the Diana's Desserts Web site, it takes just ice cube trays and sticks made for producing POPSICLES®, as well as various natural juices or milks with complementary fruit. The fruit is cut or shredded small enough to be noticed later, but not so large that the pieces displace too much liquid.
The possibilities create a long list for a paletero to memorize. One example of a tangy, yet sweet, treat is a mango paleta, which blends mango chunks, sugar and some lime juice before the freeze. A twist on this might include a touch of chile powder for a hint of out-of-place heat. In the other direction are paletas made of sweetened cucumbers, diverse fruit medleys, rice pudding or even rum.
It is unclear for how long Mexican culture has embraced these all-natural fruit pops. According to the Eat Mexico online culinary tour of the country, historical record suggests that after independence from Spain in the early 19th century, royal control and taxation of ice ended — making it more available to everyday citizens. It would not be until the widespread rise of freezer technology in the 20th century, however, that paletas could become a widespread household treat.
According to the Eat Mexico site, a southern suburb of Guadalahara, called Michoacan, is where this dessert really ascended to iconic status. This was the home of La Michoacana, an ice cream shop that would go on to popularize paletas in storefronts across the nation. In 2011, paleteros must compete with commercial recipes from several popular manufacturers.