What Is a Low Carb Meal Plan?
A low carb meal plan is a dietary aid for people who need to control their carbohydrate intakes. Typical meal plans designed for low carb diets include a lot of protein and fats, though a limited amount of carbohydrates are often present as well. The specific details of a low carb meal plan can depend on its purpose, since different people have a variety of reasons for eating this way. Some medical conditions, such as diabetes, can require lowered carbohydrate intakes, while other people choose to eat fewer carbs as a weight control measure. In addition to various types of meats, and leafy green vegetables, some of these meal plans can also include certain other carbohydrate sources that are fairly low on the glycemic index.
In food science contexts, the three basic sources of nutrients and energy are carbohydrates, proteins, and fats. Unlike proteins and fats, which are required as building blocks for various other molecules, carbohydrates are only broken down and used for energy. This includes both simple carbohydrates, such as sugar, and complex carbohydrates like starch. Most recommended balanced diets include a combination of proteins, fats, and carbohydrates, though some people need, or choose, to consume fewer carbs. In order to create a healthy diet that is lower in carbohydrates, some type of low carb meal plan is often drawn up.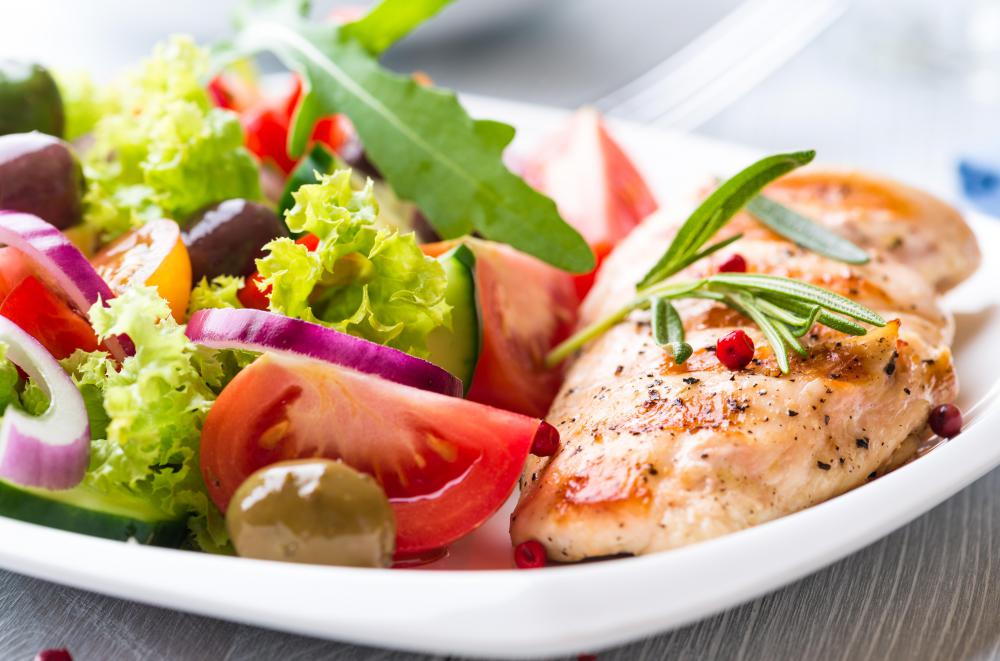 There are a number of different reasons for using low carb meal plans, so these types of diets can include a diverse assortment of foods. In most cases, low carb meal plans include options for breakfast, lunch, dinner, and snacks, though there are also variations that provide six or more smaller meals each day. Proteins and fats are typically featured prominently in these plans, so most meals tend to include some type of meat. Chicken, steak, fish, and pork dishes are often included for lunches and dinners, and breakfast options typically include bacon, eggs, and other similar foods.
Most low carb meal plans include some amount of carbohydrates, though each situation is different in this regard. Low glycemic options, such as leafy green vegetables, are typically emphasized. Breads, potatoes, and other high glycemic options are not present in a typically low carb meal plan, though they are sometimes permissible in very small amounts. When a low carb meal plan is part of a weight loss regimen, the number of carbohydrates can differ depending various factors. Some diets suggest consuming a very limited amount of carbs early on, and then offer meal plans with gradually increased carbohydrate levels as time passes.