A kale smoothie is any smoothie that includes kale leaves in the recipe. These drinks also usually include a very wide variety of fruits. A few kale smoothie recipes may also feature dairy products. This kind of healthy beverage reportedly contains a very high amount of important vitamins, minerals, and nutrients. They're also extremely versatile, since there are hundreds of recipes for kale smoothies, giving consumers plenty of flavor options.
Consuming a kale smoothie every day may be a convenient way for some people to infuse their diets with extra nutrients. Kale itself is full of vitamins A, B and C, calcium, iron, and even some protein. It is often touted as a system-cleansing food because it aids digestion and may help the body rid itself of toxins. The only trouble with kale is that it often has a very strong, earthy, and slightly bitter flavor. Many people don't like this, which is where the kale smoothie comes into play. The sweetness of the fruit covers the flavors of the kale, typically making the smoothies healthy and palatable.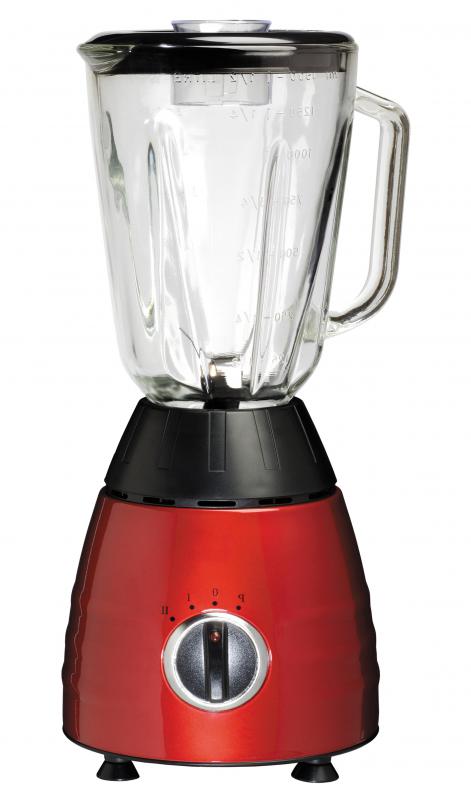 Most kale smoothie recipes start with about 2 cups (about 256 g) of kale. The cook may then add any combination of fruits he or she likes to the blender. Strawberries and bananas are one popular combination, while other recipes may combine blueberries, peaches, and nectarines. Grapes, seeded dates, and snipped figs often give these smoothies both sweetness and bulk. A good squeeze of agave nectar or honey usually mingles well with most fruit flavors.
When the cook has added all the ingredients, he or she generally fills the blender with enough water to cover the produce. The water helps break down and blend the fruits with the kale, though some cooks find water gives the smoothies a thin consistency. Ice often produces a thicker smoothie, as do frozen cubes of coconut water or fruit juice. Those that enjoy extremely thick smoothies might try using frozen fruit, instead of fresh. This often gives the drink plenty of texture.
Though most kale smoothies are vegan, this is not always the case. Those that include animal products in their diets may replace the water or ice with milk or yogurt. Low-fat milk and plain yogurt are popular because they're considered healthier than whole milk and yogurt with sugar added to it. These ingredients add extra protein to kale smoothies and usually make them thicker. Milk and yogurt may also be frozen, especially in the summer, to make a kale smoothie both nutritious and refreshing.