What is a Hypoglossal Nerve?
A hypoglossal nerve is one of the two cranial nerves which innervates the tongue, providing the muscles of the tongue with signals from the brain which allow it to move. The hypoglossal nerves play a critical role in eating, swallowing, and talking. Disorders which involve one or both of the hypoglossal nerves can cause problems with all of these tasks, and in some cases, they may put the patient at risk of complications such as accidental inhalation of fluid due to an impaired swallowing reflex.
Each hypoglossal nerve innervates one side of the tongue. Also known as the 12th cranial nerves, these nerves arise in the medulla, traveling through the hypoglossal canal in the skull to reach the tongue. Along the way, they make contact with the vagus nerve, and they are also entangled with the carotid artery and jugular vein. Upon reaching the tongue, the hypoglossal nerves branch out into four major sections which loop around the tongue to innervate the entire surface.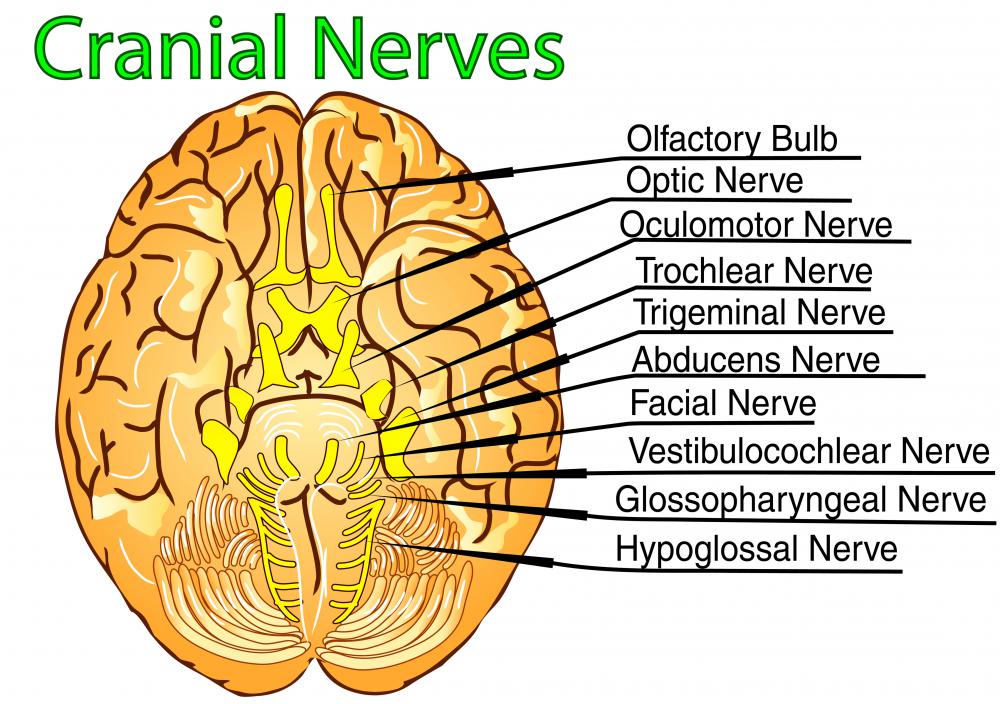 Some of the activities of the hypoglossal nerve occur without very much conscious thought, such as swallowing to clear the mouth of saliva. Others must be learned. Many languages require specific and sometimes unusual uses of the tongue to create desired sounds, and children must learn to manipulate their tongues to create these sounds. Likewise, adults who are used to speaking one language may have trouble adjusting to the sounds of another because they are used to moving their tongues in a very different way.
Trauma to the brainstem such as an infection or stroke can interfere with the function of the hypoglossal nerve. Patients can also experience problems with these nerves as a result of trauma to the neck, including surgery which nicks or severs the nerve. People with hypoglossal nerve problems classically have tongues which pull to one side when they are stuck out, along with general tongue weakness and difficulty swallowing. Wasting of the tongue can also occur.
Surgery around the head and neck must be performed with special care to avoid hitting the cranial nerves which innervate the face. Damaging the nerves can result in problems which vary from partial paralysis which may cause social problems to severe damage which results in complications for the patient. Surgeons who routinely work in this area may opt to work with cadavers regularly so that they can safely dissect the head and neck to refamiliarize themselves with the nerves in the area, and so that they can take note of variations and abnormalities which might arise in surgery.