A French bun is also sometimes referred to as a French twist. The French bun is a dressy updo that a woman might wear for formal occasions, such as weddings or proms. The hair is formed into a long twist-type bun that runs vertically from the crown of a woman's head to the nape of her neck. This forms an elegant hairstyle that accentuates a woman's face and adds length to her neck.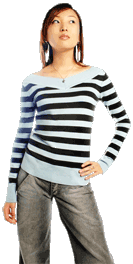 A popular style around the world in the 1950s and 1960s, the French twist was worn by the everyday woman. Whether she was working at home as a homemaker, or out of the home, perhaps in an office setting, the French twist fit in with the formal hairstyles of those decades. The 1970s became a more relaxed time for most everyone, and hair came down to fall around the shoulders. The French bun was relegated to the evening for dressy occasions. Of course, the style is still popular with some women who prefer a clean, classic hairstyle for day use.
Unless a woman has had practice with this hairstyle, she may go to a salon and have a stylist make the French bun for her. With practice, most women can make this bun themselves, although some may find it easier than others. A woman's hair needs to be at least as long as shoulder level to make a French bun.
To make a French bun, a woman will smooth her hair back into a pony tail halfway between the nape of her neck and the crown of her head. After bunching the hair in her fist, she will twist it clockwise a couple times, holding it against the back of her head with the ends sticking up. She then tucks the ends of her hair under the twist and pins it in place with hair pins, pushing the pins under the bun so they don't show. A large hair clip, perhaps with pearls or jewels, placed next to the bun adds interest and and makes the French twist extra special.
A modern, casual version of this classic hairstyle uses a clip to keep the bun in place. The woman will form the pony tail, give it a couple twists, then instead of tucking the ends under, she uses a claw hair clip to hold the bun in place. The ends are left to hang over the claw clip.