What Are the Signs of Testicular Cancer?
Many cases of testicular cancer have no symptoms, often leading to late diagnosis. Of the cases that do present symptoms, the most common ones are a lump or swollen area in at least one of the testes, pain or discomfort, and a heavy sensation in the scrotum. Other signs of testicular cancer are found elsewhere in the body, and patients may notice breast tissue growth and a lack of libido. Late-stage cancer also causes pain in other areas, and headaches, back pain and shortness of breath are among the most common symptoms of advanced testicular cancer.
Most signs of testicular cancer start in the scrotum, which tends to suddenly feel heavy with the onset of cancer. Many patients also notice either a lump or swelling in one or both testes. The testes naturally have various bumps, but lumps that have not been noticed before should be checked out by a doctor. In many cases, the swollen area does not hurt at all but, when it does, the pain is typically mild.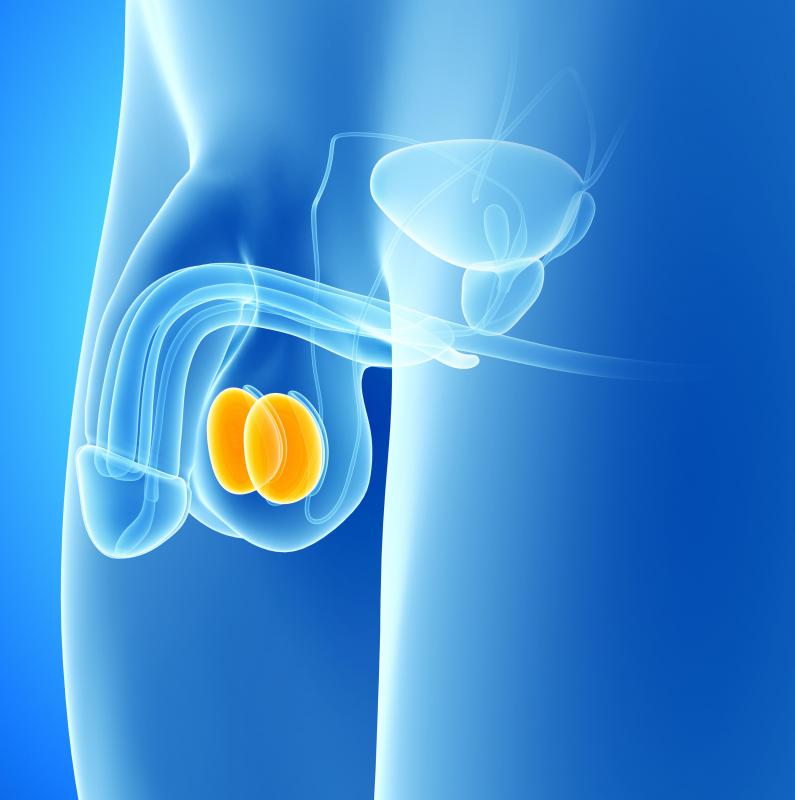 Certain symptoms of testicular cancer occur in areas that surprise patients, because those areas have little to do with the scrotum. For example, some types of tumors release the female sex hormone estrogen in males, leading to enlarged breast tissue and a lower libido. Other kinds of tumors release androgens, which are male sex hormones. While these do not tend to produce odd symptoms in men since they are typically already found in the body, androgens can cause young boys to grow hair on their body and face earlier than usual.
Some signs that the cancer has advanced have little to do with the male reproductive system, because lymph nodes and nearby organs may be affected. For instance, advanced testicular cancer can lead to headaches, lack of energy and dementia. Some males may find it hard to breathe and might also have chest pain and a constant cough. Other signs of testicular cancer in the advanced stages include excessive sweating and pain in the groin, back and abdomen. The most common signs of testicular cancer are also symptoms of other conditions that affect the testicles so, while knowing the common signs is helpful, males are often advised to see their doctor before assuming they have this type of cancer.