What are the Risks of Nanoscience?
Nearly all scientific research comes with risks, and nanoscience is certainly no different in that regard. The risks of this field can sound more frightening than other scientific research, though, because they often sound more like science fiction than fact. The risks most often associated with this field include uncontrolled nanomachines, nanoweaponry, and worst, unforeseen risks. Whether any of these risks are very serious remains to be seen.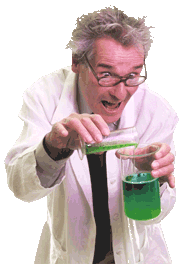 Nanoscience is the study of microscopic machines, each with the ability to perform functions on the cellular level, the molecular level, or even the atomic level. Nanoscience creates these tiny machines with the goal of performing functions that would seem almost miraculous with standard procedures. Nanomachines have the potential to perform delicate surgery, cure previously unstoppable diseases, convert toxic waste into harmless and useful materials, and build nearly anything imaginable from basic materials. If it reaches its full potential, nanoscience may change the world in fantastic and wonderful ways.
Of course, with so much potential to do great good, nanoscience has equal potential to do great harm. The most discussed potential risk is often referred to simply as Gray Goo. A primary goal of this field is the creation of microscopic nanomachines, which can change things at the molecular or atomic level. Cancerous tissue in a person's body could be changed into healthy tissue, or a rusty tool could be made into sound steel again.
The fear is that uncontrolled nanomachines could run rampant, making unwanted changes. Instead of curing cancer, they might turn healthy cells into cancer. Instead of repairing broken machinery, they might change everything into featureless, gray goo.
Another risk of nanoscience is that people may try to turn nanomachines into weapons. These tiny machines could be made to destroy buildings and machines, turn food into poison, irradiate water supplies, cut power lines, or simply kill people. No standard defense against these nanoweapons would be effective, so nano-countermeasures would need to be developed. Nanoscience is too dangerous to be turned to destructive purposes.
Perhaps the most dangerous risk of nanoscience is one that is not yet fully understood. Because it is such a new field, there may be unforeseen risks that have not yet been fully explored. It is essential that the world treats this field with the utmost respect and care.