What are the Most Common Septic Shock Symptoms?
Some of the most common septic shock symptoms include fever, low blood pressure, and lethargy, also known as prostration. In addition, other septic shock symptoms can include organ failure and oliguria, which is a decrease in urine production. A change in consciousness, hyperventilation, and reduced blood flow in the organs, also known as hypoperfusion, are also symptoms. Different people may have different symptoms of septic shock. In fact, in those who are very young or old, hypotension, hypoperfusion, and hyperventilation are often the only exhibited septic shock symptoms.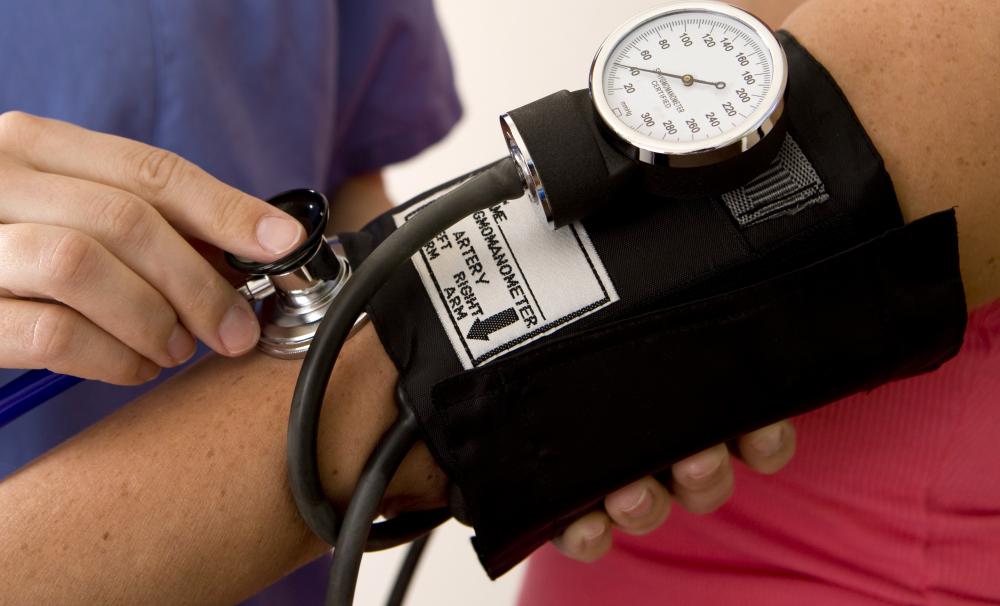 Fever is one of the earliest symptoms of septic shock. A sudden rise in body temperature can indicate an infection. Many times, doctors look at temperatures of 101 degrees Fahrenheit (38.3 degrees Celsius) or higher as a cause for concern. Other early forms of septic shock may also include symptoms such as nausea, chills, vomiting, and diarrhea. At this point, a doctor may choose to treat the condition aggressively because as the condition worsens, the symptoms may worsen as well.
More severe septic shock symptoms may include signs of organ failure. For example, oliguria can be a sign that the kidneys are failing. If the kidneys are not filtering out toxins, those toxins can build up in the body and cause issues. In order to properly measure urine output, a doctor will often insert a catheter into the patient.
Hypotension and hypoperfusion are two other symptoms. A person with hypotension, or low blood pressure, may not be supplying enough blood to their organs. This condition can lead to organ failure. Hypoperfusion, the reduction of blood flowing through organs, can also lead to organ failure. Both hypotension and hypoperfusion can be especially destructive if it is the brain that is not being properly supplied with blood.
Hypotension or hypoperfusion in the brain can reduce blood flow and lead to brain failure. This condition can lead to other septic shock symptoms such as confusion, a change in alertness, or loss of consciousness. Prostration, or lethargy, can also be a sign that the brain is not getting enough nutrients. In elderly and very young patients, hypotension and hypoperfusion may also be accompanied by hyperventilation. Hyperventilation, or over-breathing, can cause respiratory alkalosis, a non-life threatening condition that is characterized by low carbon dioxide levels in the blood.