What are the Most Common Causes of Outer Ear Pain?
Outer ear pain can have a number of causes. Infection of the ear canal, also called otitis externa, or swimmer's ear, is considered a common cause of outer ear pain. Injuries to the outer portion of the ear can cause significant ear pain. Blockage of the ear canal, whether by ear wax or a foreign object, can sometimes cause pain in the outer ear.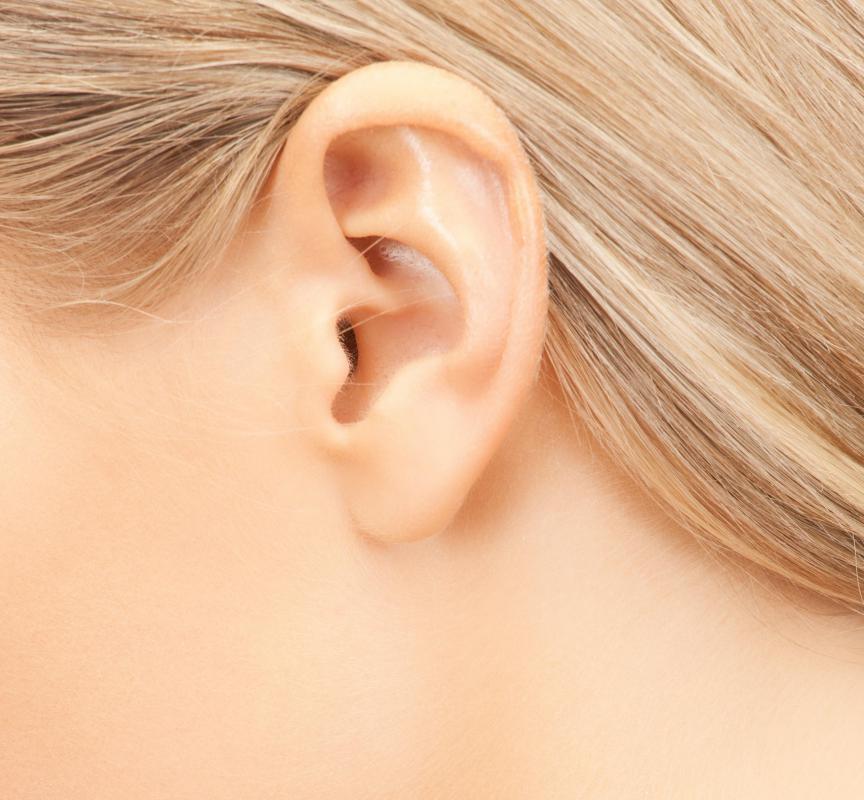 Otitis externa, the outer ear infection commonly known as swimmer's ear, may be among the most common causes of outer ear pain. Swimmer's ear is generally caused by a fungal or bacterial infection of the ear canal. People with skin conditions such as scalp dermatitis, eczema or psoriasis may be more likely to suffer from otitis externa. Allergies can also increase the risk of contracting otitis externa. Trauma to the ear canal can contribute to otitis externa, as can allowing foreign bodies, including water, to access the ear canal.
Outer ear infections typically cause itching and pain in the ear, along with inflammation of the ear canal. Boils can occur, causing severe outer ear pain. Blood and pus may drain from the ear. Hearing loss may occur. Pain often worsens if the outer portion of the ear is touched, pulled, pinched, or folded.
Treatment for outer ear infections usually involves the use of medicated ear drops. Steroids may be used to reduce ear inflammation. Antibiotic or anti-fungal drops can help treat the infection.
Injuries to the outer portion of the ear, or to the lower jaw, can also cause outer ear pain. Jaw injuries may make pain seem to extend through the outer portion of the ear. Ear pain may be more severe if the jaw injury has dislocated a portion of the ear canal. Injuries to the outer portion of the ear can also be quite painful, and severe bruising of the outer portion of the ear can even lead to tissue death.
Ear canal blockage can also cause ear pain, especially if it contributes to an infection of the outer ear. Most blockages of the ear canal occur due to ear wax build-up, which can cause ear pain and hearing impairment in the blocked ear. Ear wax blockages are typically treated by flushing the blocked ear with warm water. Foreign bodies blocking the ear can also cause pain and contribute to infection. Removing foreign bodies from the ear canal is often best left to a physician.