What are the Different Types of Vanity Basins?
Vanity basins are the bowl part of a bathroom sink, and there are a variety of styles available for both bathroom remodels and new construction. The most common styles sold include corner vanity, wall mount vanity, double sink vanity, vessel sink, oval basin, and scalloped basin. Depending on the style of the bathroom and the budget provided, the materials can range from Formica to granite.
Vanity basins set in a corner cabinet are used when space is at a premium. Corner vanities work well in small powder rooms and are often made of higher quality materials since they are in the bathroom guests use. The cabinet is placed in the corner and the basin is mounted at an angle. This allows the person using the sink to easily reach the faucet without having a sharp cabinet edge poking out.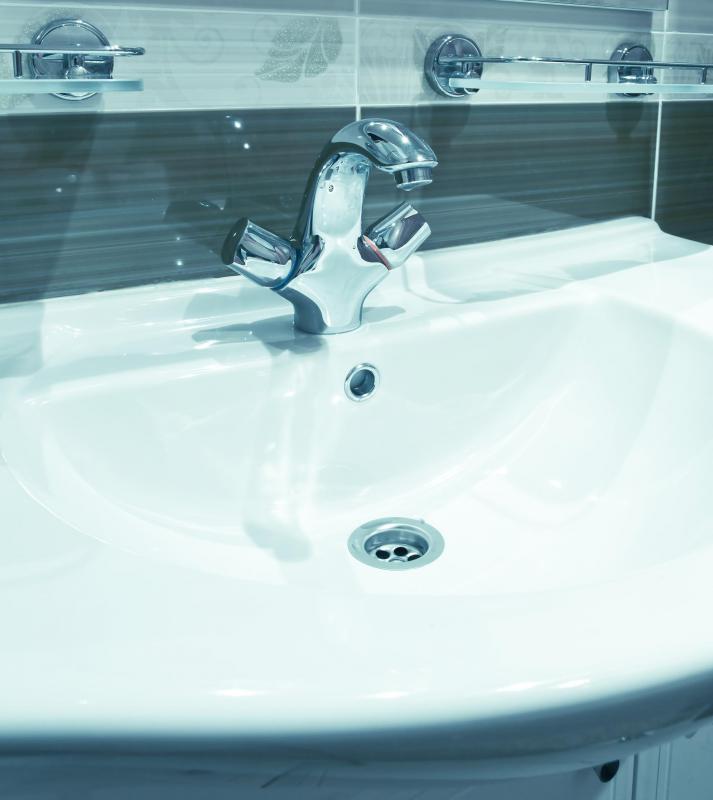 Wall mounted vanity basins are more common in commercial settings. The entire vanity is typically one piece without a separate basin. Materials such as porcelain or concrete are used to manufacture the vanity and the faucets are mounted on the wall above. These types of vanity basins are also seen in sports arena bathrooms because they can be designed similar to a trough with many faucets emptying into a long narrow basin. This design lets several people wash their hands at the same time.
Double sink vanities are popular options for master bathrooms. A double sink vanity, as the name implies, has two basins in the same cabinet spaced several inches apart. This lets two people use the sinks and get ready for the day at the same time without getting in each other's way.
Vanity basins that utilize vessel sinks are often seen in modern style homes. Vessel sinks are set on top of the vanity instead of being mounted inside and the faucet can either be wall mounted above or be a swan-neck variety that arches over the vessel. The vessel basin itself may be made of glass, ceramic, or even metal. Some bathrooms even sport one of a kind vessels that have been constructed of blown glass or hand painted.
Oval basins are traditional flush mounted sinks. The basin sits down inside the cabinet and only the edge is raised above the counter level. The faucets are then mounted either on the wall above or in the cabinetry behind the basin itself. Scalloped basins are similar to oval basins in their construction but instead of having a smooth edge, it is scalloped.