What Are the Different Types of Pressure Ulcer Treatment?
Patients with mobility limitations due to injury or illness are at risk of developing pressure ulcers, primarily in areas where bones are closer to the skin's surface. Prompt treatment is essential, as studies have found that patients with pressure ulcers are at a higher risk than others for fatalities. Alleviating the pressure on affected areas is common to all forms of pressure ulcer treatment. This is accomplished by routinely changing the patient's position in bed and using special cushions or mattresses. Medical and surgical interventions may be used based on the stage of development and severity of the pressure ulcer.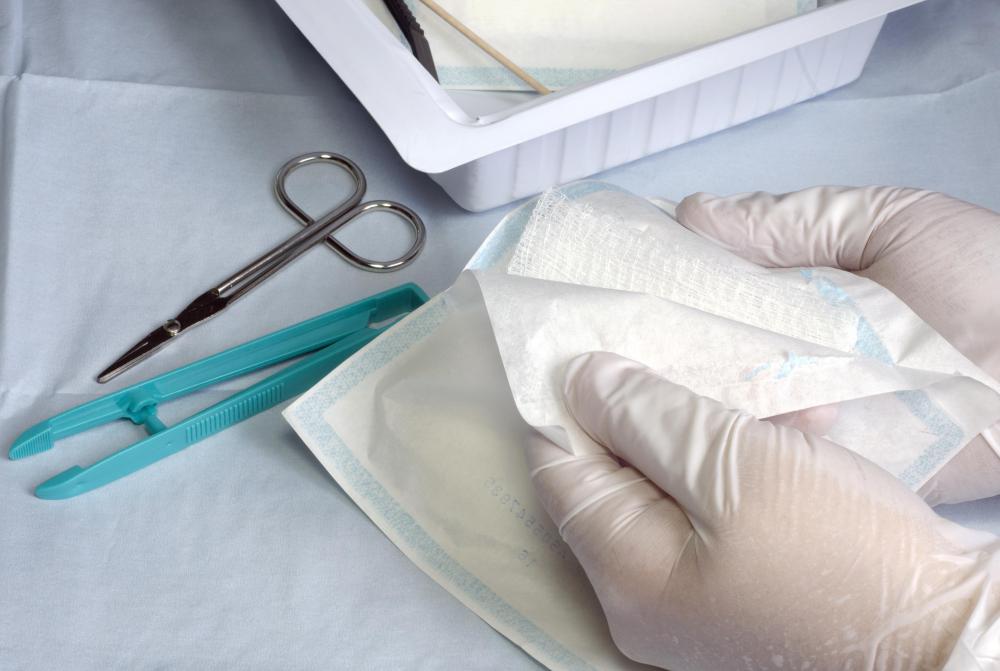 Hospitals and nursing homes generally have a pressure ulcer treatment protocol in place that uses a team of medical practitioners to diagnose and treat them. Ideally, techniques to alleviate pressure, such as frequently changing the patient's position and cushioning, can prevent the development of these dangerous ulcers. Removing pressure is the first step of treatment. The standard time for changing the patient's position is every two hours, although some programs have success using longer intervals. Medical facilities treating patients with limited mobility generally check patients daily for signs of breaks in the skin at sensitive points such as the sacral and heel areas.
Dead tissue that acts as a breeding ground for bacterial infection is removed using a process called debridement. During pressure ulcer treatment, various methods of debridement are used, with surgical removal being the most common. Other methods include ultrasound wound therapy, chemical debridement using enzymes, and the modern application of the ancient practice of biological debridement using medical maggots. Along with removal of dead tissues, infection is controlled with antiseptics and wound dressings that incorporate bactericidal substances.
Each stage in pressure ulcer treatment is carefully monitored and interventions are planned according to each individual's progress. After dead tissue removal, proper wound care keeps the pressure ulcer meticulously clean and dressed. Care is taken to ensure the patient's environment is clean and free of excessive moisture and body fluids. Pain management is another element of effective pressure ulcer treatment. There may be continuous pain from the wound along with discomfort caused by some procedures.
Patients with deep and severe pressure ulcers that have not responded well to other treatment methods may be surgically treated. Reconstructive surgery has a high complication rate and is not appropriate for all patients. The most common forms of surgery involve closing the wound using a flap of skin or skin graft. Intensive aftercare is necessary to assure proper healing and prevent recurrence.
For optimal healing, a clinical dietitian will determine a nutritional program for the patient. Some patients enter a facility in a state of malnourishment. For these patients especially, targeted dietary measures are extremely important. The healing process for pressure ulcers has been shown to improve when nutrition is specifically addressed on an individual basis. Before going home, patients and their caregivers will be counseled on proper nutrition and other care.