What are the Different Types of Oak Furniture?
The many different types of oak furniture available today include both traditional and modern styles. Oak bedroom and dining room furniture are usually sold in sets, while oak coffee tables and other pieces designed for living rooms may be sold separately. When looking at different types of oak furniture, it's important to differentiate between solids and veneers.
Solid oak furniture is made without any other types of wood or wood products added, such as particle board. Scratches and stains are easier to remove from solid oak than oak veneer. Oak veneer is slices of real oak placed on top of less expensive wood, such as plywood or medium density fiberboard (MDF). Particle board, plywood, and MDF are products made of wood scraps and manufactured for use in furniture making.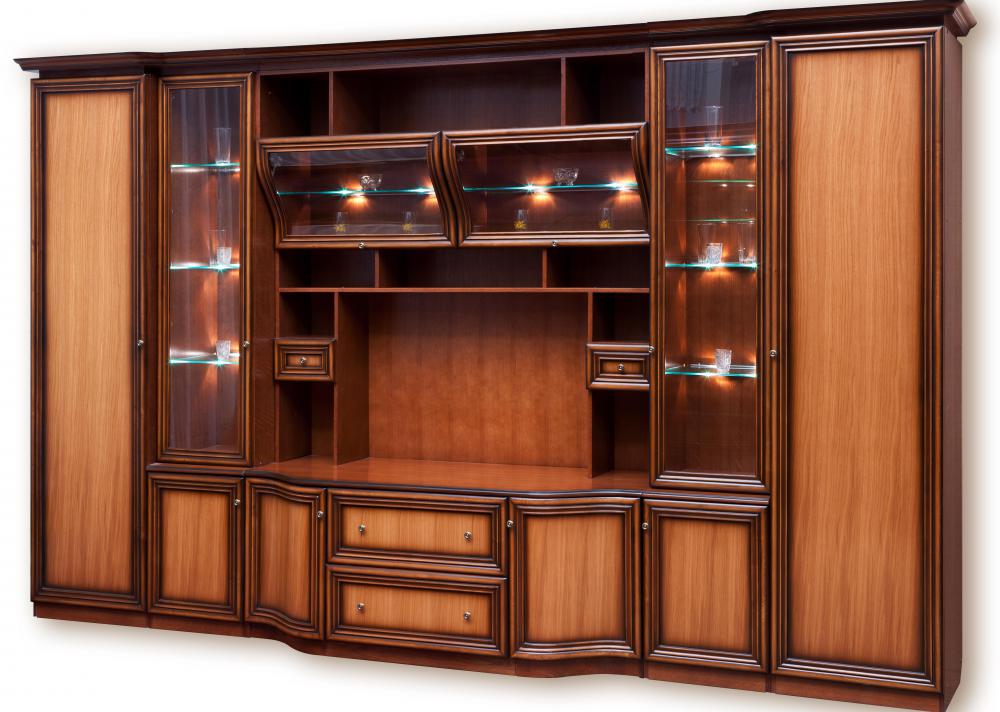 Oak veneers have the advantage of looking nice, as the real wood slices used for making veneer furniture often have excellent graining and color. Oak veneer furniture is usually strong and durable, as it is made by overlapping pieces to build strength and the wood slices are adhered using the same heavy-duty adhesive used to construct boats and airplanes. Oak veneers are commonly used on the sides of expensive solid oak cabinets and other furniture pieces.
The main disadvantage of oak veneer is that low-quality veneers tend to peel or bubble up and these problems are not usually easy to repair. Solid oak has the disadvantage of cracking or splitting easier than veneers. The main way to tell if a piece of oak furniture is solid or veneer is to look at the edges of table tops and drawer fronts. If a thin layer topping the rest of the wood is noticeable, this is likely to be veneer.
Quality solid oak and veneer furniture can be found in many styles for kitchens, dining rooms, bedrooms and living rooms. Oak varies in color from light golden shades to medium browns. Some popular finishes for oak furniture include color names such as golden oak, cinnamon, cognac and tobacco. Oak dining room sets usually include a dining table, chairs and a cabinet with glass door fronts to showcase glasses and dishes.
Sets of oak bedroom furniture may include a headboard, footboard, high dresser and low dresser. Oak armoires or large, closed cabinets that hold television sets are practical choices for living rooms and bed rooms. Oak coffee, end and sofa tables are popular picks for living room furniture when the decor calls for a stylish, medium-toned wood finish. Oak furniture styles for bedrooms may have straight lines such as in the Shaker style, or they may be richly carved such as in a Colonial look. An oak captain's bed offers extra bedroom storage with drawers or shelves in the base and/or the foot of the bed.