What are the Different Types of Crochet Hook?
Crochet hooks are sold individually and in sets. There are a number of specialized types, but the basic hooks are available in steel, aluminum, plastic, acrylic, and wood - including bamboo, palmwood, walnut, and birch. Some have special grips for comfort and ease of use. Some have inline hooks, while others have hooks at a slight cant from the line of the handle.
Crochet hooks range in size from 2–16 mm and have different sizing systems, not only between the US and Britain, but also between various manufacturers. Extra care is needed when choosing crochet hooks because some systems have the lowest sizes corresponding to the largest diameter, while other systems have the lowest sizes corresponding to the smallest diameter. The variety of sizes for "regular" crochet hooks makes it possible to use them with yarns ranging from fine silk yarn to rug yarn. A jumbo hook is a nickname for the larger hook sizes, used for bulky items. A jiffy hook, made for use with rug yarn or fabric strips, is a large diameter hook with which projects can be completed quickly.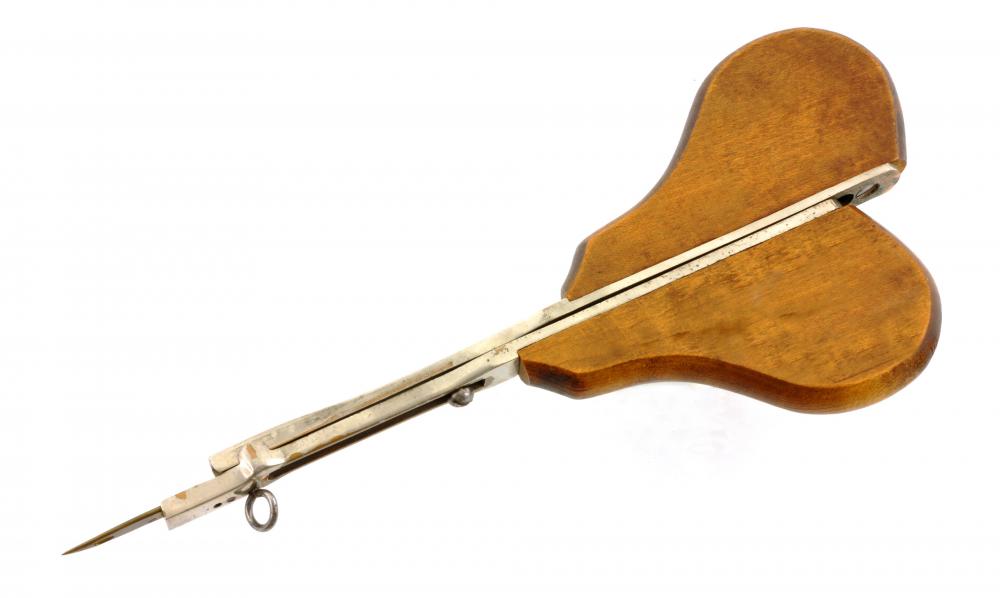 These are some of the specialized crochet hooks available:
Afghan or Tunisian Crochet Hooks. Working with an Afghan hook forms a stitch that is similar to knitting and is often used for large flat pieces, such as the blankets that have come to be called Afghans. They characteristically have a knob at one end to keep stitches from falling off, and the flexible afghan hook has a nylon extension with an endstopper.
Cro-Tat Hooks. The craft of cro-tat combines the crafts of tatting and crochet. In general, the tatting is worked and then joined or edged with crochet stitches. The cro-tat hook allows the crafter to combine these crafts while using only a single set of needles.
Double-ended or Travel Hooks. Double-ended Hooks, not to be confused with double-hook needles, have a different size hook on each end. They got their second name because they reduce the number of crochet hooks necessary to carry when traveling.
Double-hook Needles or Double End Crochet Hooks. Double hook needles, not to be confused with double-ended hooks, are long afghan crochet hooks with the same size hook at both ends. They are especially designed for working with double-faced fabric in two different colors.
Hairpin Lace Looms, Crochet Forks, or Maltese Crochets. This specialized crochet tool creates looped lace with a central row of crochet stitches. It is adjustable, ranging from 2–4 inches (~5–10 cm) wide. The light pattern strip created can be joined with others to make scarves, afghans, shawls, and pillows.
Jiffy Lace Needles. This jumbo knitting needle is used together with a crochet hook in creating broomstick lace. In order for the large needle not to be too heavy to work with easily, it is made of hollow plastic.