What are the Different Types of Alternative Scoliosis Treatment?
Scoliosis is a condition in which a person's spine does not line up properly but is curved instead. Many people suffering from scoliosis seek to find an alternative scoliosis treatment. Traditionally, surgically placed "Harrington rods" have been the primary method for correcting moderate to severe scoliosis cases, but these surgeries are costly, and they often provide relief that is only temporary. Alternative scoliosis treatments that do not uses surgical procedures or make use of braces are much sought after because they are less invasive and less costly. There are many different approaches to the alternative treatment of scoliosis, ranging from posture and strengthening exercises such as yoga to homeopathic preparations and massage.
Yoga is touted as providing the most benefit for scoliosis patients. Many practitioners claim that yoga is more effective than Harrington rods to straighten curvature of the spine and has longer-lasting effects. Designed to align the spinal column, yoga exercises employ coordinated movement and breathing to develop muscle strength and correct posture. Yoga poses provide relief through stretching such as abdominal and spinal twists and other joint-freeing poses. Yoga can be adapted to the individual's needs and has been shown to provide relief for some of the painful symptoms of scoliosis as well as to decrease the degree of spinal curvature.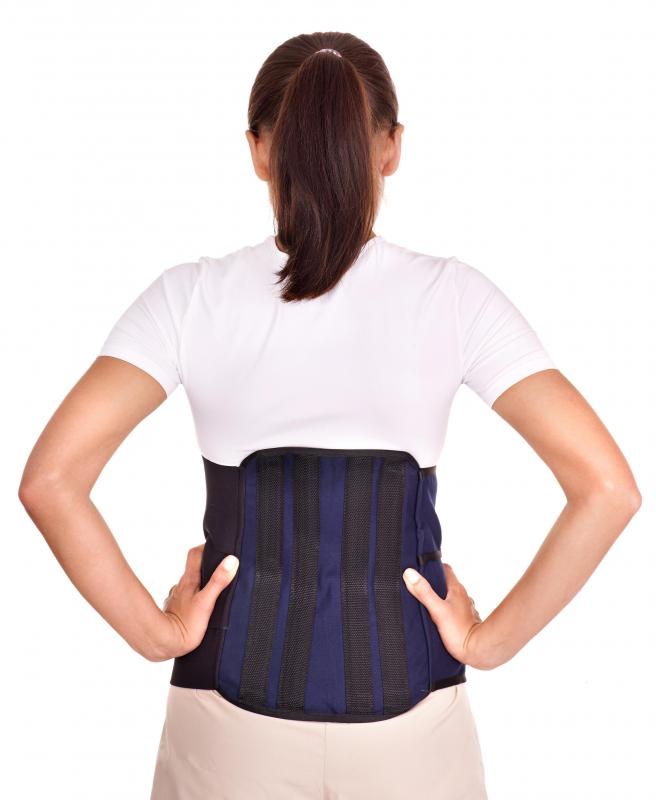 Chiropractic care provides alternative scoliosis treatment as well. Patients suffering from scoliosis are treated through spinal adjustments and manipulation that shifts one vertebra in relation to others. Other treatments include supporting exercises, postural adjustments and even corrective heel lifts placed in shoes to help compensate for a shorter leg that occurs in some instances of scoliosis. Correction through chiropractic medicine is likely to be more effective in halting the curvature of the spine in younger patients with milder cases of scoliosis.
Another popular alternative scoliosis treatment is osteopathy. This practice relies on skeletal manipulation to help straighten the spine. Manipulation in an osteopathy setting involves more full-body manipulation and can include head, pelvis, rib cage and abdominal manipulation through physical adjustments done by the practitioner or through the wearing of head and shoulder weights to help the body return to a normal posture. There also are additional exercises to supplement the treatments, and sometimes a brace is recommended for more severe cases.
Other treatments have become popular with those who prefer homeopathic remedies and treatments. Bach flower treatments are said to help ease some of the emotional ails that go along with scoliosis. Raindrop therapy is the use of certain oils and preparations applied topically through specific techniques that some say will rid the body of a virus that they claim causes scoliosis. Proponents of the Emotional Freedom Technique say that using it will help the mind overcome what ails a person, including scoliosis. Bowen therapy laser treatments and cranial sacral massage are two other alternative scoliosis treatment options.
There is a lack of reliable scientific data to support the majority of claims made by the alternative medicine community, but there is enough anecdotal evidence to warrant study and investigation into the different alternatives. Surgical procedures are frightening for many people, and there is greater risk of major complication through surgery than proper diet, exercises or adjustments made by a trained professional. Others prefer to rely on scientifically tested treatments that medical doctors recommend. Medical practitioners always recommend thorough discussion with a trusted care provider before beginning any type of treatment.