What are the Different Sacroiliac Symptoms?
The sacroiliac joints connect the lower spine to the pelvic bones. Together, they support the entire weight of the upper body when in an erect position and act as a sort of shock absorber for the spine. When the sacroiliac joints are injured or under duress, there are several different symptoms that may present themselves, including low back pain and stiffness on either side or both. Severe cases may result in pain radiating down through the hips and thighs, even as far down as the knees.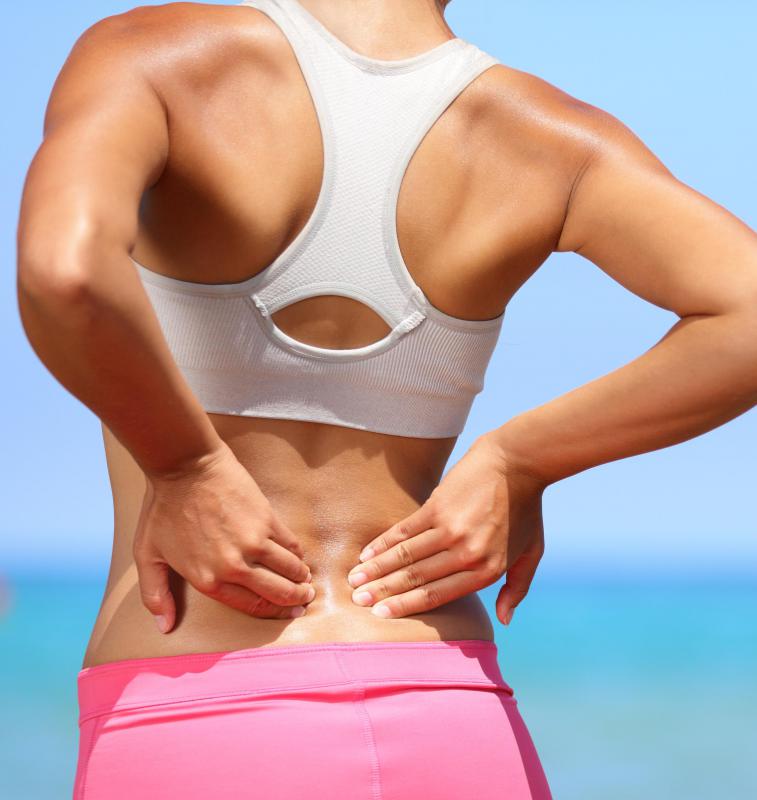 Many sacroiliac symptoms a person may experience can also be related to other medical issues, making a diagnosis difficult at times. The most prominent of these is pain the lower back, the back of the hips, and in the groin and thigh areas. Pain usually worsens when the person is standing or walking, but may seem to improve while lying down.
Sacroiliac pain can be located on either side of the back — or both sides — and can feel like anything from a dull ache to a sharp pain that can restrict movement. In rare, severe cases, the pain can move to the lower limbs and into the knee, ankle, or foot areas. At times, the discomfort may seem to radiate out into the buttock or lower back and around to the front into the groin area. The condition also can cause testicular pain in males.
Other symptoms include difficulty putting on socks and shoes and pain in the legs when getting into or out of a vehicle. Stiffness in or around the lower back area often occurs when sitting for long periods of time and when getting up from bed after a nap or a night's sleep. Though it may be more comfortable to sit on the affected area when having sacroiliac pain, traveling long distances can cause a deep aching sensation in one side of the back.
Sacroiliac symptoms can often mirror some sciatica symptoms and therefore may be misdiagnosed. Some of the symptoms that these two conditions share include numbness, tingling, and burning sensations. Forward bending can be difficult and painful when standing, but may improve once seated. Muscle spasms can also occur in both situations.
If a person experiences pain associated with the sacroiliac joints, he or she should seek the advice of a medical professional. Recording the symptoms and how often they occur can help the healthcare provider make a proper diagnosis. The association between these symptoms and those of other medical conditions may mean that more than one visit is needed to pinpoint what may be causing the pain.