What Are the Best Tips for Weaving Extensions?
Before actually weaving extensions, it is essential that the natural hair be braided into tight cornrows that are correctly placed, sized, and secured. For safety purposes, the proper needle should always be used. The weaving thread should be wrapped around the track and well hidden once it is knotted. High-quality extensions also make a major difference in the outcome of the hairstyle.
Many decisions that are made before the attachment of the extensions begins affect the overall task. For example, for optimal results the best quality of extensions that are within a person's budget should be used. It is also important to pay attention to the type of track that the extensions are on. When the strands of hair are hand-tied to the track, the outcome tends to be more favorable. Salon owners should carefully consider the products that their businesses offer.

Get started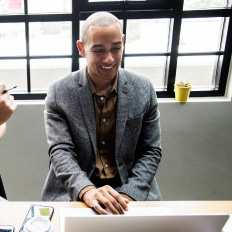 Wikibuy compensates us when you install Wikibuy using the links we provided.
The braiding of the natural hair is also an important part of the task. All hair that will need to be cornrowed should be braided before a stylist begins weaving extensions. It can be cumbersome and disastrous to attempt to braid a small portion and then to weave before trying to cornrow another small portion.
The individual doing the weaving should also be well aware of how important it is that the cornrows be in the right place and that they be the right size. Otherwise, the extensions are likely to appear bulky and may not lay properly. It is also essential that cornrows be tight to the scalp and securely attached at the ends. If not, the extensions could sag or come loose.
When weaving extensions, needles that are designed for this task should be used. These needles are curved to help increase the ease of harmlessly drawing the thread through the braided natural hair. The tips of these needles are also rather blunt. It is highly inadvisable to attempt to use a regular sewing needle to install extensions. When weaving extensions, it best to wrap the thread around the track instead of trying to force it through the small strip of fabric.
An essential part of achieving a natural look when weaving extensions is to make sure that the fake hair has the proper volume. This may not be possible by placing a single layer of extensions over each braid. Instead, it is generally best to weave the extensions in double or triple layers, depending on the desired fullness.
Just as it is important to make sure the cornrows are secure, the same is true of the thread that is used for weaving extensions. The thread can be tightly knotted at the stopping point, but this should not be done in a manner that leaves a visible bulge. The dangling thread needs to be cut as close to the knot as possible, but the knot should not be damaged.