What Are the Best Tips for Making Apple Crumble?
Apple crumble is an oven-baked dessert that combines sliced apples, sugar and spices with a topping typically made of flour and oats. It is often served hot, often with a scoop of ice cream on the side or covered in a whipped topping. While there are many tips for making apple crumble, the most important considerations are the different spices and flavors a cook can use, nuts and fruits that can be added for variety, tips for choosing and preparing the apples that form the filling and healthy options for making the dessert.
There are many different spices and other flavorful ingredients that can be used to make apple crumble. In addition to brown or granulated sugar, many cooks mix cinnamon and lemon juice with the apples to give them both a tart and a more pleasant flavor. Vanilla and nutmeg are common topping additions. A small amount of salt can also be a welcome ingredient in the topping for apple crumble, as it acts as a contrast to the sweet flavors that dominate the dessert.
It is common to add nuts or other fruits to apple crumble, which can alter the flavor or texture of the dessert. Some cooks choose to mix a small amount of blueberries or blackberries with apples, which provides color as well as a variety of flavor. Rhubarb is another ingredient which is sometimes added to the apples, enhancing rather than offsetting the tart flavor that some apples contain. Walnuts or pecans can be mixed into the filling of apple crumble, as can raisins.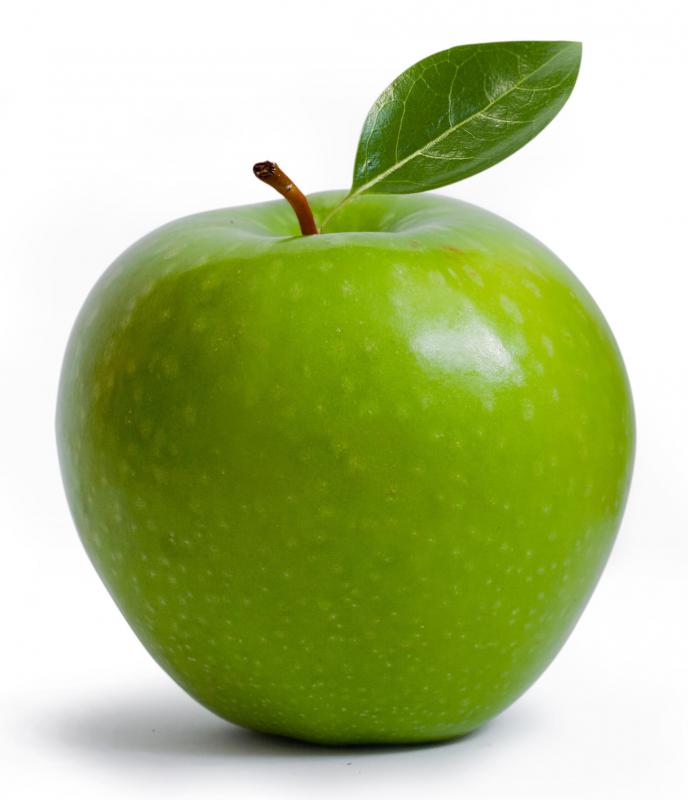 When choosing apples for making apple crumble, cooks must first decide what kind of flavor they want a dessert to have. It is standard to use baking apples, but more tart or sour varieties, such as Granny Smith, are sometimes preferred. Some cooks prefer to use apples with a more neutral flavor, such as Red Delicious. The most common way to prepare apples for this dessert is to slice them thinly, but they can also be diced into small chunks or pureed in a blender before they are mixed with the other ingredients.
Apple crumble can be made into a healthier dessert by using whole wheat flour instead of white flour in the topping. Some cooks prefer to use less sugar, and will opt for maple syrup instead; or, they may use sweeter apples and raisins. It is also common to use margarine that does not contain hydrogenated oil instead of butter.