What Are the Best Ideas for Making Pasta with Basil?
There are many different ways to make pasta with basil, from actually making basil noodles to adding basil sauces, basil oils, or shredded basil to a finished pasta dish. Basil is a very flexible herb and can contribute a unique flavor to numerous pasta creations. Many different pasta recipes call for basil. Creative cooks with a bit of basil on hand can even experiment in creating their own pasta with basil creations relatively easily, as well.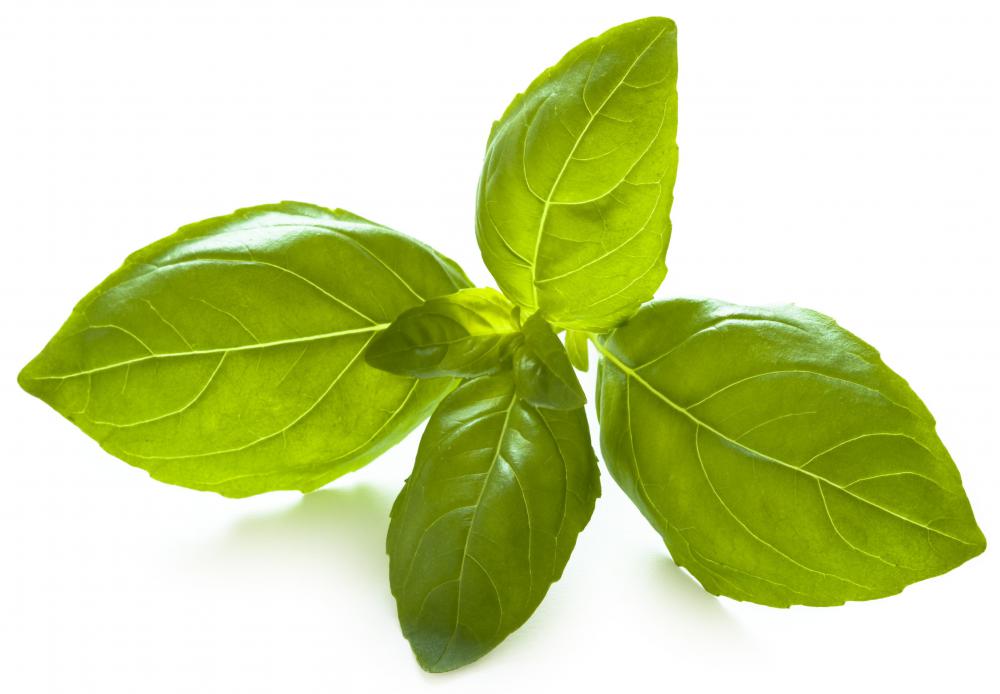 Perhaps the most intensive pasta with basil dish is made with basil-infused pasta noodles. Noodles made with fresh basil tend to impart the strongest basil flavor. The moisture in basil leaves is essential to help bind the dough of fresh noodles. Dried basil may work, but it is generally better in sauces and as a seasoning than as an ingredient in fresh pasta.
Homemade pasta is usually a lot easier to make than it seems, and cooking with basil in this context is quite straightforward. In most cases, basil pasta is little more than flour, water, eggs, and basil leaves. Depending on how much is used, basil can give fresh pasta a light green tint, which is often very pleasing as a base for other pasta toppings. Basil pasta is sometimes available pre-made, often in specialty grocery stores or Italian delis.
Adding a basil sauce can also transform an ordinary serving of pasta into pasta with basil. There are a great many kinds of basil sauce. A cream-based basil sauce usually combines shredded or crushed basil leaves with cream, butter, and cheese, all melted and warmed together. Oil-based sauces like pesto are also popular pasta toppings.
Pesto can either be homemade or purchased, usually from the deli section of most grocery stores. Traditional green pesto is made from fresh basil leaves, garlic, Parmesan cheese, and olive oil. It can be added to pasta either warm or cold and is particularly popular when used in pasta salads. Small pasta varieties like penne or rotini can be tossed with pesto, tomatoes, chicken chunks, and mozzarella cheese, among other things, to make an easily portable basil-inspired pasta salad.
Pasta with basil does not have to be complicated. Something as simple as adding a few shakes of dried basil to a prepared sauce can lend basil flavor to a pasta dish. Tossing boiled noodles in basil oil or basil-infused olive oil can also create basil pasta.
One of the best way to serve herbs and pasta together is by simply sprinkling fresh herbs on top of finished pasta. Basil works particularly well as a garnish. Cooks who add a few sprigs of fresh basil to a completed plate or shake dried basil over noodles can create quick and easy versions of pasta with basil.