What are the Best Garden Gift Ideas?
For someone who enjoys gardening or working outside, gifts for their garden can be very thoughtful and appreciated by the gardener. Even for someone who seems to have everything, there are may garden gift ideas to be found in stores and online. Some of the best garden gift ideas may include tools to make gardening easier, or decorative items to add aesthetic appeal to a garden or front yard.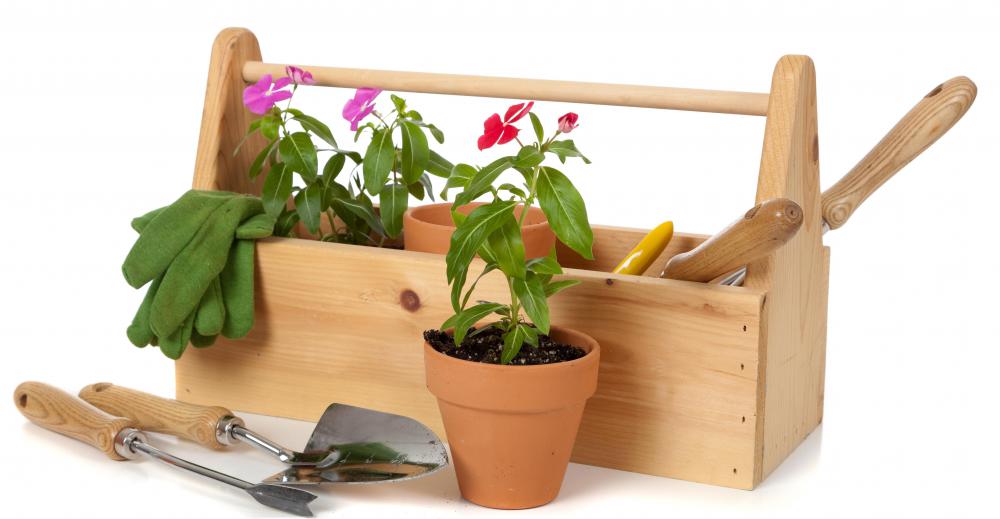 High quality garden tools can make excellent garden gift ideas, such as small shovels or trowels. These may be designed with flowers or other gardening images on them, or they may be personalized for the gift recipient. For someone who is used to working with cheaper tools, brand new gardening tools can be a useful and practical gift. A gardening apron or a gardening bag in which to store the tools can also be great garden gift ideas.
Decorations for the garden are some of the more popular garden gift ideas. Gnomes, animals, or other small ceramic sculptures are generally a good choice, and look good with most types of garden decor. Consider the design of the garden in advance before purchasing any gifts for it; for instance, if a person already has a certain style of decoration in their garden, try to purchase something that complements that style rather than opposes it.
Solar lights are also great garden gift ideas. These can work well in most gardens because they do not require electricity to work, and they are available in many different designs, not just simple garden lights. Solar lights may be available in shapes such as ladybugs, dragonflies, or leaves, for example. For smaller gardens, decorative plant stakes may make nice gifts as well. Personalized garden gift ideas, such as a last name plaque for the wall or garden stones with words on them, are other options if you are stuck for gift ideas.
Some garden gift ideas can be functional as well as aesthetic. If you know the gift recipient likes birds, for instance, you might choose to purchase a bird feeder or birdbath for the garden. A stone bench is a slightly more expensive yet very nice gift for a garden as well. In addition, you might choose to make something for the garden; there are many craft ideas to be found online, using items such as old wine bottles or jars to create lights, for example; the gift recipient will certainly appreciate the time it took to hand make a gift.