Spanx® is the name of the company that makes hosiery-inspired body shaping garments designed to give a smooth and toned appearance to a woman's figure. Mostly worn under clothes, Spanx® come in a wide variety of styles designed to deal with a multitude of common problem body areas and issues. Spanx® body shapers are seamless for comfort.
Bras, panties, tights, camisoles, and more are available from Spanx®. These body shapers are designed to be invisible under clothing, providing "smooth support" and "target shaping." Visible panty lines are eliminated by Spanx® products. Some claims of customers being able to fit into a smaller size when wearing one have been reported.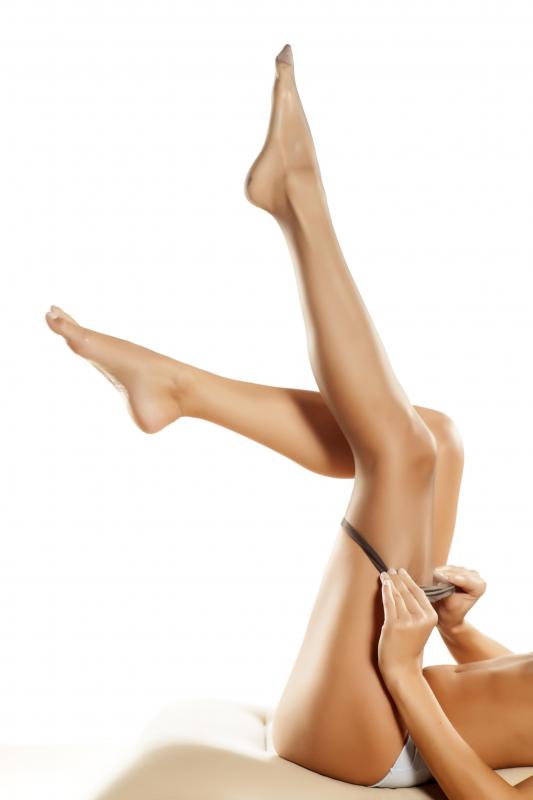 Spanx® are thin so they don't add bulk. They are stretchy with a feeling similar to pantyhose, and come in nude and black color options. With names like, "Power Panties," "Super Spanx®," and "Slim Cognito," they are marketed with a light-hearted approach. The company slogan of "Don't worry, we've got your butt covered," is further evidence of this.
The brain child of Sara Blakely, Spanx® originated from her desire to look better in a pair of white pants that were showing panty lines. In an attempt to eliminate the panty lines, Blakely cut the bottoms off a pair of pantyhose. She got the desired effect under her white pants, but the legs of the hose she had cut kept rolling up. From this experience, her idea and commitment to it was born.
Starting with $5,000 US dollars (USD) and working out of her apartment, her idea did not immediately catch on. Operating on a shoestring budget, Blakely did the patent research and writing herself. Trying to find a manufacturer proved difficult, as many dismissed her idea as crazy. The mill owner who finally agreed to work with her did so after his two daughters told him they didn't think the idea was crazy at all.
The prototype was two years in development, as Blakely was meticulous about comfort and fit. Wanting to stand out on the shelves, a bright red package was chosen. Neiman Marcus was the first department store to offer Spanx®, but they are now sold in many high end retailers.
Spanx® has since grown into a multi-million dollar company offering over 100 different styles. In addition to the original body shaping garments, hosiery, bras, and panties are now offered. Some outerwear is also available including limited styles of pants and tops.