What Are Some Different Types of Washing Machines?
Washing machines come in several types and those shopping for a machine will have lots of options from which to choose. Some people separate types by the way that washing machines are loaded. Others make a distinction between machines that may be more adaptable in size for certain types of homes.
Two basic loading methods exist for washers: front loading and top loading. Top loading machines are still more common and can be found in numerous homes. Front loading washers have increased greatly in popularity and are loaded via front access to the machine basket, instead of top access.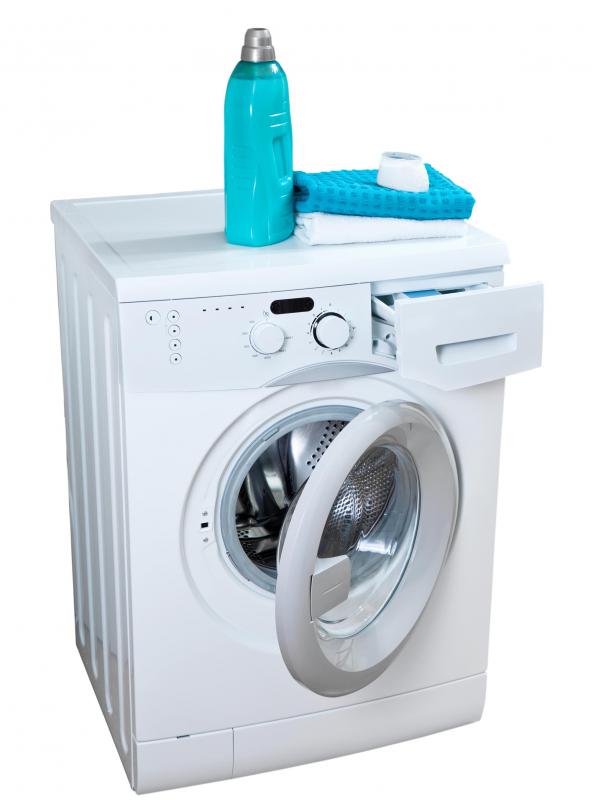 The growing popularity of front loaders is mostly due to increased energy efficiency. Other advantages of these machines include decreased water usage, and less wear and tear on clothing because of the agitation methods employed. However, those shopping for a washing machine may prefer a top loading machine because of price. Front loaders are still far more expensive than top loading models, and the price of basic front loading models can be prohibitive for some consumers.
Many people have unique storage needs in homes and may require stackable dryer and washer sets. Stackable sets can save space, and they can be purchased in a variety of sizes to fit different washing needs. Though sometime stackable washers and dryers are called apartment sized, they can be full sized machines, suitable for washing and drying larger loads. Others are smaller and are better for small loads only.
Apartment size washing machines that are small may also be called portable washing machines. Some are set on wheels and are designed for use in homes where there is no additional water supply for a washer. Instead, these machines have special adapters that fit onto most kitchen faucets. The faucets supply water and water from the machine drains into the sink during washing cycles. Wheels make these convenient because the machine can be wheeled away and stored in between uses.
Smaller portable washers tend to wash small loads only, and people may pair them with small electric dryers. The dryers can be particularly expensive to run and may consume a considerable amount of power. For this reason, some people pay plumbers and electricians to provide additional piping to run larger washing machines and to provide gas access for bigger dryers. However, not all people have this option, especially if they live in rental property, and portable machines and small dryers may be the only way they can wash and dry clothing at home.